Simply Peachy
Grilled Peach Chicken Salad…
When the thermometer hits 100 degrees, the last thing you want to do is turn your oven on and spend the evening in the kitchen. It's already hot enough, for crying out loud! And turning on the oven is just
going make it worse.
These are the days when a backyard grill becomes a near necessity. Fortunately, it's also the season for fresh fruit and vegetables. So on these scorching, sweat-inducing days, ignore the oven and fire up the barbecue.
I love the taste of grilled fruit. The heat allows the flavors to intensify as the natural sugars caramelize. Juicy fruits can get even juicier, and the smoke from the grill gives everything a smoky-sweet flavor. Just about any fruit is delicious when grilled: pineapple, cantaloupe, watermelon and bananas are some of my favorites. But stone fruits are my favorite to toss on the barbecue and peaches are absolutely delicious.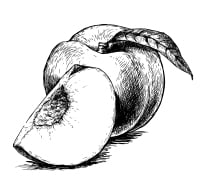 The key is to not overcook the fruit – it can become mushy and too sweet, and the texture can be a bit odd. I recommend shopping for fruit that is less ripe than you would normally eat. The fruit should be slightly firm so it holds up on the grill. As the heat caramelizes the sugars in fruit, it also weakens the
structure, so fruit that's overripe will be more likely to fall apart.
For the best grilled peaches, cut in half and remove the stone (or pit) and cook over medium-high heat for 5-8 minutes.
This Peach Chicken Salad is the perfect summer meal. The sweet peaches, balsamic vinegar, honey, red onion and blue cheese provide a burst of interesting flavors in every bite. The fresh greens, cucumbers and cherry tomatoes give you a nice balance of summer goodness. And the grilled chicken and pecans supply the protein that makes this salad into a main entrée.
Not only is this salad easy to make and yummy to eat, but it also allows you to keep your house cooler by not using the oven. •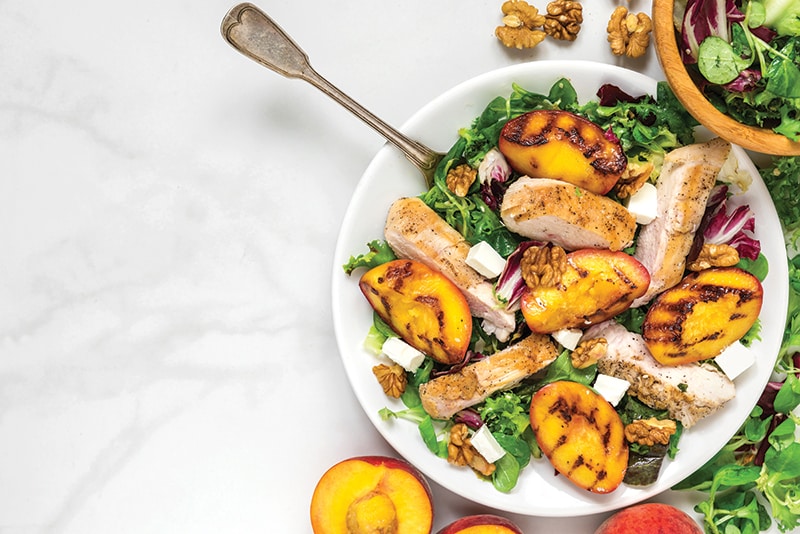 Grilled Peach Chicken Salad
Servings: 4
Prep Time: 20 minutes
Total Time: 45 minutes
INGREDIENTS
• ¼ cup balsamic vinegar
• 2 T olive oil
• ¼ cup honey
• 2 tsp. salt
• 1 tsp. pepper
• 4 peaches, halved and pitted
• 2 boneless chicken breasts
• 5 oz. mixed greens
• 1 cup cherry tomatoes, halved
• ½ cup cucumber, chopped
• ½ red onion, thinly sliced
• ½ cup pecan pieces
• ¼ blue cheese or feta cheese crumbles
INSTRUCTIONS
Step 1: Combine balsamic vinegar, olive oil, honey, salt and pepper in a bowl. Mix well.
Reserve half the liquid in another container for salad dressing.
Step 2: Preheat grill to 350-400 degrees. Coat the cut sides of peaches with remaining salad dressing. Grill for 5-8 minutes over medium high heat or until slightly browned.
Step 3: Remove peaches from grill. After 3-4 minutes of allowing the peaches to cool, cut them into thick slices.
Step 4: Grill the chicken over medium-high heat for about 5 minutes until browned on one side. Flip. Brush the cooked side with dressing. After 5 minutes, flip again and brush the other side with salad dressing. Cook until the internal temperature reaches 165 degrees.
Step 5: Remove chicken from grill. After 4-5 minutes, slice the chicken.
Step 6: Place grilled peaches and chicken into bowl. Add mixed greens, cherry tomatoes, cucumber, onion, pecans and blue cheese.
Step 7: Drizzle the salad with the reserved dressing. Mix thoroughly and serve.