Dive on In
Howell's Dive and Mining Shop in Redding…
On the corner of Market Street and Eureka Way in downtown Redding, the side of an aquamarine building shows a peaceful mural of sea lions and a diver taking a glimpse into underwater life. This building is home to Howell's Dive and Mining Supply store, one of the oldest diving shops in California and in the nation. Inside, the spacious interior has all the diving and underwater mining supplies one could ever need, with the miscellaneous paints and drawing pads thrown in. It's an eclectic mix of
supplies that makes sense when you look at how the shop has evolved over the years.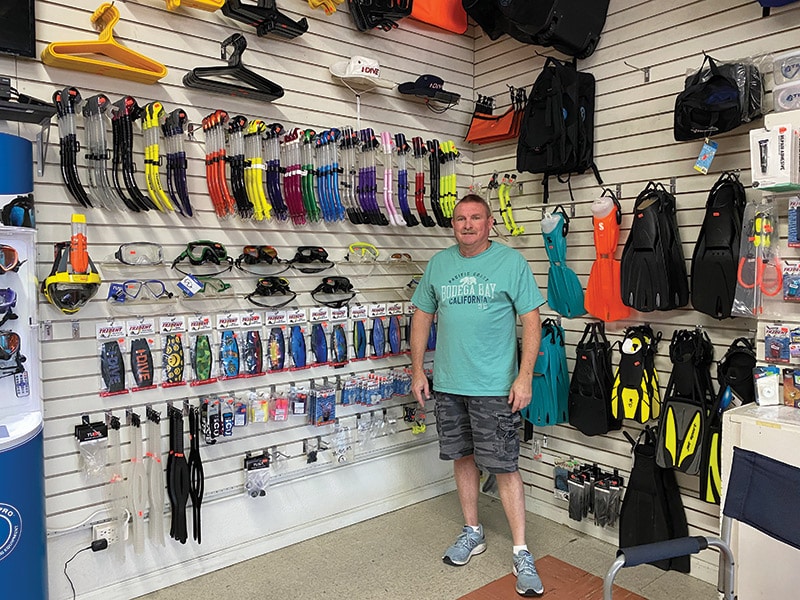 It all starts with Ray and Bud Howell, who owned the space that was then a paint shop in 1952. The father and son duo were avid divers, and often went diving for gold in the Sacramento River. Years later in 1978, the young Richard Gregory started dating Ray's daughter in high school and began working at the shop. He became a diver himself, and Howell's paint shop slowly started carrying equipment for other divers until it became a full-on dive shop.
"Ray, the previous owner, is like my dad," Richard says with a smile. "The Howells opened this as a
paint store in 1952. Bud went into the Army, came back, and worked for his dad. They mined for gold
in the Sacramento River and then started selling diving and mining equipment to support their hobby. When I came in, they just had a peg board with a few masks and snorkels," he adds.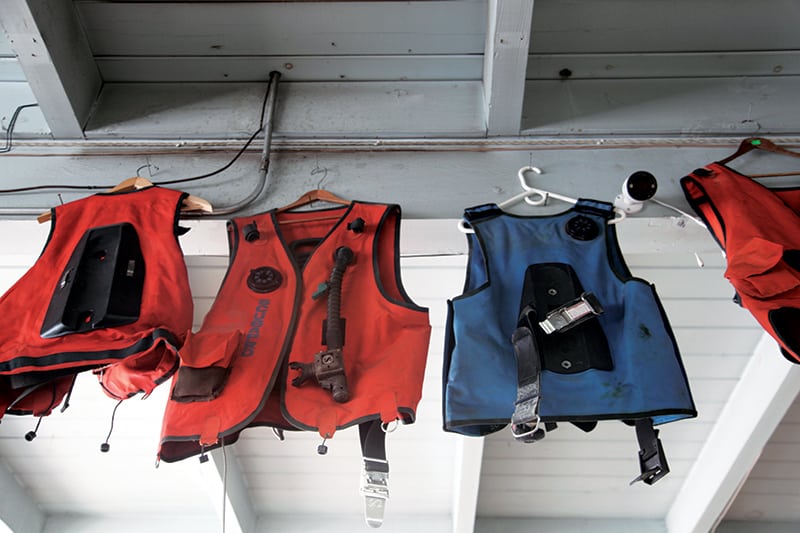 Pierson B. Reading first found gold in Clear Creek in the mid-1800s. And while gold panning is popular to do in shallow water, in the Sacramento River, one needs to dive a little deeper to find it. And the Howells and other divers in Northern California have found quite a bit. "In the '80s, a group of 15 guys found a pocket of gold in Redding – a couple hundred ounces," Gregory says.
However, when asked what the most interesting thing Gregory has personally found in the Sacramento River, he points to a wall of rusted guns that they found in the Sacramento and Trinity rivers, a speargun found in the ocean and one found in the South Jetty in Eureka. One was found underneath a bridge in the Sacramento and three in the Trinity, including a sawed-off shotgun that was likely dumped near the mining claims.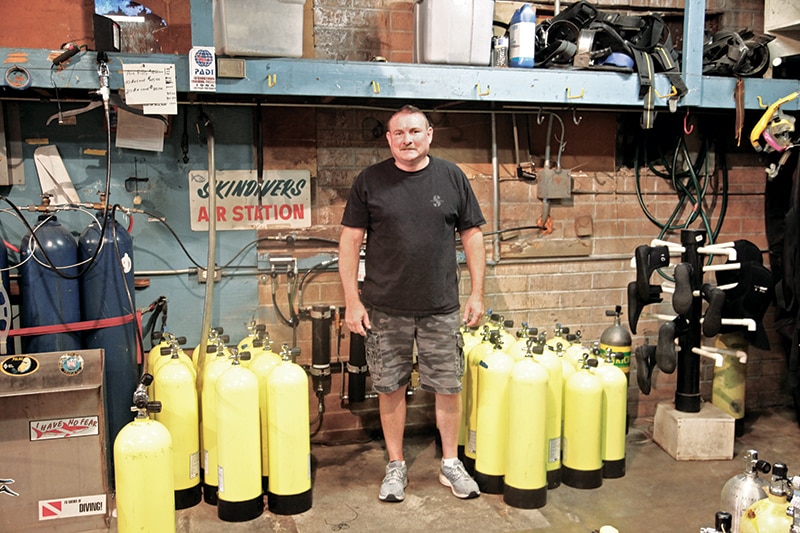 By 1980, Gregory was working at the shop full time and every year Ray would make the diving
component a little bigger. In the early 2000s, he took the dive shop over completely and got rid of most of the paint supplies (a few items are still around to fill up the shelves).
"It was the best thing we ever did. Paint was hard to sell, it was hard to make money from it, and you
had to sell a lot to make it worth it. Ray and I were in here hand-mixing paint ourselves; it was a lot of
work. And you never knew what kind of mood people would be in. But as a dive shop, everyone who
comes in here is happy," he explains.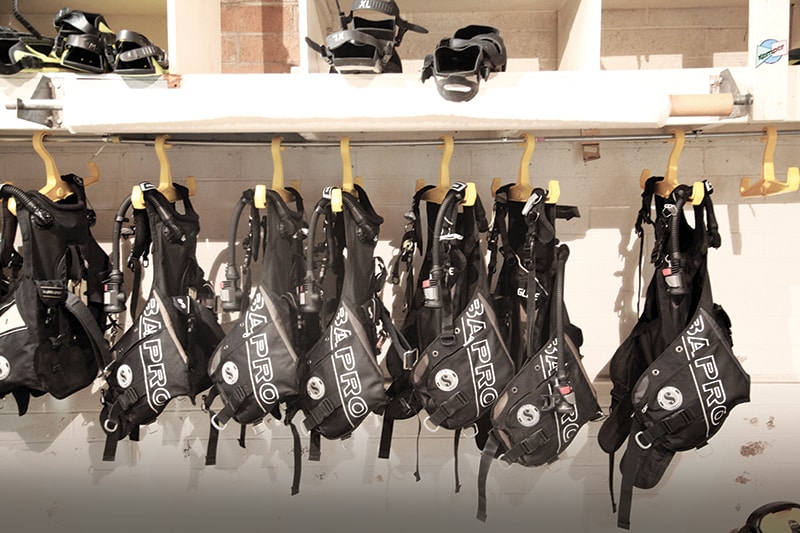 Then in 2010 as diving got more popular and underwater destinations more accessible, Howell's dive shop really took off as word got out about its longtime stellar customer service. All instructors
are PADI-certified and awards line the back counter along with an evolution of diving masks dating back from 1965 to now. Howell's weekend diving classes are booked out through November, and it's
been that way for the past three years.
"We're the only dive shop in Redding and have a good reputation of treating people well," Gregory adds. Just the day prior, a woman spent $4,500 on a full diving setup even before she became certified. Howell's began hosting diving trips to places around the world; last year they dove in French Polynesia, where Gregory saw a hammerhead shark. He's currently planning a group diving trip in the Philippines this year, where he's hoping to see a whale shark.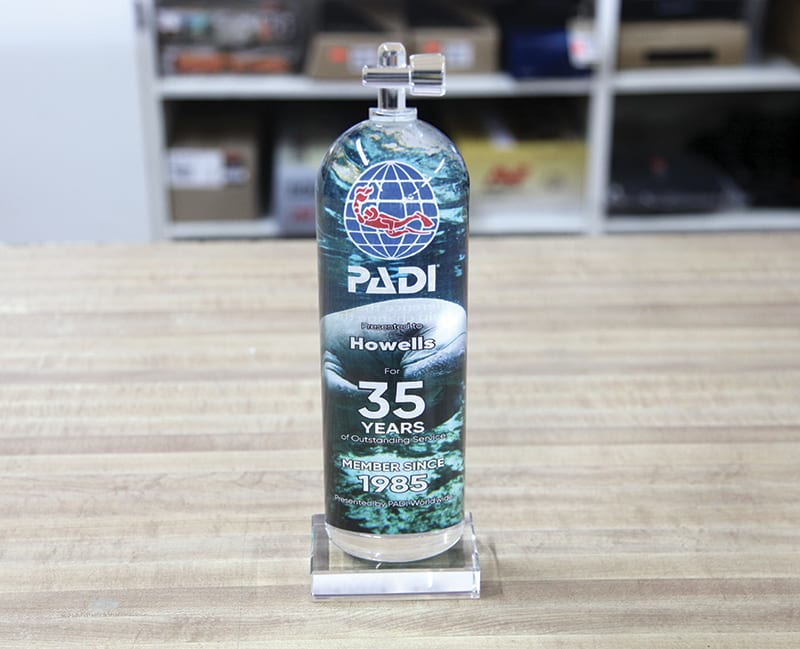 Gregory emphasizes that if you're trying to get certified before your diving trip (common for those who don't want to spend a few days of an exotic vacation in a swimming pool) then it's best to book your diving classes and get PADI-certified well ahead of time. For those who don't want to dive in chilly water here in Redding, they offer warm water referrals, as well.
When asked how the diving community has changed over the last few decades, Gregory responds, "It's changed a lot between the people and the equipment. I've seen five generations of equipment changes. We dive with computers these days; the technology is just incredible. Something will come out that will blow you away, and five years from now there will be something better."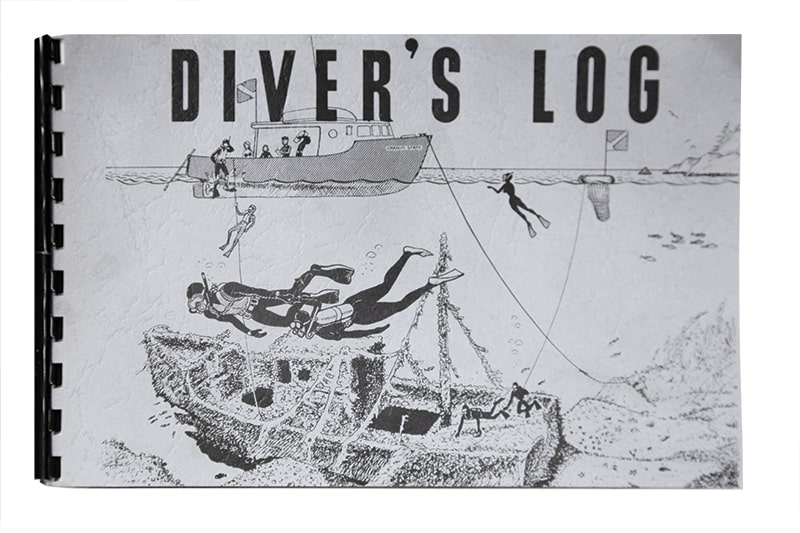 He explains that in the past you had to do the math in your head and really chart out how much air you have in your tanks. Now you can just look at a device and don't have to worry about it as much. Back in the 1980s, people didn't have a lot of money to spend, and everything was cheaper – $1,200 for a full setup – but now people are travelling more, and it costs $4,500 for diving gear due to the advances
in equipment.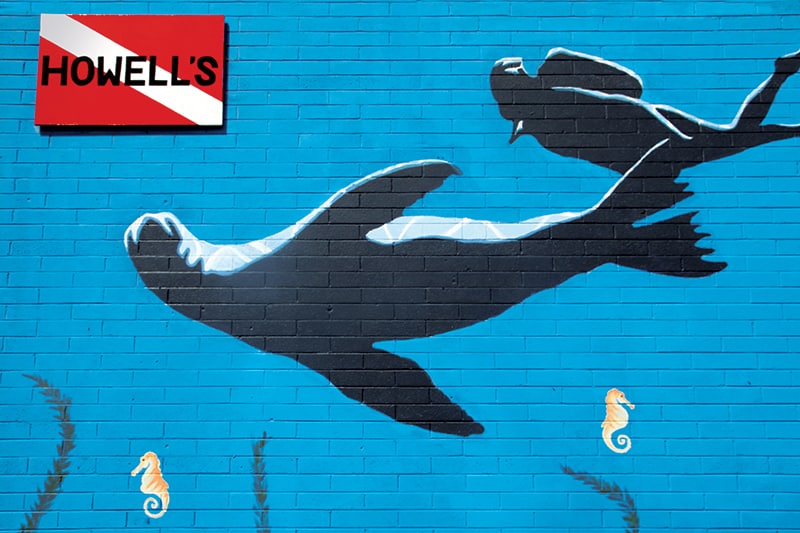 Howell's is busy but it is the best place to go in Northern California for all your diving needs, whether you want to get certified, find some gear or join a diving trip. And maybe you'll see 83-year-old Ray in
there as well – he's still around, working one day a week, still sharing his passion for diving.•
Howell's Dive & Mining Shop • (530) 241-1571
1426 Eureka Way, Redding • howellsdiveshop.com
Photos by Jessica Zettlemoyer