Recipe for Success
Red Bluff's Izzy's Bagels…
Long-time residents of Red Bluff remember with great fondness the Bear Flag Republic, a popular coffee house that was also a gathering place. Its closure in the early 2000s left a hole in the community that one of the town's newest entrepreneurs is eager to bring back.
"Growing up in the '90s, we had the Bear Flag and I was lucky enough to grow up with those fresh bagels," says Liz Mendenhall, owner of the recently opened Izzy's Bagels, just a stone's throw from the old cafe. Bear Flag bagels instilled a passion in her, and a mission to find the best wherever she traveled. A stint hauling RVs across 38 states gave her plenty of opportunity to taste various iterations.
"Once the quarantine hit, I was bored," says Mendenhall, noting that she went back to college and also took up bagel baking on the advice of her sister, Britt Marshall, who had stated the obvious. She said, "Why don't you do bagels? You love them."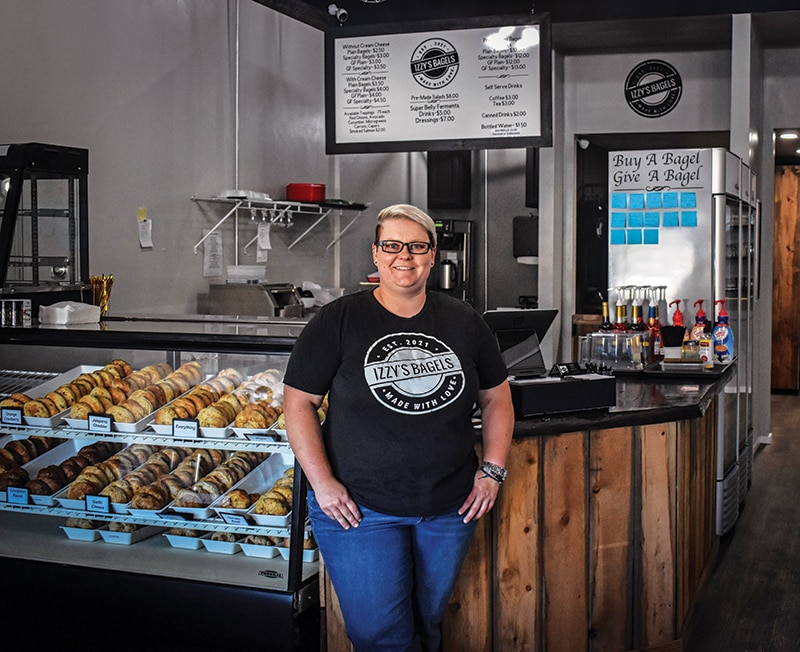 That sister intuition turned Mendenhall from an agriculture education student to a bagel businesswoman, and she couldn't be happier. "Technically I'm supposed to be in the middle of my bachelor's degree but I'm making bagels instead," she says with a laugh. "I realized how much it was my passion project. My heart and soul project, I call it."
The process started small, in her quarantine kitchen experimenting with various recipes. She developed traditional bagels and perfected a gluten-free version to satisfy her roommate. "I reached out to friends with kids because kids are your most honest opinion," she says of the people who sampled her early creations. She had so much fun – and approval from children – that she decided to start a cottage business and sell from home.
Knowing her social circle was large and that people were likely to praise her bagels rather than give an honest critique, she began operating under the guise of Izzy's Bagels, using a moniker only her nieces and nephews use. She got her cottage license on the last day of January 2021 and had a Facebook page set up and was taking orders by February 2.
"I started taking orders at 10:30 am and by noon I had to shut down. I had 30 dozen orders." What ensued was two full days from 8 am until midnight filling those orders. She waited three months to reveal her identity. "I wanted my product to speak for itself," she says, "not my name.
It turns out both are solid for Mendenhall, and she went on to have success selling bagels at the Red Bluff Farmers Market. From there, it was just a short matter of time before she set up a brick-and-mortar storefront. "I wanted to give back to the community that's given me so much," she says. "Everyone is welcome." She's set up a free library, couches, a mock fireplace and other welcoming touches.
A sticky-note project allows customers to prepay for bagels so no one has to go hungry if they are low on funds or having a rough day. "It's a way to give back," says Mendenhall, noting that customers often leave powerful words of encouragement on the sticky notes they purchase for their fellow citizens.
"I was raised by a very amazing village," Mendenhall says of the people who supported her dad in raising her when her biological mom died shortly after her birth. That commitment prompts her to create a safe and welcoming environment for everyone at Izzy's Bagels. "You're safe to walk through our doors," she says. "We need more places where people feel included. My biggest motto is, 'Just be a good human.'"
It's a similar motto to her commitment to just making a good boiled bagel. "They're as local as you can get and as clean," she says of what she describes as "a true New York style with a little more chewiness." She sources her flours from Moore's in Redding and never uses preservatives. Herbs come from her own garden and the meats she offers for bagel sandwiches are smoked in house. She's proud of her partnership with Gold Roots Farms in Corning, where she sources microgreens and lettuces for bagels and salads.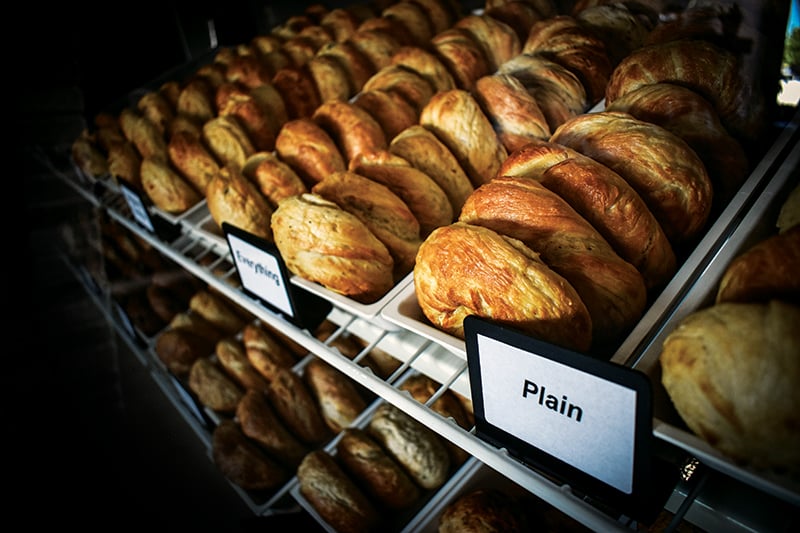 Izzy's Bagels is yet one more story of the pandemic where someone emerged changed from the time spent in quarantine, fighting off boredom and developing a new skill. For Red Bluff, it means a new generation gets to grow up knowing the taste of freshly made bagels. While Mendenhall says she can't predict when the craving will hit her fans – "some days we sell out of 450-500 bagels in two or three hours, other days we have leftovers" – she does know the effort is worth it to give back to the beloved community that raised her. •
Izzy's Bagels • 807 Lincoln St., Red Bluff www.izzysbagels.com