Eggs-ellent -Choice-
Spring Veggie Frittata…
The word "Frittata" translates roughly in Italian to "fried." But to me, frittatas are the very definition of versatility, simplicity and deliciousness. (Plus, it's just fun to say!) Frittatas are ideal for weekend brunches or last-minute dinners – and they are fantastic as leftovers.
Frittatas are so versatile that it's difficult to stick to just one recipe. If you have leftover veggies or meat in the fridge and some eggs, you can make a frittata. Some frittatas include potatoes. Some have pasta. Frittatas are the everything-but-the-kitchen-sink kind of a meal, so you really can't go wrong.
I prefer frittatas to omelets because you don't have to worry about flipping the eggs and making a mess. A frittata basically is a quiche without the crust. So simple, it's a perfect dish to make with kids!
Spring is the perfect season for a frittata brunch. Farmers markets are beginning to open and the produce section in your local market is packed with fresh vegetables. The warmer weather means eating outdoors is more enjoyable.
Frittatas are not only tasty, but they are also nutritious. Eggs are an excellent source of protein and the vegetables provide plenty of vitamins and nutrients.
Mother's Day, for many of us, means brunch. Instead of heading to your favorite restaurant to treat your mom, why not try something different? Invite Mom and the rest of the family over for a relaxing brunch featuring fresh veggies and herbs.
You can make it in advance if you wish and it eat at room temperature. Or you can prepare it and serve right from the oven. Either way, serve with whole grain muffins, whole wheat toast or English muffins. And enjoy a mimosa (or two).
Once you see how easy it is to make the recipe below, you'll want to experiment with other ingredients. For vegetables, try broccoli, cauliflower, leeks, zucchini or whatever is in season. And if you want to add some animal protein, try diced ham, bacon, smoked turkey or your favorite sausage. The combinations are virtually endless! •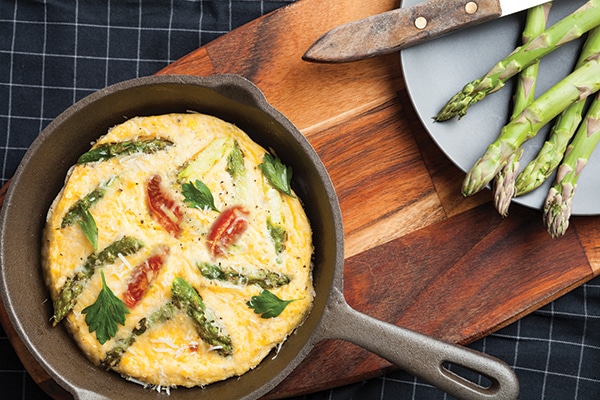 SPRING VEGGIE FRITTATA
Servings: 8
Prep Time: 10 minutes Total Time: 35 minutes
INGREDIENTS
8eggs
1⁄3cupmilk
2Tchoppedfreshbasil
2Tchoppedfreshdill
1⁄4 tsp. salt
1⁄4tsp.blackpepper
2 T olive oil
2greenonions,finelydiced
2clovesgarlic,minced
1cuppeas
1cupasparagus,trimmedandcutinto 1-inch pieces
1⁄2cupcherrytomatoes,halved
1⁄2cupmushrooms,sliced
4 oz. Swiss cheese
INSTRUCTIONS
Step 1: Preheat oven to 350 degrees.
Step 2: In medium-sized bowl, whisk together eggs, milk, basil, dill, salt and pepper. Set aside.
Step 3: Heat olive oil in 10-inch ovenproof nonstick skillet set over medium heat. Cook green onions and garlic for 1 to 2 minutes or until garlic is golden. Add peas, asparagus and mushrooms. Cook for 2 to 3 minutes.
Step 4: Add egg mixture to the skillet. Cook without stirring for 2 to 3 minutes or until eggs start to set around edges.
Step 5: Sprinkle tomatoes and cheese over top.
Step 6: Transfer to pre-heated oven. Bake for 20 to 25 minutes or until edges are golden and top is puffy.