Widening the Range
Bison Chili…
Herds of Bison have been roaming the plains of North America for 400,000 years. But the meat of this majestic animal is a virtual newcomer to the modern American diet. Today, thanks to conservation efforts and changing culinary attitudes, bison is making a major comeback and now is served in more and more restaurants and family dining tables.
Bison – the largest mammal on the continent – provided sustenance, clothing and spiritual value to indigenous Americans for millennia before over-hunting and shrinking habitat dramatically reduced the herds to near extinction by the late 1800s.
Today, more than 500,000 wild bison reside in all 50 states. To put that number in perspective, there are about 90 million cattle in the United States, according to the Department of Agriculture. And while about 60,000 bison are processed for food each year, cattle are processed at a rate of 125,000 per day.
"Bison represent the greatest market-based conservation success story in the history of North America," says Dave Carter, executive director of the National Bison Association. "Little more than a century ago, herds that once numbered tens of millions were reduced to an estimated 700 bison left alive. Dedicated efforts by ranchers, conservationists and tribal leaders have successfully restored nearly half a million bison to the rangelands and prairies of the United States and Canada."
This is good news for health-conscious consumers who enjoy eating red meat. Pound for pound, bison contains more protein, less
fat and fewer calories than traditional beef. According to the U.S. Department of Agriculture's nutritional database, lean bison meat has 87 percent less fat and 26 percent more iron than the equivalent cut of beef and has seven times more vitamin B-12 than chicken.
Bison (which is sometimes incorrectly referred to as buffalo) provides necessary nutrients, vitamins and healthy antioxidants, including, zinc, omega-3 fatty acids and selenium. Bison meat does not elevate harmful cholesterollevels,unlikeotherredmeat.
Now that we know a little more about the history and nutritional value of bison, what about taste? Bison's taste is relatively sweet and is not "gamey" like some other exotic meat. Its versatile flavor makes bison meat an easy substitute for beef in recipes for burgers, stir- fries, soups and stews.
Bison chili is an excellent recipe for those straddling the fence on trying the delicious meat for the first time. The milder, sweeter flavor will complement the spiciness of the chili. But keep it simple, especially the first time you make it. Carter from the National Bison Association offers this advice: "The biggest mistake is that people dump on so many seasonings they lose the great bison taste. If you're going to pay a premium for bison meat, you should taste it."
This recipe was slightly modified from the National Bison Association. If you have a favorite beef chili recipe, you can simply substitute bison. Either way, it will be delicious and healthy. •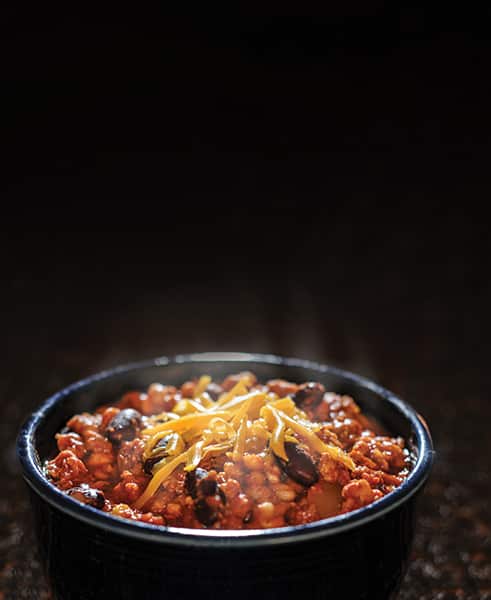 BISON CHILI
Servings: 4
Prep Time: 20 minutes
Total Time: 1 hour, 30 minutes
INGREDIENTS
1 lb. ground bison
1 medium white onion, chopped
15 oz. (1 can) pinto beans, rinsed and drained
32 oz. (2 16-oz.) cans peeled tomatoes
1/2 cup beer
2tsp.chilipowder
1/2 tsp. ground cumin
1/2tsp.salt
1/2tsp.groundpepper
1/4cupfreshcilantro,chopped
Optional: jalapeño peppers and grated sharp cheddar cheese
INSTRUCTIONS
Step 1: In a non-stick skillet, sauté the ground bison and onion until the meat is browned and the onion is tender.
Step 2: Add pinto beans, tomatoes, beer and seasonings. Cover and simmer for 1 hour, adding more beer if chili becomes too thick.
Step 31: Add chopped cilantro and simmer an additional 10 minutes.
Step 4: Spoon into bowls and serve with diced jalapeño peppers and grated sharp cheddar cheese.
Step 5: Serve with corn bread, biscuits or tortillas.