Tea Time
The Literary Genius of Noveltea Tins…
There are some words better suited to making puns than others. "Tea" might be at the top of that list. Just ask Jorgen Stovne of NovelTea Tins, who has helped create a "novel tea" business based on his passion for word play. "The first puns, Don QuixoTea – Man of La ManChai, War & Peach and The Picture of Earl Grey came from (co-founder) Johnny Pujol's twisted mind. From there, we spun our way to new ideas, often while spending silly amounts of time in Berkeley coffee shops," explains Stovne, who now lives and works out of Mount Shasta.
Billed as "loose leaf literature" and "punny tea for book lovers," the concept behind NovelTea Tins is a carefully curated variety of loose-leaf teas packaged in artfully designed tins that resemble books. "Each title goes through a bit of a rollercoaster. It starts with us testing out puns to see if we can make each other laugh. Most are pretty terrible.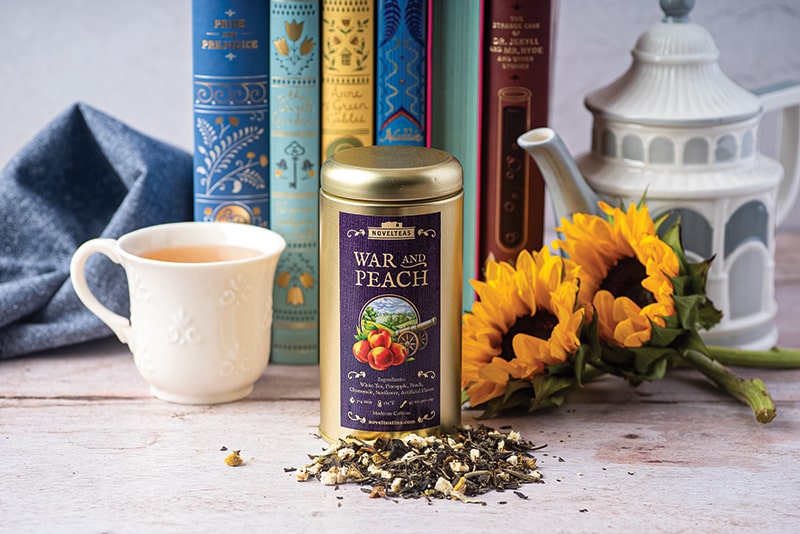 'Hei-tea,' 'Phantom of the O-pear-a,' 'Fifty Shades of Earl Grey'… but occasionally something comes out of it. Then we get serious. We need to make sure the tea relates to the book so the person enjoying it can truly immerse themselves into the story. That's why Pekoe Pan has a childlike vanilla flavor, and why Pu'er Rabbit is an earthy pu'er befit McGregor's garden," explains Stovne. Next comes the process of designing the book tin, which Stovne admits often takes more time than the puns. "We handpick artists who can make the design feel beautiful, but also befitting the story and theme. I think all of that hard work comes through in the end. And then we allow ourselves to all be funny again."
Originally from Scandinavia by way of Canada, Stovne founded the company with his friend, Pujol, after moving to America. "The idea originally came from Johnny. I was sleeping on his couch in Berkeley and we started talking. He was a fountain of puns and literary references, and I was new to the U.S. and needed a job. I had left behind a job as an advertising art director in Toronto, so when he suggested a Kickstarter campaign for the idea, it seemed like a good fit for my skills. Plus, Johnny's passion is infectious." Stovne and Pujol actually now run two businesses together. "Today our full-time job is running another water testing company that we started around the same time, but we've kept NovelTea Tins alive because we love it so much." Pujol remains in Berkeley, but Stovne and his wife, Holly Renee, relocated to Mount Shasta five years ago and package and ship the teas from there.  Mount Shasta even inspired one of the blends. "Mount Shasta: Pristine Peppermint" is now sold in stores all over the United States, including Europe.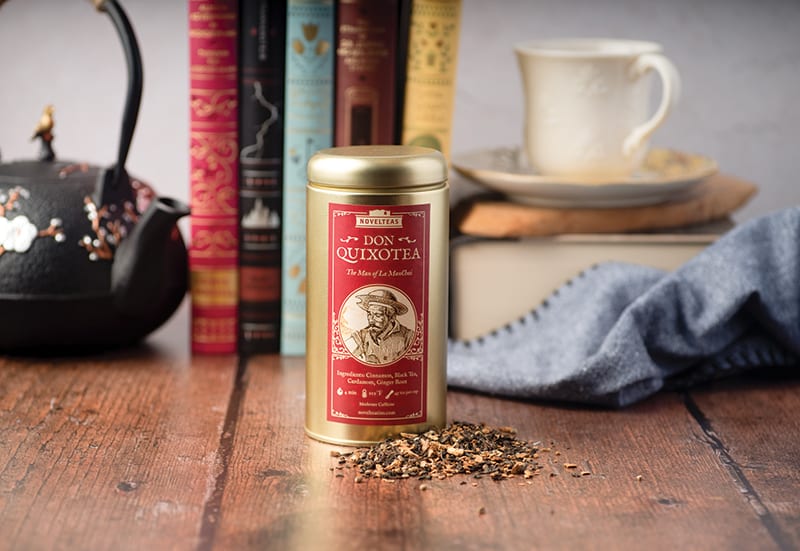 According to Stovne, "Pride and Peppermint" is their best-selling tea, but for a first-time buyer, Stovne recommends "Don QuixoTea" or "Anne of Green Tea Gables," which also happens to be Stovne's personal favorite. "The blend is delicious, but reading the book was such a joyous experience. Every time I see the artwork I smile as it reminds me of the book. I never realized how much I align with (character) Anne Shirley's appreciation for all things life has to offer." For Stovne, "a cup of tea should be a moment to reflect and take a break from everything."
He also believes it's important to have the right blend to match the moment. "During Christmas, for example, I love cozying up on the couch with a fire and a cup of Pippi Oolongstocking. Its smoky tones take me back to Scandinavian wood cabins when I was a child and would read Pippi. Add some gingerbread and a blanket and I'm in heaven. This sparks true hygge." (This Danish term generally means creating a warm atmosphere and enjoying the good things in life with good people.)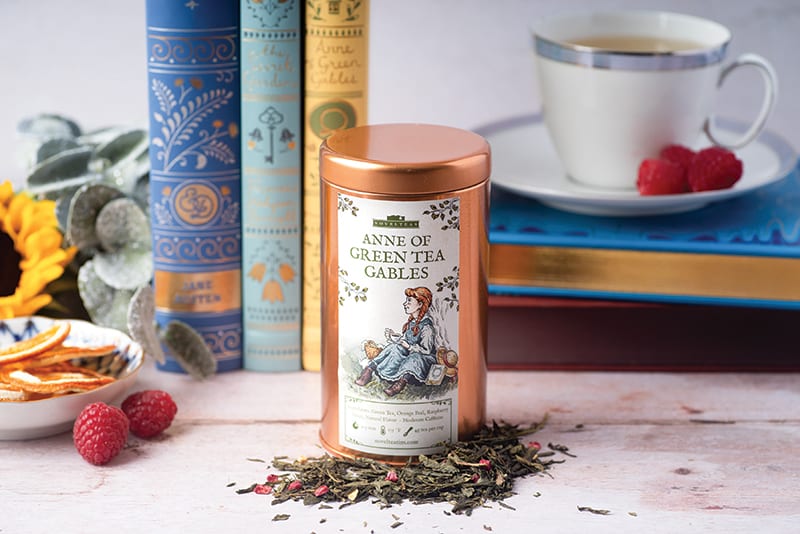 Tea is shipped online throughout the U.S. and Canada, and NovelTea Tins offers wholesale shipping to Europe, as well. In Northern California, the teas can also be found in numerous bookstores, gift shops and "cozy cafés." Stovne says, "We're proud to be in several gift stores in Siskiyou County, from Ramshaw's Home Boutique to Savory Cafe in McCloud. And check your local bookstore. We only sell to independent retailers and no longer carry our teas on Amazon."
When asked about pro tips on making the perfect cup of tea, Stovne is adamant. "Follow the directions. Certain leaves will not handle boiling water. Pay attention to dosage and steeping time." But as to what kind of tea, Stovne is equally adamant. "Don't let anyone tell you what tea to drink. Drink your tea the way you want to; what matters most is that you're enjoying it."
NovelTea Tins • www.novelteatins.com