Leaving a Legacy
Keeping it healthy at Sohnrey Family Foods.
It's a new year, and many of us have vowed to reach for healthier snacks on January 1. Since our hands first ventured into the candy bowl of Halloween, many have found it hard to stay away from the sweets of the fall and winter holidays.
Gratefully, Sohnrey Family Foods offers a way to turn to snacks that are not only healthy and delicious, but also local, offering an opportunity to support the North State economy and local family farms. From plain to flavored almonds and almond butters, the fifth-generation farmers of Sohnrey Family Foods have created a line of products that taste great and maintain the integrity of their raw ingredients.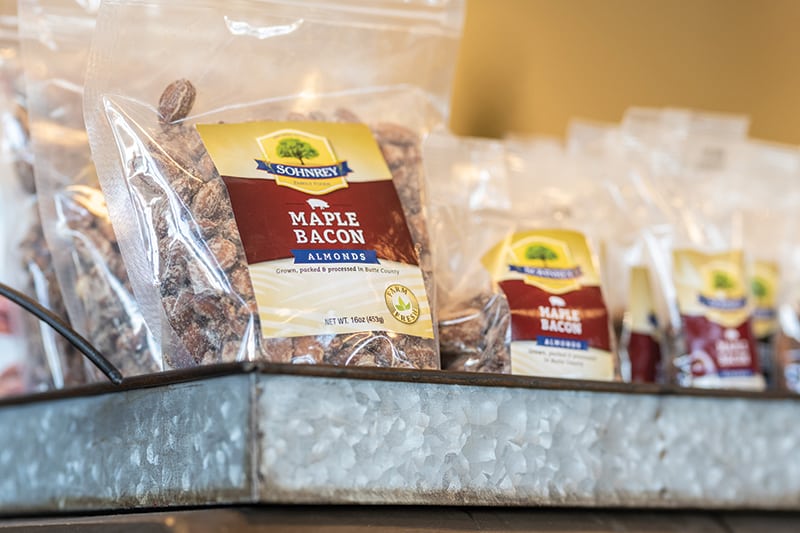 "We spend a lot of time on coming up with these flavors and not filling them up with sugar," says Andrew Sohnrey of their line of almond butters that include plain, snickerdoodle and dark chocolate. Raw almonds are roasted in such flavors as mesquite smoke and smoky jalapeno, which has gained quite a following, and balsamic herb, which he recommends chopped on a salad. There's maple bacon, which he explains "is either someone's favorite or their least favorite," and the underrated chipotle lime, which isn't as spicy as many fear.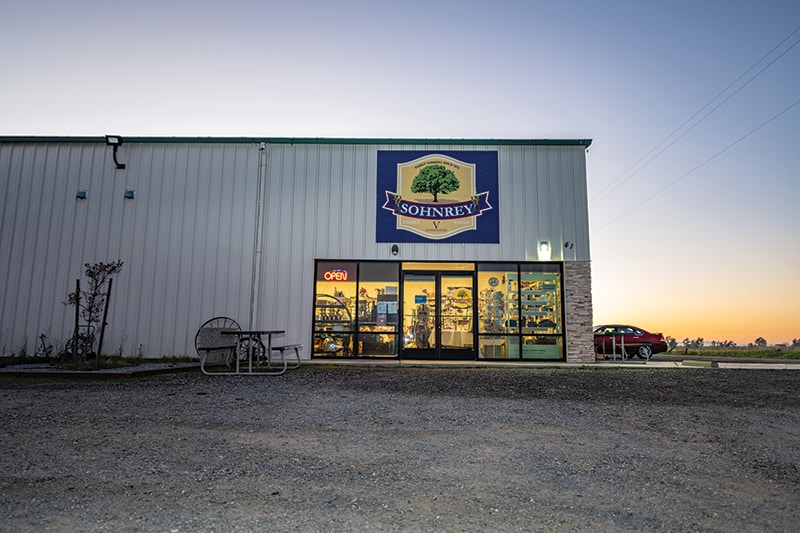 And, should anyone have a question about how to pronounce the ubiquitous tree nut snack, the company has a video on its website showing a tree shaker shaking the "l" out of the almond at harvest time. A customer is more than welcome to ask for "ammonds" when they walk through the door of the family's Oroville gift shop. Andrew and his brothers Derek and Alex, along with cousin Mike, started the retail venture of Sohnrey Family Foods in 2014. "We were looking to expand the farm," he says. "We'd always wanted to put our name on a product. We'd been selling our product to someone else and they put their name on it." After a brief stint using a co-packer, they took the leap to build
their own manufacturing facility.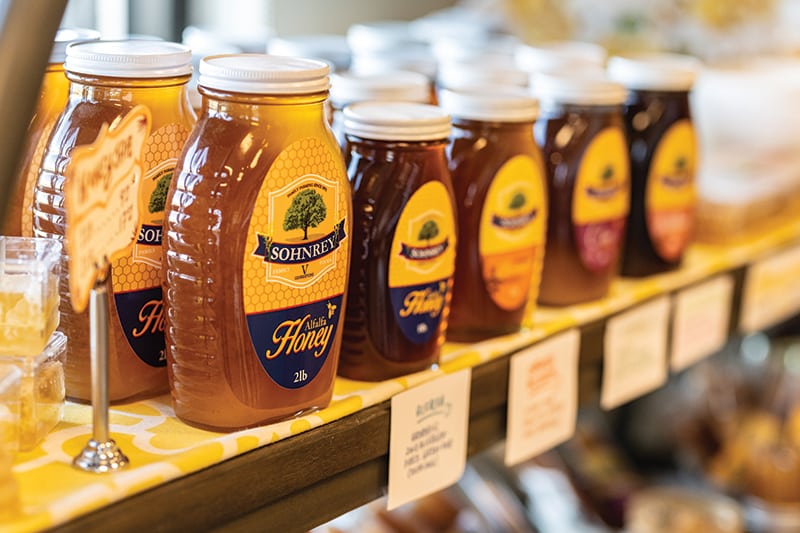 Another cousin, Cyrus Sohnrey, stepped in to develop the culinary flavors and everyone took turns with quality control. "With the help of all of us we ate more almonds than probably a person should," Andrew says.
The results have gained the family a successful online and retail store that now features products primarily from the North State, but around California as well as their own. "Ninety percent of our food comes from California, and 95 percent of our product is from smaller, family-owned companies," says Andrew.
Sohnrey Family Foods has taken a significant place on the Sierra Oro Farm Trail, an endeavor to promote agritourism in Butte County, and serves as the packing facility for the product boxes the trail has developed for order.
At the heart of this venture is the family's love of farming and desire to stay profitable for the generations to come. "Truthfully, the family farm is dying," says Andrew, who notes the stresses go beyond what Mother Nature provides and extends to complicated legal conditions that can make transfer of land to next generations expensive. "It's extremely important to us to make sure we can keep the farm, " he adds.
"Farming is a way of life," he says, noting that his family farms almonds, walnuts, rice and prunes. "There's nothing else like it. We take great pride in it, and it's hard work. We don't want that taken away. Our kids are going to have the opportunity to farm. They can sell it if they want, but it's extremely important to us that they have the opportunity." Of his dad, he says, "he wants us to have the opportunity to farm and we want our kids to have the opportunity."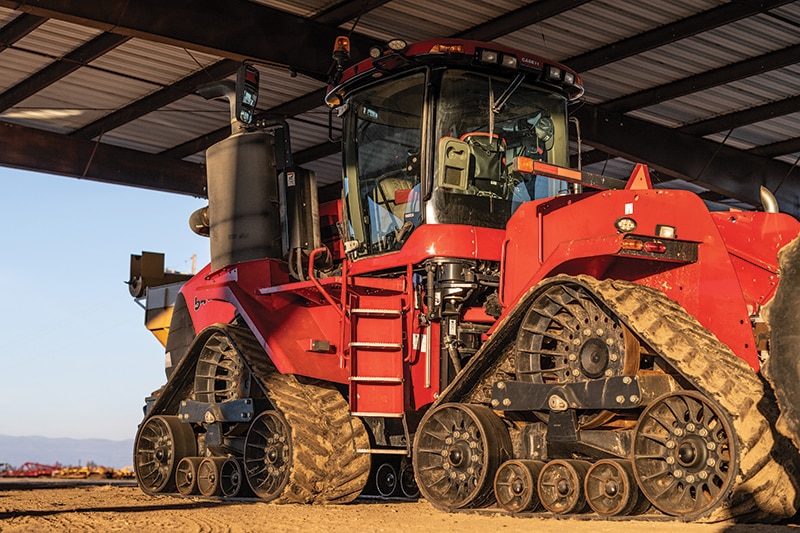 Building that security was the impetus the family needed to expand their ventures. "We took a bunch of farmers and threw them into retail and we had no idea what we were doing," he says. "The gift shop has been surprisingly successful. We didn't think it would be quite what it was." The company has already expanded its facility, moving from 5,000 square feet to 7,500 to accommodate its manufacturing and inventory needs.
"At the rate we're growing, it's not super fast, but it's not slow, either," says Andrew. "We don't want to be a corporate farm, but we have to keep growing to have a farm that will support seven more families." All owners have children and growth is made with them in mind. "If we play our cards right we can continue to farm for a long time," he adds. That's important not only as a family legacy, but because at the end of the day, he says, "It's nice to feel really good about what you do." •

Sohnrey Family Foods
41 Skillen Lane, Oroville
(530) 871-1976
www.sohnreyfamilyfoods.com