Shuffle Off to Buffalo
Buffalo Cauiflower
"A Healthy outside starts from a healthy inside." – Robert Urich
A little over a decade ago, cauliflower was little more than a standard item on a typical veggie platter, arranged next to the carrots, celery, cherry tomatoes, cucumbers and broccoli. It was considered a tried-and true crudité, but the cruciferous vegetable rarely was the main act. Now, cauliflower is a veritable veggie celebrity. And unlike many food fads, the cauliflower craze is just getting crazier.
There are two reasons humble cauliflower appears on plates everywhere: its nutritional value and versatility.
NUTRITIONAL VALUE: If you want to renew your focus on health and wellness in the new year, you can't go wrong with adding cauliflower to your regular dietary habits.
Cauliflower is naturally high in vitamins B, C and K. It also is loaded with antioxidants and phytonutrients that can protect against cancer. High in fiber, cauliflower will help you lose weight naturally and boost your digestive system.
Cauliflower is also packed with choline, an essential nutrient that aids memory, mood and learning. It also contains thiamin, riboflavin, niacin, calcium, iron, magnesium, phosphorus, potassium, and manganese.
If you are on a gluten-free, low-carb diet, cauliflower should be high on your list of go-to foods.
VERSATILITY: Because of its mild flavor, cauliflower is the perfect blank slate for so many recipes. Its neutral taste allows it to easily absorb herbs, spices and sauces. As low-carb, gluten-free lifestyles continue to grow in the United States, sales for products containing cauliflower increased 71 percent in 2019, according to Nielsen data. Here are just a few ways to incorporate cauliflower into your everyday meals:
• Cauliflower rice
• Cauliflower pizza crust
• Mashed cauliflower
• Cauliflower gnocchi
• Cauliflower tots
• Whole roasted 'steaks'
It is also excellent in soups, casseroles, stews, salads, pasta dishes and so much more.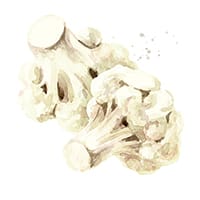 DITCH THE CHICKEN! About 40 percent of Americans will be making at least one New Year's resolution – and many of us will vow to eat healthier in hopes of dropping a few pounds. But January is a difficult month for such lofty goals. Bowl games and playoff games will dominate the television schedule, and who doesn't love eating snacks while watching football with friends and family?
Last year during Super Bowl weekend, Americans chowed down on 1.42 billion (yes, BILLION) chicken wings, a 2 percent increase from the previous year. "As long as people are sitting around watching TV and maybe drinking a beer, wings will remain in the game," said Tom Super, National Chicken Council spokesman.
If you want the delicious flavor of buffalo wings without all the fat and calories, cauliflower is the perfect substitute. Unlike chicken wings, cauliflower is cholesterol free and low in saturated fat.
This recipe will help you reach your health goals and give you that spicy flavor. Let cauliflower take center stage on the appetizer table for your football viewing this month. You might not even miss the meat! •
BUFFALO CAULIFLOWER
Servings: 4
Prep Time: 15 minutes
Total Time: 1 hour, 20 minutes
INGREDIENTS
• 2 T unsalted butter
• ¼ cup hot sauce
• 1 T honey
• 1 T lemon juice
• 2 T olive oil
• Dash of sea salt or kosher salt
• ½ cup water (room temperature)
• 8 cups cauliflower florets
(about 1 medium head)
INSTRUCTIONS
Step 1: Preheat oven to 400 degrees.
Step 2: Microwave butter in a small microwavesafe bowl until melted. Whisk in the hot sauce,
honey and lemon juice. Set aside.
Step 3: Mix olive oil, salt and water in a large bowl.
Add the cauliflower and toss until well coated.
Step 4: Place the cauliflower on a rimmed baking
sheet and roast until beginning to brown (about
20 minutes).
Step 5: Whisk the hot sauce mixture again, drizzle
over the cauliflower and toss with tongs to coat.
Roast the cauliflower for another 5 minutes.
Step 6: Serve with bleu cheese dressing or ranch
dressing or eat plain.