Downtown Details
Thank you for supporting downtown Redding businesses.
What a great time for those of us who love our Downtown to think about ways we can improve Downtown Redding for everyone. It's a new year – so let's review those things we know are successful ingredients for a vibrant downtown: Streets are growing active and attracting people to shop and eat Downtown. More mixed-use retail/residential is helping to make it a lively spot.
Retail locations are stepping up their game and offering unique events and flexible store hours. Those stores that stay open later are attracting customers who are out on the town later. Flex space, with stores offering in-store events, workshops and classes for clients and customers, are doing well. And businesses that offer experiences such as paint and sips, yoga and other activities are gaining popularity.
We also have many successful places that encourage nightlife: Places to eat, drink and be merry create vibrancy and make a destination. Add theaters and performing arts centers, and we have great public draws.
More large-scale development is happening in 2022. Keep an eye on Downtown. We are only getting better!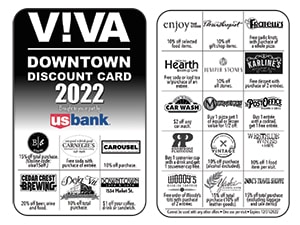 HERE'S THE BLAKEDOWN
Blake Fisher – Viva Downtown Program Coordinator Happy New Year from Downtown Redding. Start the year right by obtaining your own 2022 Viva Downtown Discount Card. The free card features 21 Downtown businesses. Participating establishments contributed generous discounts for this year's card, so if you are making your way Downtown for eating, shopping, creating and supporting local, this card will have you geared up for a fantastic visit.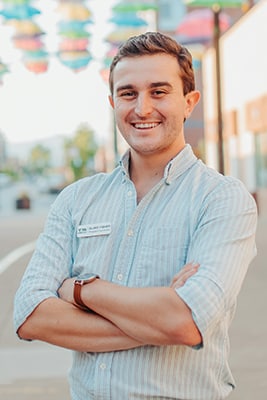 The 2022 Downtown Discount Card is active throughout the year and can be used more than once at participating businesses. These cards are available until we give them all away, and they go fast. Secure your free Downtown Discount Card by mailing a self-addressed, stamped (2 stamps) envelope to the Viva Downtown Office at: 1725 Market Street, Redding CA 96001 We love our board, sponsors, and Downtown businesses who make the discount cards possible each year. If you see me around Downtown, do not hesitate to say hello – I might event have a card on hand to give you.
DOWNTOWN BUSINESSES
CALFLEX – The small group aesthetics program at CALFLEX is designed not only to enhance fitness, promote weight loss and improve strength, but to pursue the ideal figure or physique. They've taken decades of experience with strength and conditioning, weight loss and bodybuilding to design a revolutionary program. It isn't your typical bootcamp or mainstream group fitness class. Their workouts are gender specific. The focus of their programming is to build muscles specific to a more aesthetic shape, and it is scalable to any level of fitness, from beginners to advanced. Their ultra-efficient, motivating, encouraging and addicting program always keeps clients guessing by introducing new challenges to keep workouts exciting and spontaneous.
524 Market St. • IG @calflexredding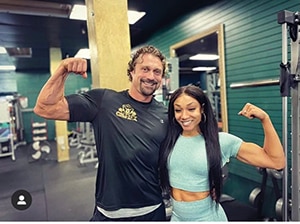 Pine Street Cleaners – Customers know Pine Street Cleaners is committed to making them look good, with services aimed to please, such as drive-up service, an after-hours drop bin, dry cleaning, shirt laundry, wedding gown preservation and restoration, alteration service and specialty clothing care. Pine Street Cleaners believes in service with style – "the personal touch." They take great pride in providing the highest quality dry cleaning with the best service, while using an environmentally friendly process. Their goal is to do more than just deliver the finest garment care possible – it's about always exceeding expectations.
1909 Pine Street • 530-241-6612 • www.pinestreetcleaners.com