The Big Cheese
Take the I-5 Cheese Tour…
While many people know that happy cows come from California, not too many people know about the passionate and friendly cheesemakers from the northern part who make exquisite, edible dairy cultures steeped in tradition and history. Therefore, here is a glimpse of three inland California cheese companies that strive to bring only the best organic cheeses from farm to market: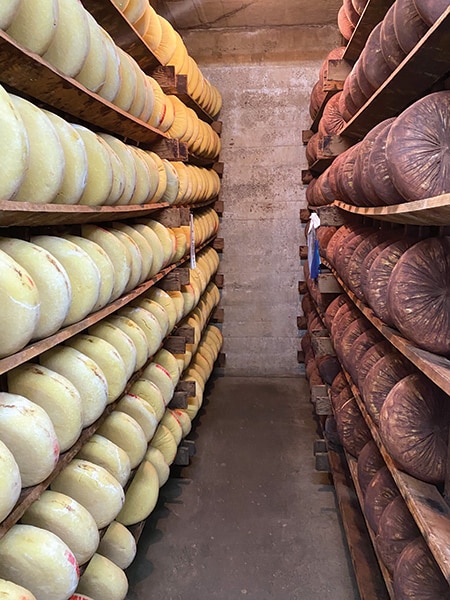 Rumiano Cheese Company
On a sunny warm morning out in the Willows countryside, fourth-generation cheesemaker Raymond Rumiano gives a glimpse into what happens at the Rumiano Cheese Factory in that in-between time from farm to store.
Founded in 1919, Italian emigrants Fred, Richard and John Rumiano settled in Northern California and started a dairy operation.
"However, they ended up with too much milk, so they went to UC Davis to learn how to make cheese," Raymond says. Now more than 100 years later, Raymond and his cousins Joby and Tony carry on the Rumiano name, expanding operations in Willows (Ray's father John and his uncle Baird also sit on the board of directors). In the early 1940s, Rumiano Cheese Company purchased a plant in Crescent City when they needed more space – and it's closer to its dairies – yet it has kept the cutting, packaging, distribution and original aging cellar in Willows. The cheese company works with 26 dairies in Humboldt County, matching the generational cheese making with equally small generational family farms.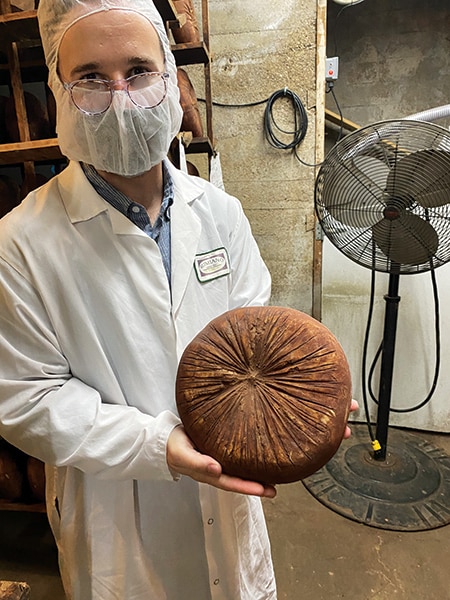 "We use quality milk to make our cheeses," Raymond says. Its partner dairies on the coast have Jersey, Guernsey and Holstein cows on green grass pastures 300-plus days out of the year. And unlike cheese from Wisconsin, its milk doesn't freeze here in Northern California.
Rumiano sells six varieties of organic cheese and 13 conventional cheeses such as cheddar, mozzarella and Monterey jack, although its lineup can change based on what consumers are looking for. Its most popular is Rumiano's mild, medium and sharp cheddar cheese, sold in 1,800 stores across the nation – one of Ray's friends even found an 8-oz. block of Rumiano cheese for sale in Dubai for $30. Right now, its organic certified non-GMO cheddar is extremely popular, part of the reason Rumiano is building a new 49,383-square-foot facility across Interstate 5 to help meet the demand.
In the tour through the cutting/packaging factory, slicing process, and dry jack cellar, the cheese cellar holds the most history. In a corner of the Rumiano factory where it all started, Ray points out where the dairy truck would drop the milk off, and it would be processed and aged in a cellar that was hand dug by his great-grandfather. Ten-pound wheels of cheese age on wooden racks for six to nine months, coated in cocoa and pepper to help maintain freshness.
Rumiano is one of only two cheesemakers who make this kind in California, and perhaps it is still being produced to pay homage to its past. Italian Hard Cheese wasn't available after World War I, so the Rumianos came up with the Monterey Dry Jack.
"It was popular in the early 1900s. It was known as the poor man's parmesan," Ray explains. The poor man's parm a century ago is a delicacy today.
Podrozo Dairy and Cheese Company
On the other side of Interstate 5 heading toward Chico in ranchland is a house with fragrant flowers and blooming
greenery surrounding it. Down the gravel driveway, you'll see a herd of dairy cows contently grazing out back. Cheesemaker Tim Podrozo opens the gate and the cows come running, eager to eat off the green pasture. "There's
Pearl, and Persimmon, and Little," says Podrozo. He points out Socks, a cow with a heart-shaped spot on her side. "She was the cutest calf, had little pink ears," he says.
The Podrozos moved to Orland 22 years ago from Merced to take over the farm and cheese plant, originally known as the Parker Dairy.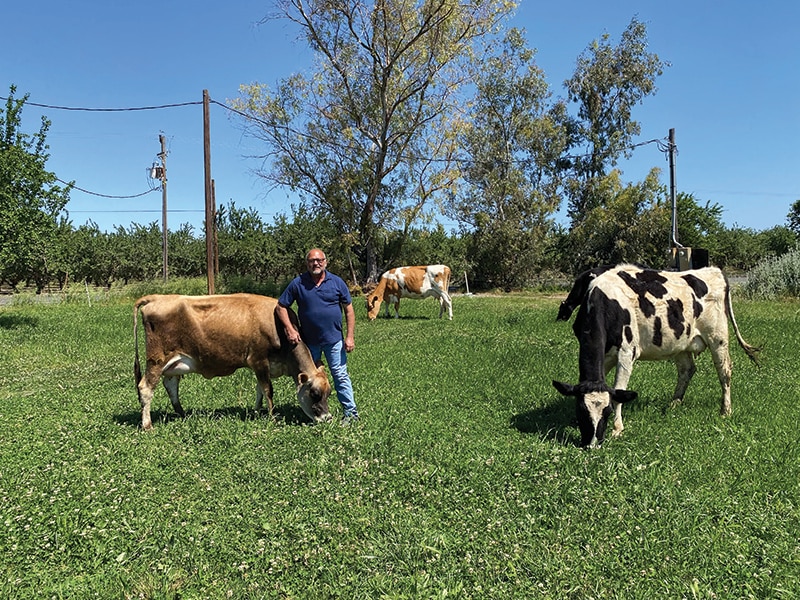 "We're third-generation dairy farmers, and we wanted to move away from Central California because the farms down there were getting bigger and more commercialized," he says. It was important to him to keep a small herd to allow his cows to be on pasture every day; therefore, they moved up north and took over the farm, eventually learning how to make raw milk cheese from completely grass-fed cows that he keeps on a rotational grazing routine.
Tim started out making two types of traditional cheeses – Northern Gold and Black Butte Reserve. The Northern Gold is aged a minimum of 60 days, while Black Butte Reserve is aged six months or more, and they are vastly different. Northern Gold is the mildest cheese, creamy and rich, while the Black Butte Reserve packs a punch with its distinct flavor. It's caramelly and a little crunchy, due to being aged a bit longer.
Podrozo also started making barrel-aged farmhouse feta, spinning it into wheels using a vat imported from Holland, and then maturing it in a traditional Greek brine recipe for 120 days or longer.
"I had to come up with a cheese that could be made in a warm environment that didn't have to be turned and stored," he says. Traditionally, feta came from places that didn't have refrigeration and could withstand higher temperatures, much like a Northern California summer. Podrozo Dairy is such a small specialty cheese company that external factors such as the Camp/Carr fires and COVID have impacted them greatly. However, Podrozo did see a boost in online sales last summer, which has helped him focus on launching a barn-to-door program that allows cheese aficionados to pick up their cheese directly from the farm so that it stays fresh.
Podrozo cheese is sold locally at the Chico Farmers Market, Field to Fork Tehama and the Little Sprouts Micro-Farm. The Podrozos will host a socially distanced open house on June 5 from 11 am-4 pm at 7713 County Road 24 in Orland, where people are welcome to meet the cows and try some cheese.
Sierra Nevada Cheese Company
Looping back around to Willows, the Sierra Nevada Cheese Company has a bustling multibuilding manufacturing facility with a small storefront near its entrance. Founded in 1997 by friends Ben Gregersen and John Dundon, this cheese company has steadily grown and is expanding operations into a new facility less than a half-mile away.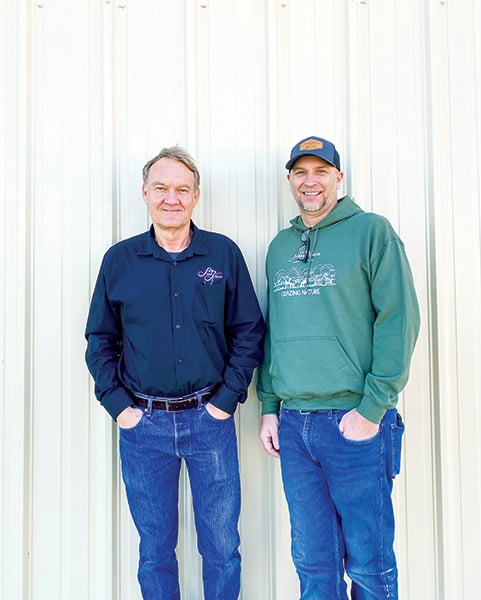 Nowadays, Sierra Nevada Cheese Company makes 70 kinds of dairy products ranging from cheese to yogurt, butter and more. In 2003, the cheese company moved to Willows where they added a cheese room and manufacturing facility. Its products are sourced from two local goat dairies, two grass-fed cow dairies for its Graziers brand, and three or four dairies that contribute to its organic certified cheese line.
Its Sierra Jack line is the first kind of cheese the company made, and it's smooth, mild and good in tacos or melted on top of some refried beans.
However, Sales and Marketing Associate Adrienne Ramos says its bestsellers are the raw goat cheddar and the Graziers raw sharp cheddar. "People like the raw milk cheeses, too. We get our milk fresh daily, so it doesn't sit," she says. The habanero cheddar is also a delight, soft with a little kick of the spicy pepper in the aftertaste. Its organic line of butters is also a favorite, taking an average dish of steamed veggies cooked in it or spread on top of a piece of toast into something next level. "Our European style vat-cultured butter is made of 82 percent butter fat and cultured overnight
for 16 hours," Ramos says.
Their products are sold in 86 stores in Northern California alone, from Redding to El Dorado Hills. In September 2020, the company launched a new online store and products have been selling like gangbusters.