It's Cheesy
Take Your Grilled Cheese To A Whole New Level…
The second recipe I ever "invented" was my Super-Duper Crunchy Grilled Cheese Sammish – and more than a half century later, I still make it.
(For the record, my first "recipe" was combining Lucky Charms and Trix into a bowl with whole milk. This should give you some idea about my culinary upbringing. Don't judge.)
As for my grilled cheese concoction, it was simple and needed only four ingredients: 2 slices of Wonder Bread, a healthy dab of Parkay margarine, 2 slices of Kraft American Cheese and a small handful of Granny Goose Potato Chips. I loved the crispiness and saltiness of the potato chips. To me, it was the ultimate tasty treat. Sometimes, I would go crazy and substitute pretzel sticks for the chips. I washed it all down with a tall glass of Hi-C Orange Drink or Kool-Aid.
Grilled cheese sandwiches have come a long way since then. The earliest known recipes for cooked bread and cheese can be found in ancient Roman cookbooks. In America, the modern grilled cheese dates back to the 1920s when affordable sliced bread and inexpensive cheese was introduced to grocery markets.
But it wasn't until the Great Depression that this simple, cheesy classic became a staple in kitchens across America. Here is an excerpt from an article titled "Sunday Night Supper the Time to Bring out the Grill" in the May 2, 1934 edition of the Washington Post.
"Sunday night is a grilling time. Avoiding a pun is difficult, but modern cooking being what it is and modern tastes being what they are, the statement stands and may be accepted quite literally. Grilled cheese sandwiches are no new thing. We get them in drug stores for lunch and at tea rooms for supper. But when the housewife begins to grill there is no limit to the combinations she may use and the delicious Sunday night suppers she may serve. Open-face sandwiches of cheese and tomato grilled, offer a combination of flavors sure to please the palate."
Let's ignore the chauvinistic "housewife" comment and focus on the "no limit to the combinations" and "sure to please the palate" parts. The possibilities are endless. Literally. Just use your imagination (or peruse your fridge and pantry) and you will be surprised at what you can do to jazz up your grilled cheese.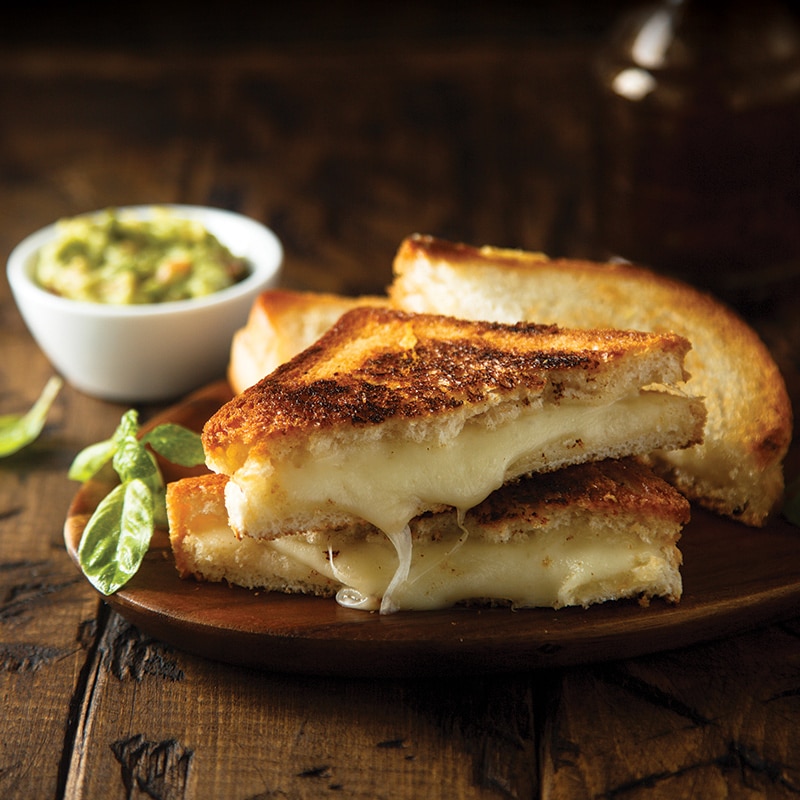 Don't believe me? Just look at what the gastronomic geniuses at Walt Disney World invented earlier this year. Dubbed "Grilled Cheeeeeese" (not a typo!), this sandwich is simply four slices of American cheese and, instead of bread, a glazed donut sliced in half. How many of you will be planning a trip to Florida or heading to your nearest donut shop ASAP?
Other sweet ideas include:
• Cream cheese and strawberries
• Pineapple, ham and teriyaki
• Blueberries and brie
• S'mores (chocolate, graham cracker and marshmallow)
You get the idea. Want to add a little fiery flavor? Just add:
• Sriracha
• Taco meat
• Spicy nacho cheese chips
• Jalapeños
• Extra-spicy barbecue sauce
Looking for a way to add a few veggies? Let's be clear: This clearly is not health food, but you can add:
• Asparagus tips
• Avocado
• Tomato
• Grilled onions
Some of my experiments have been dismal failures: Making a grilled cheese with Lucky Charms and Trix was a mistake. But use your imagination. Better yet, let your children be your guide. Ask your son, daughter, grandchild, niece, nephew or neighbor to help you invent the next culinary masterpiece.
And speaking of masterpieces, I will leave you with this: According to the Guinness Book of World Records, the most expensive sandwich is the "Quintessential Grilled Cheese" which sells for $214 at New York City's Serendipity 3. It is served on two pieces of French Pullman champagne bread which is made with Dom Perignon champagne and edible gold flakes, with white truffle butter and Caciocavallo Podolico cheese. The sandwich is served with South African lobster tomato bisque as a dipping sauce.
Let's see you top that. Enjoy!