Peanut Butter Cup Crispy Rice Treats
March 2021 Recipe…
Chocolate and peanut butter are one of the most satisfying sweet-and-salty flavor combos, and when you add it to crispy rice treats you've got an irresistible snack. This recipe is quick and easy to put together and
makes plenty of treats to share with others. Enjoy!
INGREDIENTS:
6 T butter
16 oz. bag mini marshmallows, divided
1 cup creamy peanut butter (natural peanut butter won't work)
1 tsp. vanilla
8 cups crisp rice cereal
1½ cups peanut butter cups, chopped & divided
¾ cup marshmallow cream
⅓ cup chocolate chips

PREP TIME: 10 MINUTES
COOK TIME: 5 MINUTES
COOL TIME: 30 MINUTES
TOTAL TIME: 45 MINUTES MAKES: 24 SQUARES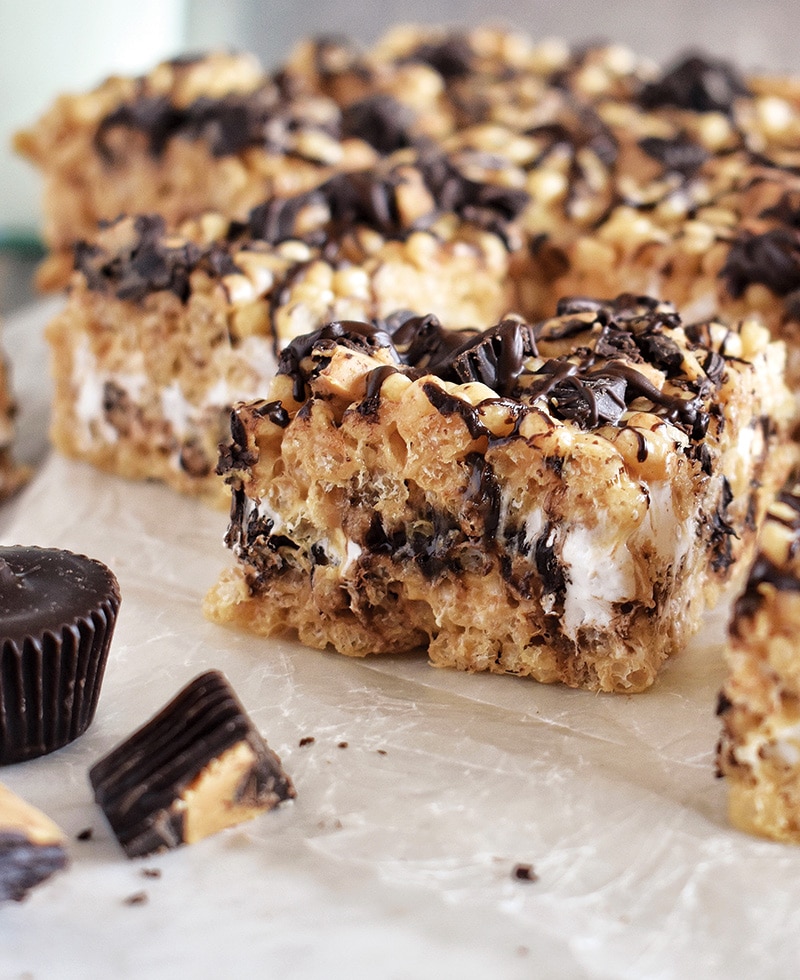 DIRECTIONS:

STEP 1: Line a 9×13-inch baking pan with parchment paper and spray with nonstick cooking spray. Chop up peanut butter cups into smaller pieces using a sharp knife and set aside. Measure out 2 cups of the marshmallows and set aside.
STEP 2: In a large saucepan melt the butter, the remaining marshmallows and peanut butter on medium heat until melted and combined. Stir frequently to prevent the ingredients from burning. Once melted and combined, remove from the heat.
STEP 3: Immediately add the vanilla, crisp rice cereal and the rest of the marshmallows to the saucepan containing the melted ingredients, and mix well until fully combined.
STEP 4: Lightly press half of the cereal/marshmallow mixture into the prepared baking pan and sprinkle 1 cup of the chopped peanut butter cups over the top. Add spoonfuls of the marshmallow cream over the top of the peanut butter cups. Cover with the remaining cereal/marshmallow mixture and lightly press down until even.
STEP 5: Melt the chocolate chips in a microwave-safe container in 20-second intervals, stirring well after each interval until fully melted. Sprinkle the remaining ½ cup of chopped peanut butter cups over the top, then drizzle the melted chocolate over the top.
STEP 6: Let the Peanut Butter Cup Crispy Rice Treats cool in the pan for about 30 minutes before cutting into squares. Store in an airtight container or wrap tightly in plastic wrap and store in a resealable plastic bag. If wrapped tightly and stored correctly, they will stay soft and fresh for several days.