Fall Bounty
Harvest Restaurant and Lodge in McCloud CA…
OPENING A restaurant during a pandemic might seem counterintuitive, but the new owners at Harvest in McCloud are bucking the trend. "We opened July 2, which was a crazy time to open, and we weren't sure what to expect, but we took a chance and did it anyway and it's been great ever since," explains Misty Hays, co-owner and front-of-the-house manager. Billed as a restaurant featuring a "vast menu of culinary delights," McCloud's newest eatery has been drawing a crowd – especially with its live music on the weekends and ample outdoor dining.
Located at the Shasta View Lodge near McCloud's "Red Barn," Harvest is owned and operated by Hays and her fiancé, Adam Ornellas, who is also the chef. "We came up with Harvest because we wanted to do something fresh and a little bit of everything," says Ornellas, who has trained in kitchens from New Orleans to Dallas and under the apprenticeship of Almir Da Fonseca of the Culinary Institute of America. "For instance, we have a Southern-fried chicken on the menu, as well as a chicken carbonara all the way down to shrimp and grits. And then we have a little bit of Asian flair with things like halibut with Italian black rice, and an apple ginger relish with a plum and hoisin sauce. We do a broad spectrum of flavor profiles." The fish is always fresh: "We bring it in whole and we cut it down ourselves."
Hays grew up in McCloud, and the restaurant "fell" into their lap. "My mother-in-law had said, 'Hey, I heard the Lodge is open,' so we went up there and we just kind of fell in love," Ornellas says. "The town kind of reminds me of what Truckee was when I was a little boy and I felt there was something special here." And while the restaurant is run separately from the lodge, they work hand in hand. "The main lodge building hosts the restaurant and our two deluxe suites and laundry room. Our guests love being able to go right there, eat and drink great food and just walk right back to their rooms," explains Linn Tyhurst, manager of the lodge. Both parties are looking to the future when they can host events that combine a stay-play element.
The lodge itself has also undergone major renovations in the last five years. "It is owned by three partners who bought it in 2015. It was in pretty rough shape and they dumped a lot of money into it, updating all of the five original guest suites by gutting them and putting in reclaimed hardwood, floors, really nice beds, amenities and all the bathrooms. They also added our two deluxe suites, which are two-story suites for families or larger groups." Tyhurst is quick to note that some of the rooms are pet-friendly and feature completely contactless check-in, which the lodge was actually doing pre-pandemic. It also has a fantastic view of Mt. Shasta, giving the lodge its name. "We're actually the only restaurant and hotel in town that has a view of the mountain like we do. So, if you're dining on the back patio, Mount Shasta is there, overlooking you. It's a really special, special spot."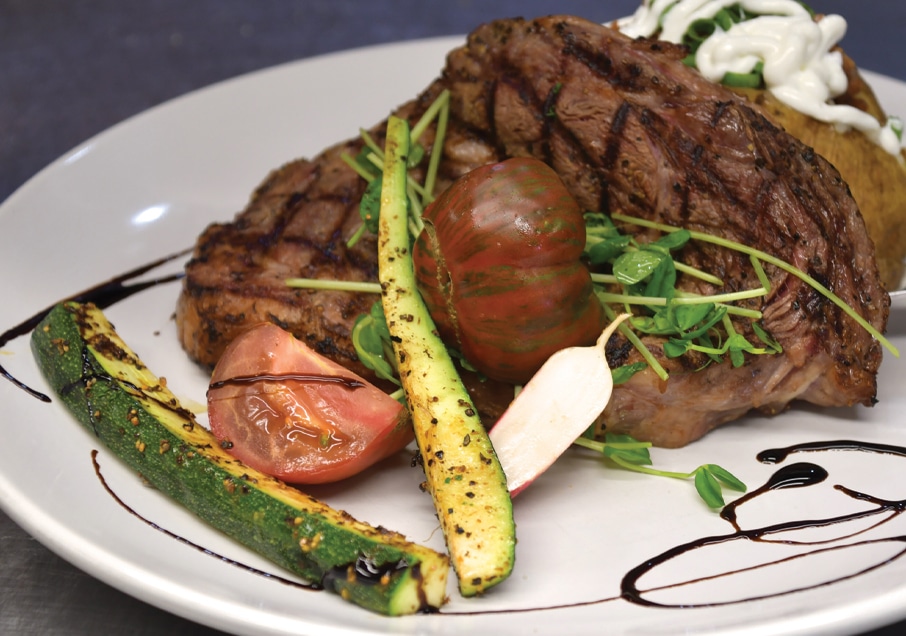 Ornellas offers some chef 's advice for those first-timers who have yet to try the diverse menu. "I would say always check out the specials for dinner, like we've been bringing in whole halibuts and breaking them down which people have loved. With an appetizer, you will not go wrong with the Spanish mussels. It's my mom's recipe and it always goes over really well. Then, I would finish up with a buttermilk pie that's made in house." But while the food is high-end, the atmosphere is relaxed, which is important to Hays. "I think people overall are really excited to be able to go out and have the type of food that they're having, but still being able to do it in their jeans or in their flip-flops. We have the environment that's for anybody and everybody. Bring your kids, don't bring your kids, or come in a suit and a tie if you want. Everyone is welcome."
Harvest • 140 Squaw Valley Road, McCloud
(530) 853-4224 • www.harvestmccloud.com
Hours: 4-9 pm | Tuesday – Saturday
www.shastaviewlodge.com · 530.918.8240