Unturkey
A very vegan Thanksgiving…
Ever tried going vegetarian? There are plenty of reasons to quit meat and pile on the veggies – like health and clean conscience – but motivators like these will only go so far in maintaining such a drastic change in lifestyle. On your own, anyway. Chances are, you'll need help to chuck that roast for good. You'll need the kind of support that comes from a group of like-minded dinner companions. And you will need their recipes.
For the past year, Redding resident Janel Scott has gathered a group of folks who work hard to keep animals off their dining tables. She schedules coffee shop sit-and-sips and organizes potluck dinner events. She keeps her community connected through a Facebook group called Redding Vegan Meetup, named after the strictest discipline of vegetarianism. In a vegan's world, fish is not a vegetable; dairy and eggs are shunned as well.
Scott claims there's still plenty of good food left for vegans, and she cites as example one of her favorite dishes, good old American macaroni and cheese. Vegan butter, garlic, yeast and lemon juice stand in for the cheese. "It's scrumptious, especially with vegan tuna," she says. "It's a normal thing to be a vegan in this area. I can tell, because I go into stores and there's more of an array of vegan options. There's a vegan substitute for anything a non-vegan eats."
Scott's biggest vegan event to date is last November's Unturkey Day, an alternative Thanksgiving gathering at Brew Craft Coffee in downtown Redding. An estimated two dozen diners filled the small coffee shop, each contributing a vegan dish to a serving line that formed on the shop's front counter. Plates filled to overload looked and tasted like traditional Thanksgiving recipes. Some of the "meats'" color and texture was simulated, as in the case of the Beef Wellington, with a skillful blend of mushrooms, chestnuts, pecans and spices.
Ellen Sweeny brought a Thanksgiving Meatless Loaf, which sure looked like meatloaf, but had its own taste, the result of mixing – among other things – sweet potato, white beans and tofu with spices. Sweeny and husband Dennis worked with an animals' rights group for 30 years in the Santa Cruz mountains before moving to Redding a couple of years ago. All members of this group were vegan, and all made a conscious effort to avoid any products made from animals at all, a pledge not uncommon among vegans.
Also a pledge that's not easy to keep, according to Sweeny. "You never know when animal products are going to pop up. It could be something like your steering wheel has a leather cover. You never know. I just do my best," she says. However, there was no doubt about absence of animal at the first annual unturkey fest. Each entree on the serving line included a card listing the ingredients, so diners could know exactly what they ate, and could identify in advance any possible allergens.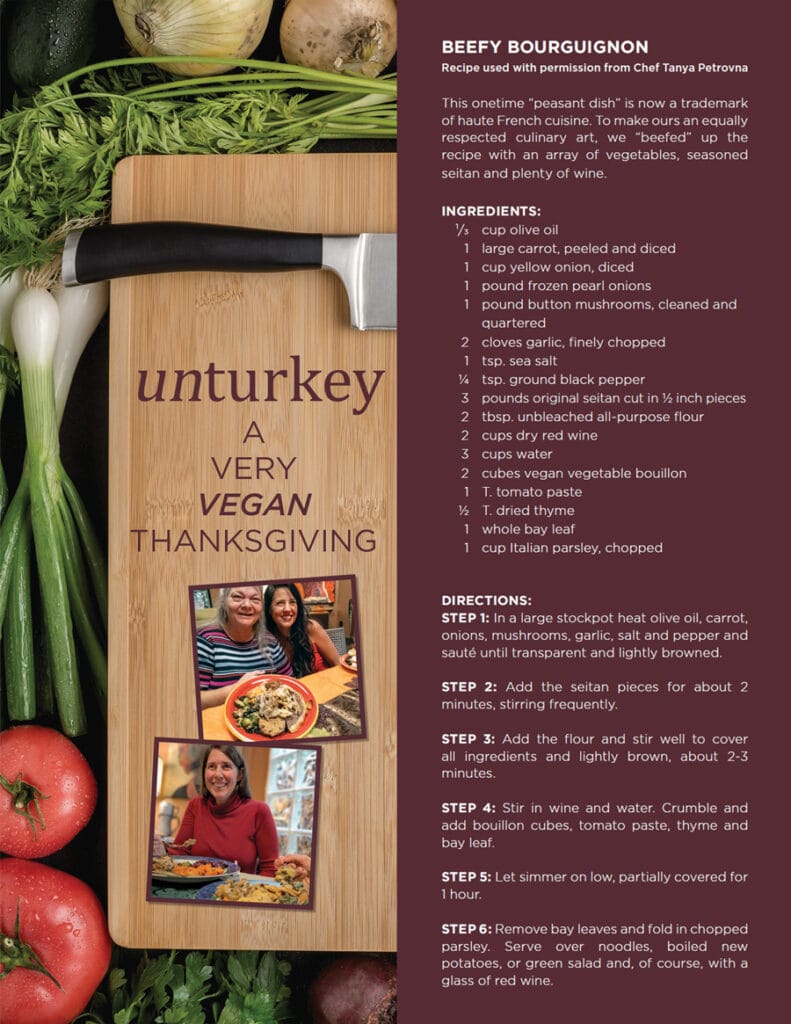 Completing the core four members of Redding Vegan Meetup, Cheryl Devine brought a vegan ham she purchased online. Unlike Sweeny and most of the 10-12 members who found Redding Vegan Meetup through Facebook, Devine first met Scott in person. Both attended a Shasta College event called "Brave the Cage," where attendees were invited to pack into a small enclosure to get an idea what it was like to be an egg production hen. Both prioritize humane treatment of animals in their lives.
Sweeny says she and her husband have fought to raise awareness for three decades. "I don't like seeing animals killed for food," she says. "I wish people realized we don't have to exploit them to live a good life."
Scott and Devine can clearly recall how quitting meat impacted their health. For both, this change was positive, but they experienced it in two markedly different ways. Scott entered this strange new world six years ago, already suffering from colitis and digestion problems. She says over the period of about a year, her symptoms faded away, which surprised her.
"I did this because of animal rights," she says. "I didn't expect my health to get better. But my weight stopped fluctuating and I felt better physically."
But Devine had no health complaints going in, 17 years ago, so she was perhaps more sensitive to the discomfort caused by her sudden, new diet. "I started off with a veggie burger, soy milk and vegan ice cream. I was terrible," she says with a laugh. "I felt horrible for a year, but I knew about that. I read about it. My body was getting used to a lot more fiber and was producing new enzymes to deal with it."
Since Scott named last year's unturkey dinner "the first annual," she made it clear she planned on a follow up for 2020. A certain pandemic has skewed those plans, but the second annual Unturkey Day is happening in Redding, Saturday November 21, beneath a canopy erected outside on the edge of a Redding Vegan Meetup member's pumpkin patch. The public is invited and the time and location can be found on the group's Facebook page.
You'll also find there a reminder that all potluck contributions are to be accompanied by a card listing their ingredients, along with the requirements for a dish. As the leader of the Redding Vegan Meetup says, "If it has eyes and a mother, I just say no."