Earthstone At McConnell Arboretum & Botanical Gardens
In the Details…
Eearthstone is large, earthy and nicely quirky. Eight feet tall and weighing 14,500 pounds, the abstract sculpture within the gardens of Turtle Bay Exploration Park in Redding is covered with hundreds of animal/botanical-themed ceramic tiles and concrete castings.
Like the sculpture, the story of EarthStone also has lots of pieces. It reflects love of a person, community, nature and art.
The creator is Colleen Barry, whose whimsical, colorful mosaic pieces are well known in Redding. She's the imaginative force behind Mosaic Oasis, Slow Turtle Crossing and Frog Island at Turtle Bay, as well as Mosaic Sanctuary at Redding City Hall Sculpture Park. Barry has a master of fine arts degree in visual art. Her work has been exhibited in numerous museums, galleries and private collections.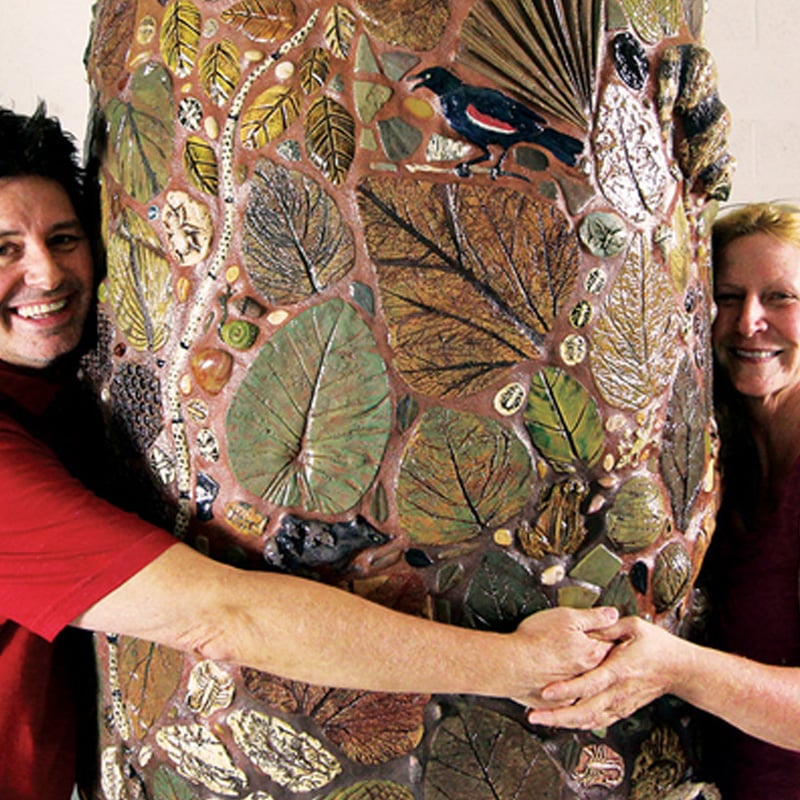 The instigator of EarthStone is Lawrence Dillon, a San Francisco documentary filmmaker/producer who grew up in Redding, graduated from Shasta High School and Shasta College, and once worked for North State public television station KIXE.
The inspiration for the sculpture is the late Don Oestreicher, the former director of Citizens Utilities Company of California and a 34-year resident of Redding. The engineer/businessman died of complications from Parkinson's disease in October 2008. He had wide-ranging interests – sailing, architecture, literature and classical music – and was a founder of the Performing Arts Society in Redding.
And here's how the pieces fit together …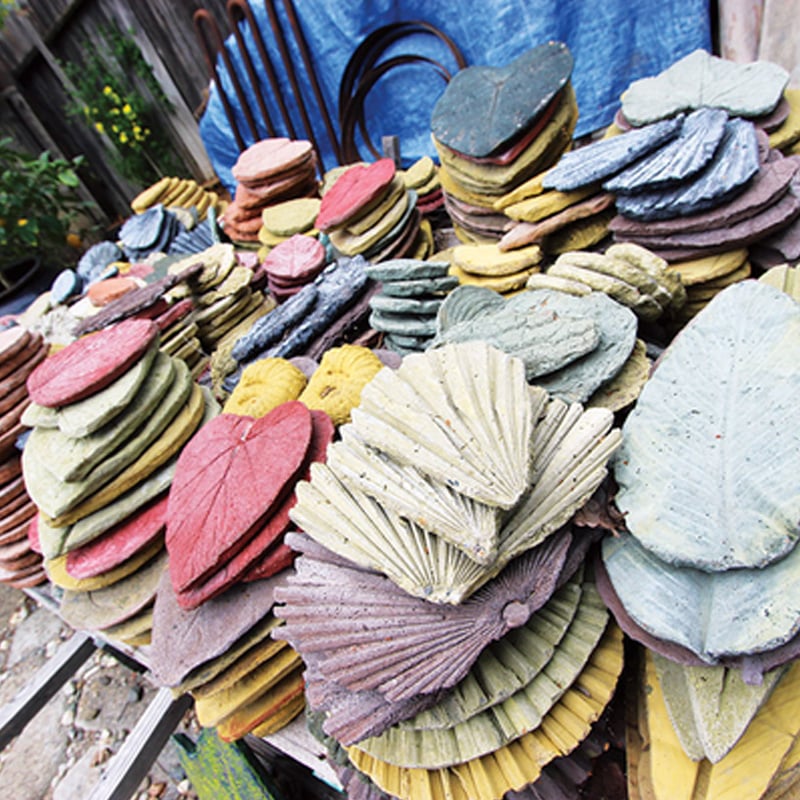 Dillon and Oestreicher were longtime partners. They met at a Performing Arts Society concert and were together 18 years. Dillon wanted to honor Oestreicher with a memorial that also would be a gift to the community. The idea of a sculpture reflecting Oestreicher's love of the arts was sparked during a visit to Turtle Bay when Dillon came across Barry's Mosaic Oasis sculpture. Wowed by it, he contacted Barry to pitch the idea of a creating a sculpture. "I wanted to show the kind of art Don liked," Dillon says. "Something uplifting for the mind and spirit."
Barry was impressed by the plan, noting it's unusual for an individual to commission public art. She signed on for the project. Barry and Dillon's working relationship quickly became a strong friendship.
"Working with Colleen has been one of the best adventures of my life," Dillon says.
"I could tell he wanted something imaginative and interactive," she says.
Barry envisioned a piece that would evoke one feeling from a distance and different reactions and interactions up close. She pictured a fossilized slab of tactile pieces representing nature – a primordial rock teeming with life.
Dillon wasn't quite sure what to think when he saw the concept sketch. "It was this weird thing."
But he grew to love it.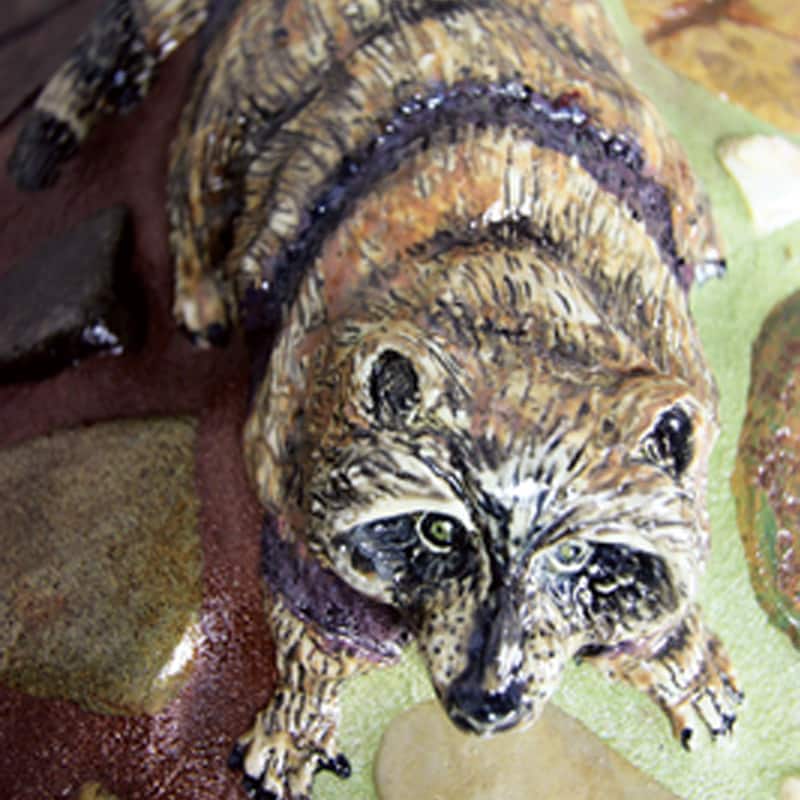 "It did represent a mystery, and if you knew Don, that was at his core. It was more about the questions of life than knowing the answers," Dillon says. "As I saw this project develop, it was really in tune with what he would have loved."
Turtle Bay was eager to have the sculpture become part of its McConnell Arboretum and Botanical Gardens. Barry's earlier mosaic sculptures were already hits at Turtle Bay. "We jumped at the chance," says Turtle Bay CEO Mike Warren, who adds that public art "brings a personality to the community."
Barry spent a year making the birds, frogs, turtles, leaves, fossils and shells and other pieces for EarthStone. The ceramic animals were handcrafted from clay. The botanical pieces are concrete castings made from molds Barry created. The sculpture originally leaned more to botany, but Barry says, "I got bored making leaves. Now the leaves are the background for these local animals."
EarthStone's concrete substructure was fabricated at Universal Precast Concrete in Redding using a model Barry crafted. She arranged and adhered the pieces to the form at a Redding warehouse. "It's like a puzzle. It's really tricky," she says.
EarthStone was completed in June 2014, with the dedication held a year later to give the surrounding plants time to grow. The project was funded by Dillon and the Donald L. Oestreicher Trust with support from Turtle Bay and a Shasta Regional Community Foundation grant.
"I really like EarthStone," Turtle Bay horticulture manager Lisa Endicott says. "It is unusual and subtle. There's always something new to find."
"There's whimsy, but there's also an ethereal nature to it," says Miki'ala Catalfano, Turtle Bay creative services officer.
EarthStone draws on curiosity. While it reflects nature, there's no single, simple, unequivocal message to it. Dillon says EarthStone isn't so much about, "What does it say?" as, "How does it make you feel?"
"I hope it will stop people," he says. "Give them a moment that takes them out of their day-to-day thought process." •
Find EarthStone along Willow Pond Trail in the McConnell Arboretum & Botanical Gardens at Turtle Bay Exploration Park in Redding.