Growing Succulents With Mountain Crest Gardens
Here's The Dirt…
Roman philosopher Seneca once said, "Luck is what happens when preparation meets opportunity." When speaking of Mountain Crest Gardens in Fort Jones, Seneca's statement might work better the other way around: opportunity is what happens when preparation meets luck.
The family-owned nursery sells succulents – those plants known traditionally as rock garden or container plants, and usually recognized by the fleshy parts that help them retain water in arid climates. The word "succulent" comes from the Latin word sucus, which to Seneca would have meant "juice" or "sap." Founded in 1995, the nursery was created by local nurseryman Tom Jopson.  It was a sister operation to his already established Cal Forest Nursery, a conifer tree seedling business that's now one of the largest reforestation nurseries in the Pacific Northwest and still shares greenhouse space with Mountain Crest headquarters in Fort Jones.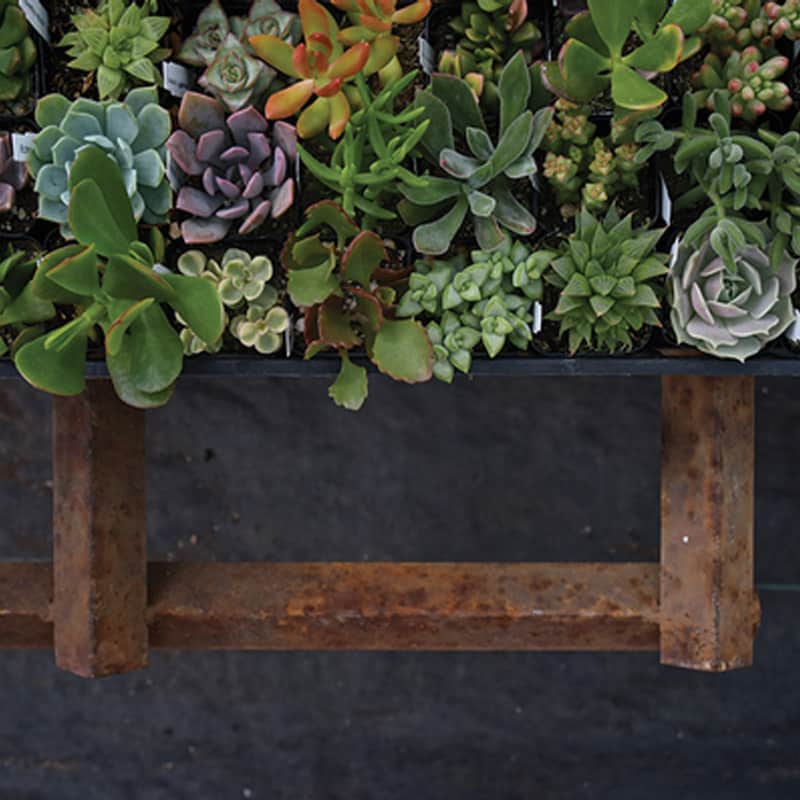 For the first decade of its existence, Mountain Crest Gardens focused on wholesale container gardens and pre-planted "gift" products to large distributors like Walgreens and Walmart. Then, in 2005 it shifted to selling plants directly to the consumer. "We finally gave up on the wholesale thing after we sent a full pallet of our planted gift products to a Walmart distribution center. After a month, we got a notice that said we'd labeled it incorrectly and the whole pallet was getting sent back and, of course, the plants were all dead. You might be able to get away with that in the non-perishable world, but in the plant world, forget it," explains Vice President Matts Jopson, son of founder Tom Jopson.
As luck would have it, the timing of that change couldn't have been better.  In 2006, Debra Lee Baldwin published her first book, "Designing with Succulents," which introduced succulents in a big way to the general gardening population. "Until then, the focus had beenon the blooms rather than the foliage," Jopson says. "The big revelation in her book was that if your foliage is interesting, you get to enjoy it for longer. Blooms are temporary, but foliage is forever."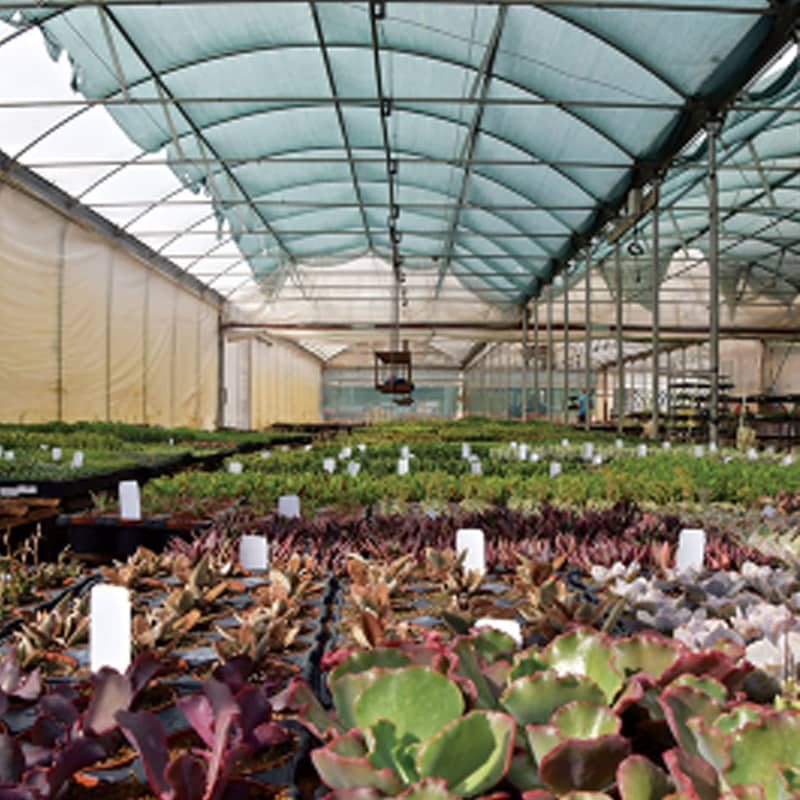 In the following years, prolonged drought and the advent of Pinterest and Instagram brought even more attention to these low-water, brightly colored and unusual-looking plants. Suddenly, succulents were all the rage, and Mountain Crest was perfectly poised to catch the wave. These days, they're national players, with orders as far-reaching as Guam.
"This spring, the United States Capitol Building in Washington, DC, bought a whole bunch of hardy succulents," Jopson says. "And then a week after that, the National Botanical Gardens bought a similar amount for their display gardens showing hardy zones all across the United States."
Hardy succulents have always been the bread and butter of Mountain Crest's collection because unlike tender, or "soft" succulents that are suited to Southern California coastal towns, hardy succulents do well in the snow – and are therefore ideal for northern gardens. "Eighty percent of the US population is in a non-temperate climate, so the sky's the limit in terms of getting yards full of hearty succulents," Jopson says. And because Mountain Crest focuses on what Jopson calls "Costco-style wholesale" – meaning lower-priced bulk quantities available directly to the consumer – their product is also attractive to collectors, DIYers and mom-and-pop shops that can't handle an entire pallet of plants but still have a margin to make.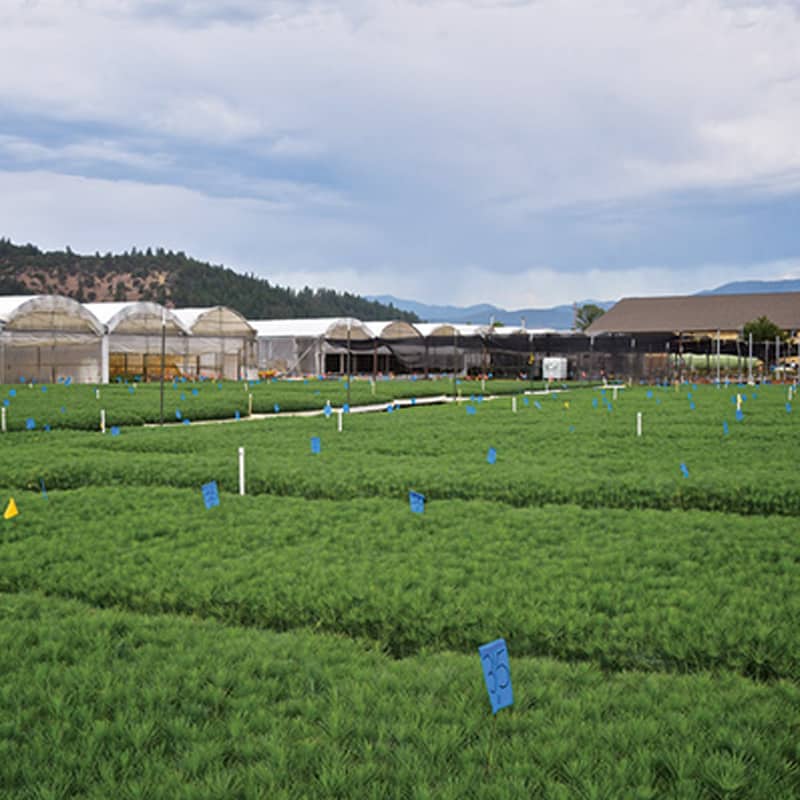 But it's the variety of succulents offered at Mountain Crest that really excites Jopson, including an exclusive hybrid they recently released to the public called the Black Lotus. "Our tagline is just simply the ultimate succulent store. And to me that means youcome to our website and you can search the widest selection of succulents anywhere on the internet." This year, one of Mountain Crest's most popular exotics was the whimsical succulent known as the "Frizzle Sizzle." "Even though they look really delicate, they are actually quite rigorous growers," Jopson says. "They've been one of the fastest selling plants we've ever seen here."
To this day, Mountain Crest Gardens handle its sales online and maintains its roots as a family affair. Even Jopson's sister, who lives in Los Angeles, helps make the videos on plant care that live on the website. For Jopson,
that's part of what why his work feels so fulfilling. "With a family business you have a vested interest, right? And that's a really compelling reason to work really hard and put everything you've got into it." Jopson is also excited about future expansion. "We're starting to get into the world of succulents in restaurants and indoor business décor, and we're trying to do it in a way that's unique to the marketplace."•
Mountain Crest Gardens • 402 Bridge St., Fort Jones
(877) 656-4035 • mountaincrestgardens.com