Small Town Heart
Dick Short of Etna…
The city of Etna has a population of 678 people, making it a very small town. But when it comes to one of its most famous residents, it also has a very big heart.
Dick Short was born in Etna nearly seven decades ago in a former dentist's office. "It's the place on Diggles Street with the wagon wheels out front," he says. He had three brothers and one sister, and he remembers his father working locally for the county road department, "down there by Horn Lane." He's seen businesses come and go, and recalls losing his first apartment in town to a fire in 1997. "But I got some help from everyone and then I moved to a ground floor." Sara Brooks, the general manager of Denny Bar engages with Short almost every day. "He's filled with many interesting stories about Etna's history, his childhood, and he knows every fact there is to know about birds. He's a beloved character in our town."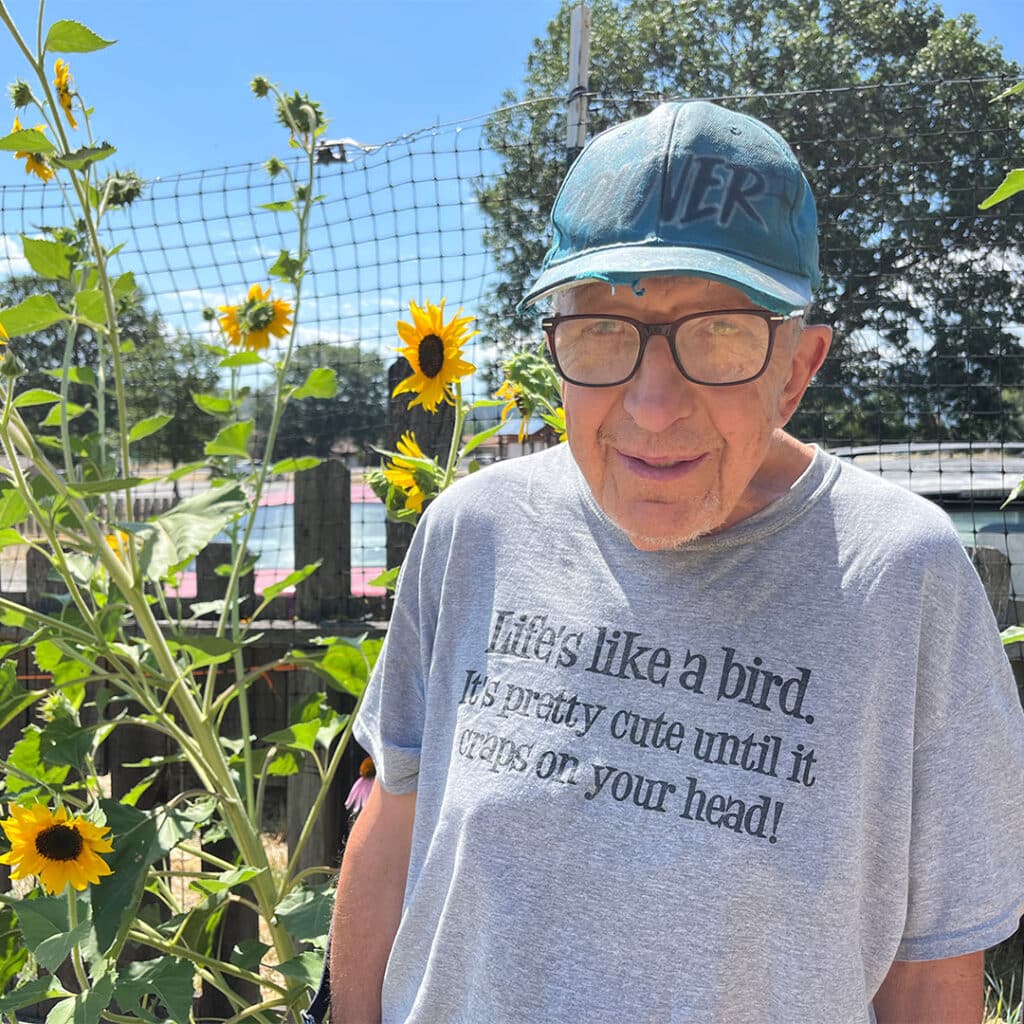 These days, most people encounter Short on his daily walks around Etna. Rain or shine, he trudges the same path, stopping at just about every business along the way. He starts in the morning from his apartment near the grocery store and heads to Dotty's Restaurant at 11am. Then he heads to the post office, followed by his first visit of the day to Denny Bar. "Dick has a very specific daily routine and comes here twice a day. He stays for a couple hours at lunch, then comes back for dinner and stays until we close. We give him his diet Pepsi and a water twice a day. In the winter he gets soup, except for chili, because he hates it. In the summer, he gets a personal pizza. On Sundays, he also gets his burger with sweet potato fries and a very, very large side of ketchup. My entire staff has his orders memorized, so he never has to ask for anything. He even has a designated seat with a personalized name tag and bird drawing," Brooks says. "Every day after lunch, he tells us, 'See you later,' and every night after dinner, he reminds us, 'I'll be back tomorrow.' He refuses to leave until we repeat it back, which makes us smile."
After lunch, the next three stops on Short's route are typically the library, the MVP gas station, and Dollar General. He also likes to visit Martin's Experienced Items for cards. Then it's back to Denny Bar for dinner. He usually gets home around 9pm. Short says one of his favorite places on the route is the library, where he can use the computer and catch up on news. His favorite food is his once-a-week cheeseburger, and unlike most locals, he actually knows all the street names. But if you ask him how many miles he walks in a week, he shrugs. "I have no idea." A quick check on the map reveals he probably clocks at least three miles a day.
Lots of people in town look after Short, sometimes giving him a ride in inclement weather or getting him a new hat or shoes. Another community gift was a reflective vest to make him more visible at night, though Short confesses he doesn't always like to wear it. Brooks sees the civic support firsthand. "I often see people dropping Dick off at the restaurant and walking him inside, so I know many people in the community are taking good care of him. Many customers buy him gift cards and extra meals. At Denny Bar we also know he absolutely loves holidays, so we always buy him presents, including his birthday in May, which I have memorized. We can never forget the card because that is his favorite part. One Halloween, we even made him a bird costume."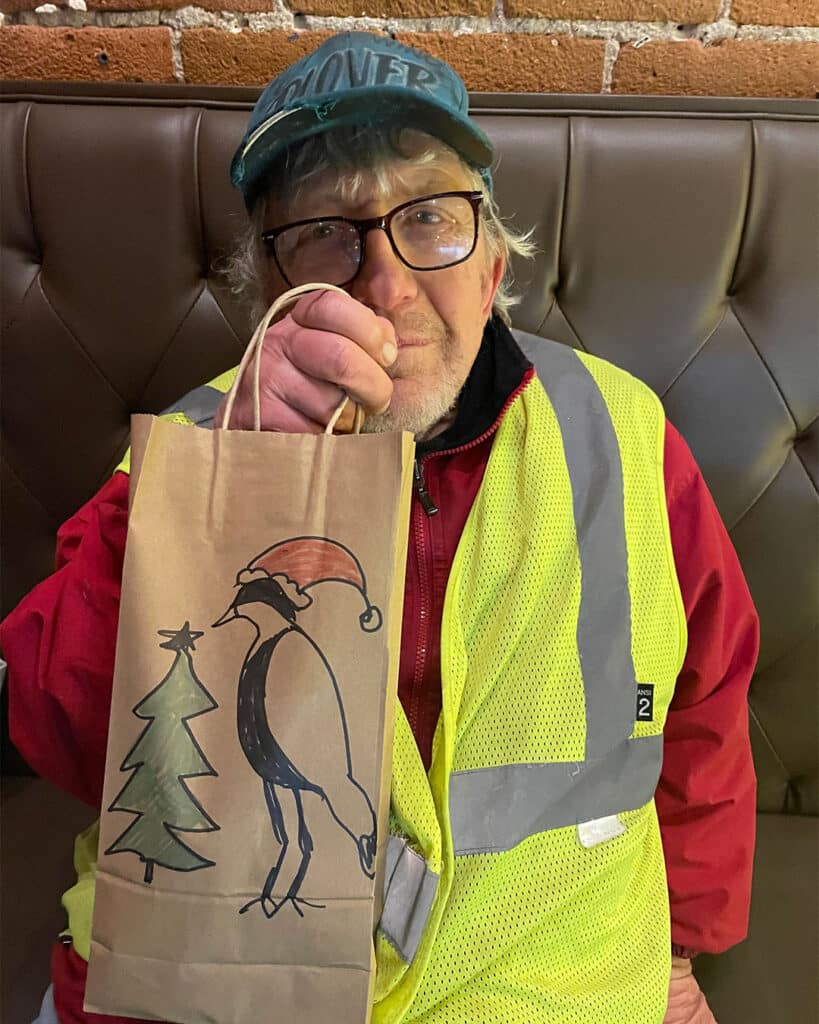 But just as the community has provided for Short, he's also spent years caring for the city. Before local recycling service ended, Short wasn't afraid to dig through all the city trash cans, especially after events, to make sure every can and bottle found its way to the recycling bin. In fact, one resident estimates Short may have single-handedly kept several thousand pounds of material out of landfills.
To get Short talking, just ask him about birds. His favorite bird is the plover, a type of plump-breasted little shorebird whose family includes the notoriously noisy killdeer. Known to forage alone, they're a true North American breed. And, like Short, they're also always on the move. He enjoys the fact that "they like to eat insects and grubs."
Despite his love of birds and flight, Short has never been on an airplane. When asked why, it's because no one is quite sure how he'd react if he ever got in one. But for now, he seems nonplussed just keeping his feet on the ground. As for all the recent changes he's seen come to Etna, Short nods his approval. He also offers recommendations for a first-time visitor to town. "The restaurants. And City Hall."•
Short loves cards, especially at Christmas.
To send him one, mail it to
P.O. Box 323, Etna, CA 96027.
If you include a stamped envelope, he may send a card back.
Article written by:
Megan Peterson has been a freelance storyteller for more than two decades, with writing credits ranging from National Geographic to the Sundance Channel. She also brings a background in marketing and audio tours, and has traveled and worked on six continents. Megan currently lives in Northern California with her family and a menagerie of pets.