Food Bank & Bowl
Sisikiyou Community Food Bank at the Yreka Bowling Lanes…
Just this past August, talk about a pickle! A vendor unexpectedly found itself with 5,000 pounds of food on its hands in the midst of wildfires near the Klamath National Forest.
Fortunately, the nearest population center of note, Yreka, is home to Siskiyou Community Food Bank. Executive Director Laura Leach said her nonprofit was the only organization in the region big enough to handle this quantity. Housed in one of the town's largest buildings, the Yreka Lanes bowling alley, and ample storage with a freezer room across the street, this food bank is one the authorities call. This turned out to be a boon for the food bank's regulars. "It probably doubled the amount they were getting before," Leach says.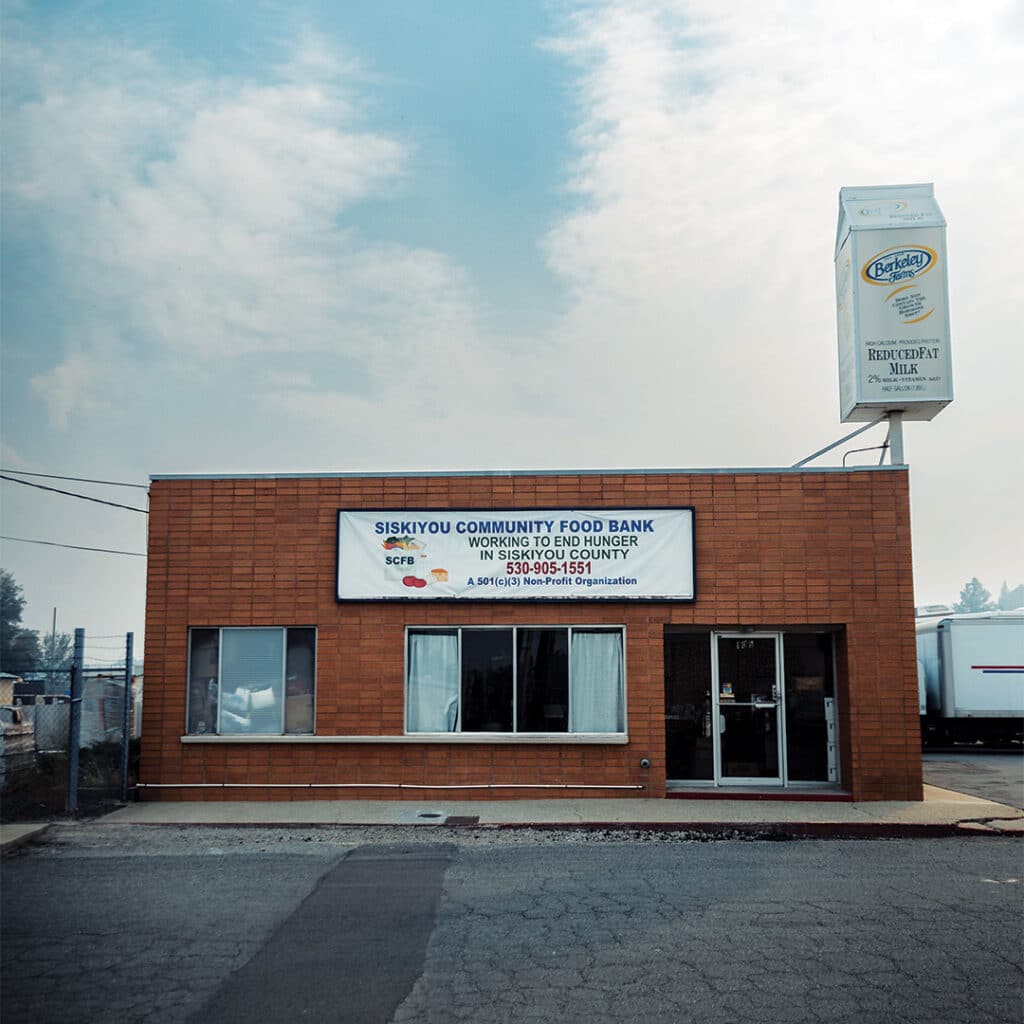 Siskiyou Community Food Bank has become accustomed to dealing with wildfires, Leach says, "so in addition to low-income and seniors and homeless, we are big enough to provide food for the evacuation centers. We've worked with the Red Cross and Salvation Army in order to do that, but the county calls us first because we can bring food right over, because we have a kitchen."
That kitchen is known as the Ten Pin Café, and is located, naturally, in Yreka Lanes. Siskiyou Community Food Bank's office and food distribution area take up about one-quarter of the building, with the rest housing a thriving bowling alley. Retiree Mary Smith manages the bowling alley and cafe, and the reason Leach says "we have a kitchen" is because the food bank owns the building and everything in it.
Brocc, stock and ten pin.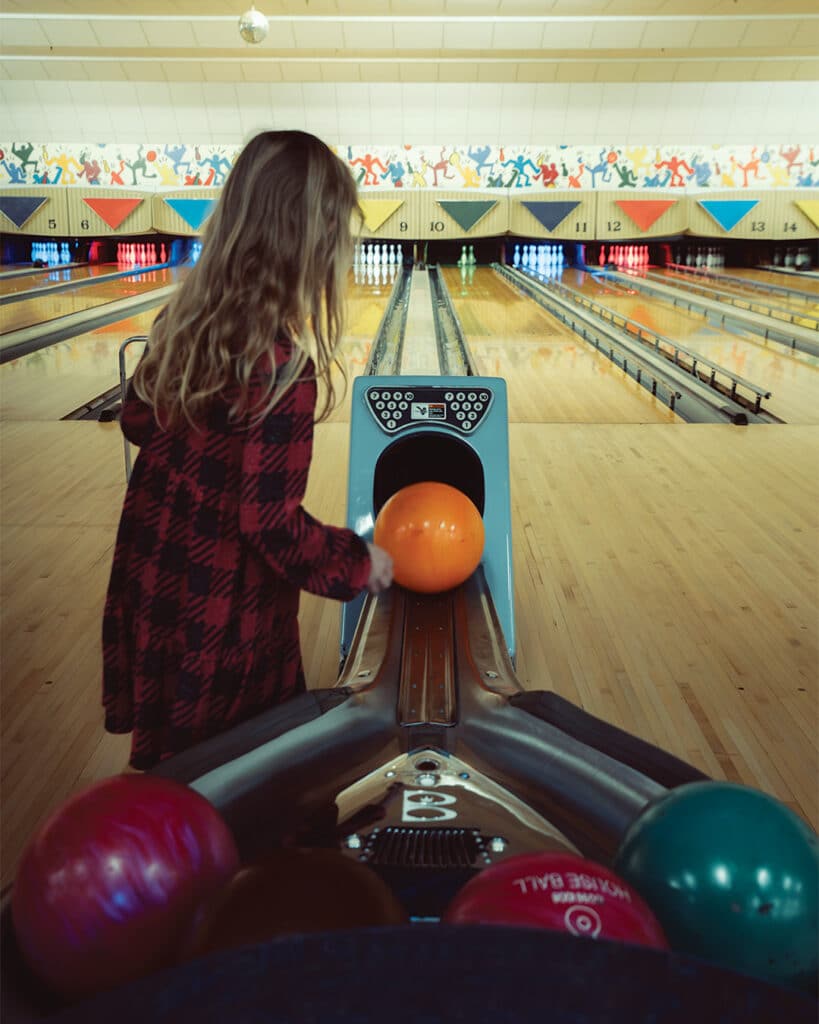 Smith also works as the cook at the Ten Pin, and prepares meals not often seen on the menu at a bowling alley. "Tomorrow night, because we have a league, I'm making homemade meat loaf, real nice potatoes and gravy, and a vegetable cornbread," she says. When she's not cooking, she pitches in at Siskiyou Community Food Bank, collecting or distributing food.
And for all this work, Smith is paid not one single dollar. As Yreka Lanes manager and cook, she volunteers to oversee a rotating team of 18 to 20 volunteers, most of them retirees like herself. At the food bank, she joins the team under the supervision of Leach, who is also a volunteer. So every dollar donated, or money from every game bowled and every meal consumed, goes to food for the hungry.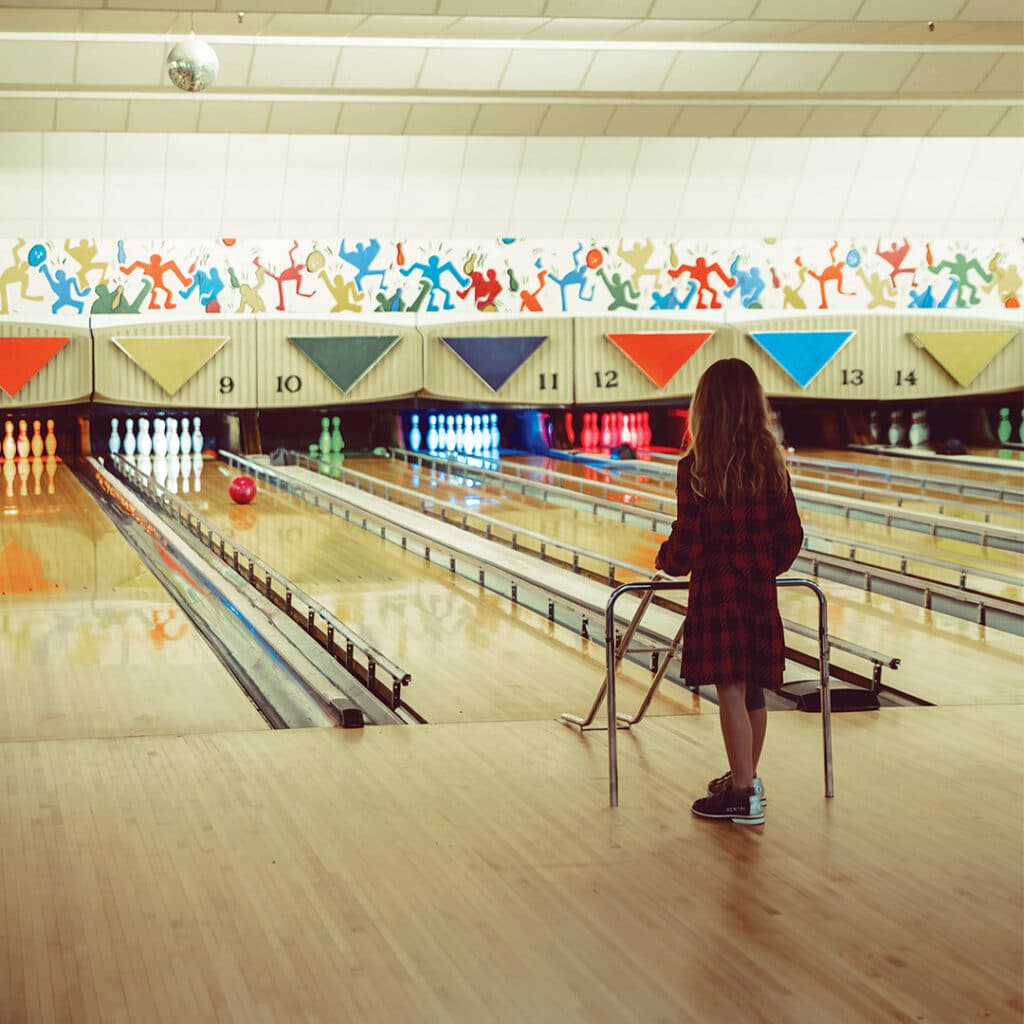 Leach put this all together with her observation of need and her sharpened administration skills. About 10 years ago, halfway through her career of 25 years with Siskiyou County Department of Health and Human services, she approached the Yreka Farmers Market board with the idea to salvage leftover food from the vendors instead of throwing it away. At first she, her farmer father and a farmer friend diverted the leftover produce and fruit to a small food bank. Then they expanded, delivering also to a local senior nutrition program.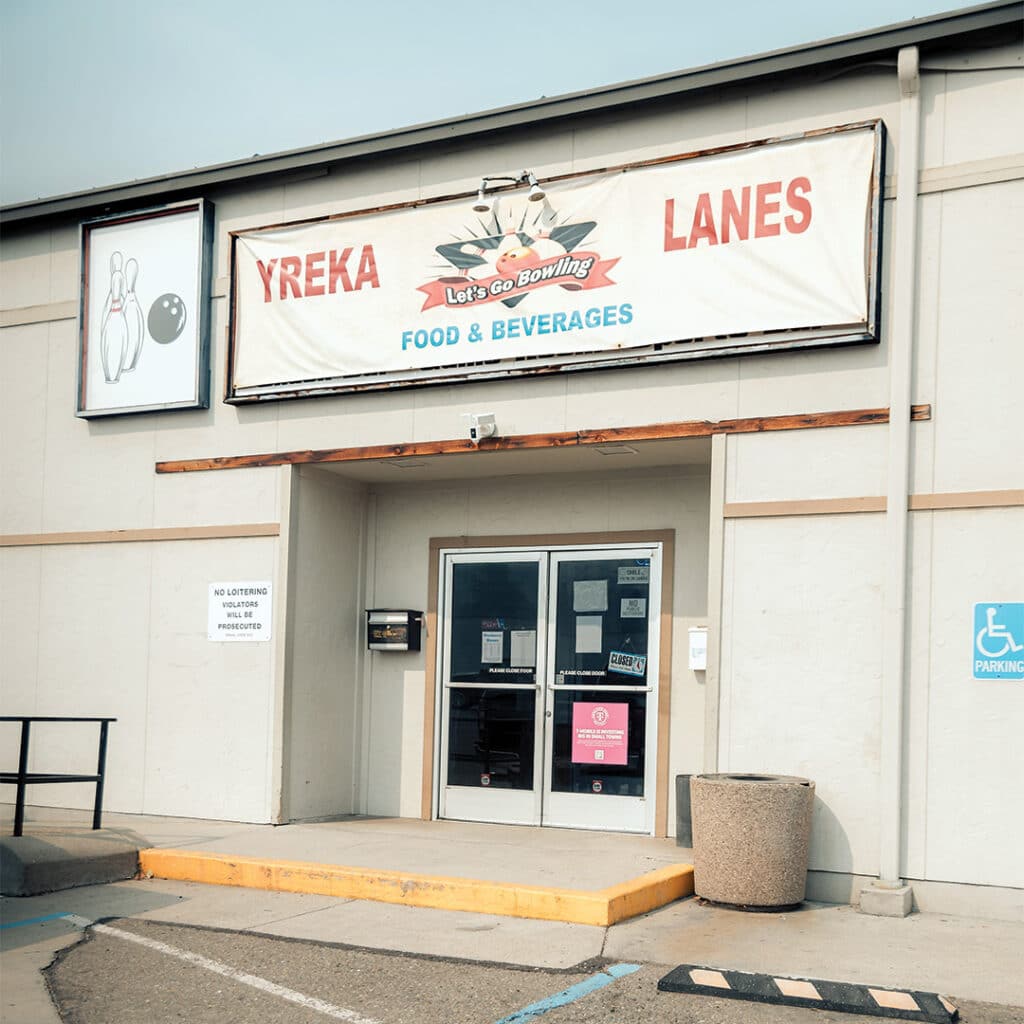 "At some point, we were getting so much food that we considered opening our own food bank, and then I incorporated it," Leach says, referring to the creation of the nonprofit Siskiyou Community Food Bank. "I had years of experience at Human Services with paperwork, so I got pretty good with that." Then came the paperwork to make the food bank a charitable trust, which allowed it to accept donations. She also wrote grants, which funded trucking in food from out of the region. Within a few years, Siskiyou Community Food Bank was poised to outgrow its first location.
So Leach went out to seek a donation to buy a building in town, and landed an anonymous gift. A big donation. A half a million dollars, which it turned out was enough to buy a bowling alley.
During normal operations, Siskiyou Community Food Bank provides free food to about 1,000 households, close to 2,500 people. Amounts per household depend on family size, but recipients can count on at least 55 pounds of groceries per week. "And we have what we call our 'no cook' bags, and those are typically for homeless who don't have a safe place to cook. It's our policy that we give them ready-to-eat type foods, because I refuse to be part of causing a wildfire," she says.
Leach credits her Dunsmuir upbringing for focusing her attention on those in need. "We had a very Christian home, very giving. My mother was the song leader in the church, and she did all kinds of stuff, and I grew up with this. It's just natural to me to want to help others because that's how I was raised."
As she does the books each night, Leach dreams of the day when income from the bowling alley and donations will stabilize long enough to take the next big step – paying for permanent staff. Until then, her Siskiyou Community Food Bank relies on people giving to it. "We always need more volunteers and donations," she says. •
Siskiyou Community Food Bank
Yreka Lanes
1601 S. Oregon St. B, Yreka
Food bank: (530) 340-6382
Bowling alley: (530) 572-1552
www.siskiyoufoodbank.org
www.yrekalanes.com