Every Dog Has It's Day
Whiskeytown Bark Program…
Indiana Bones is an adventurer, and he's got the credentials to prove it. The young Queensland heeler is an official Whiskeytown National Recreation Area BARK ranger.
The title comes with a bit of bling – a BARK ranger tag for his collar – but not much responsibility for Bones. It's his human, Victoria Linhart of Redding, who has to be up to speed on rules and keep Bones on the path to good-boy behavior when they hit the trails at Whiskeytown.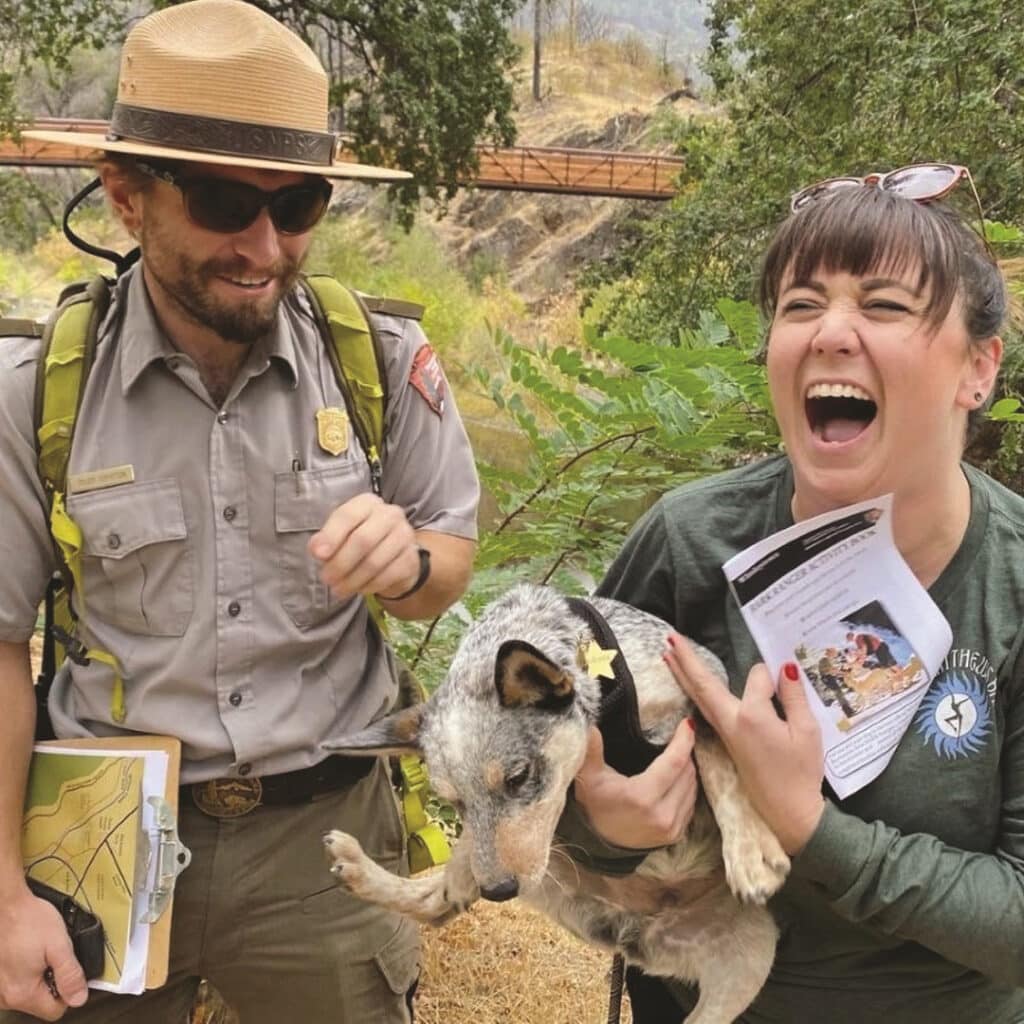 The BARK program is about encouraging responsible pet ownership so all visitors can enjoy Whiskeytown. The basics are imbedded in the acronym:
— Bag your dog's waste.
— Always leash your dog.
— Respect wildlife.
— Know where you can go.
Whiskeytown launched the BARK program about two years ago.
"We've had probably 75 people – or dogs, as it were – become BARK rangers," says Scott Einberger, interpretation supervisor at Whiskeytown.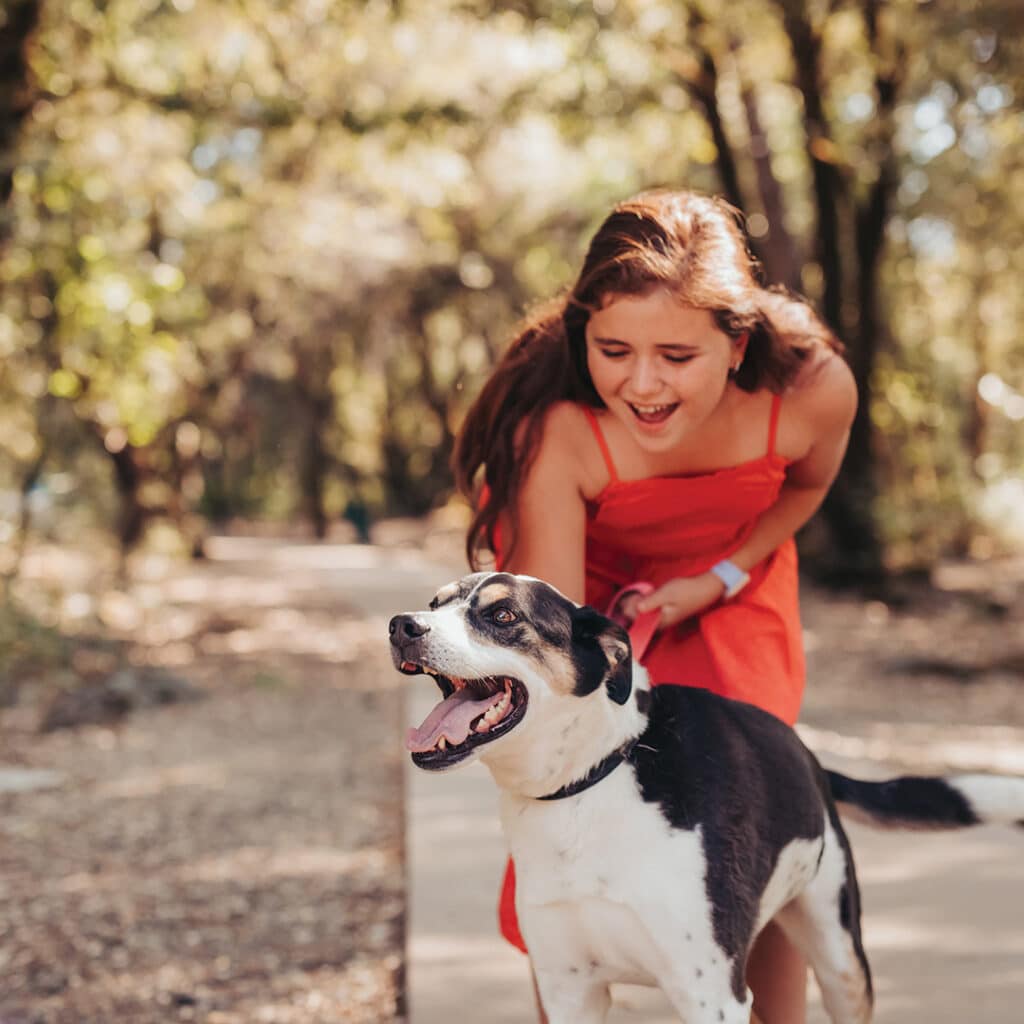 Some National Park Service locations have similar programs, but Whiskeytown Superintendent Josh Hoines notes most National Parks sites are quite restrictive when it comes to dogs. Many limit dogs to campgrounds, with trails being off-limits. At Whiskeytown, with the exception of the swim beaches, "you can go almost everywhere," Hoines says.
"We have a fair number of people who visit with dogs," he adds, noting he sees dogs on trails as well as boats and paddleboards.
Hoines, who enjoys hiking with his 13-year-old dog Murphy and 6-month-old puppy Finn, says the BARK program is a fun way to encourage people and pets to get out and enjoy nature while underscoring the responsible way to do that.
The process of earning the BARK tag and title is "very, very simple," Einberger says. Pick up a BARK ranger activity booklet at the visitor's center, complete the activities and answer the questions in the booklet, take a walk with your dog and then return to the visitor center to confirm what you've learned.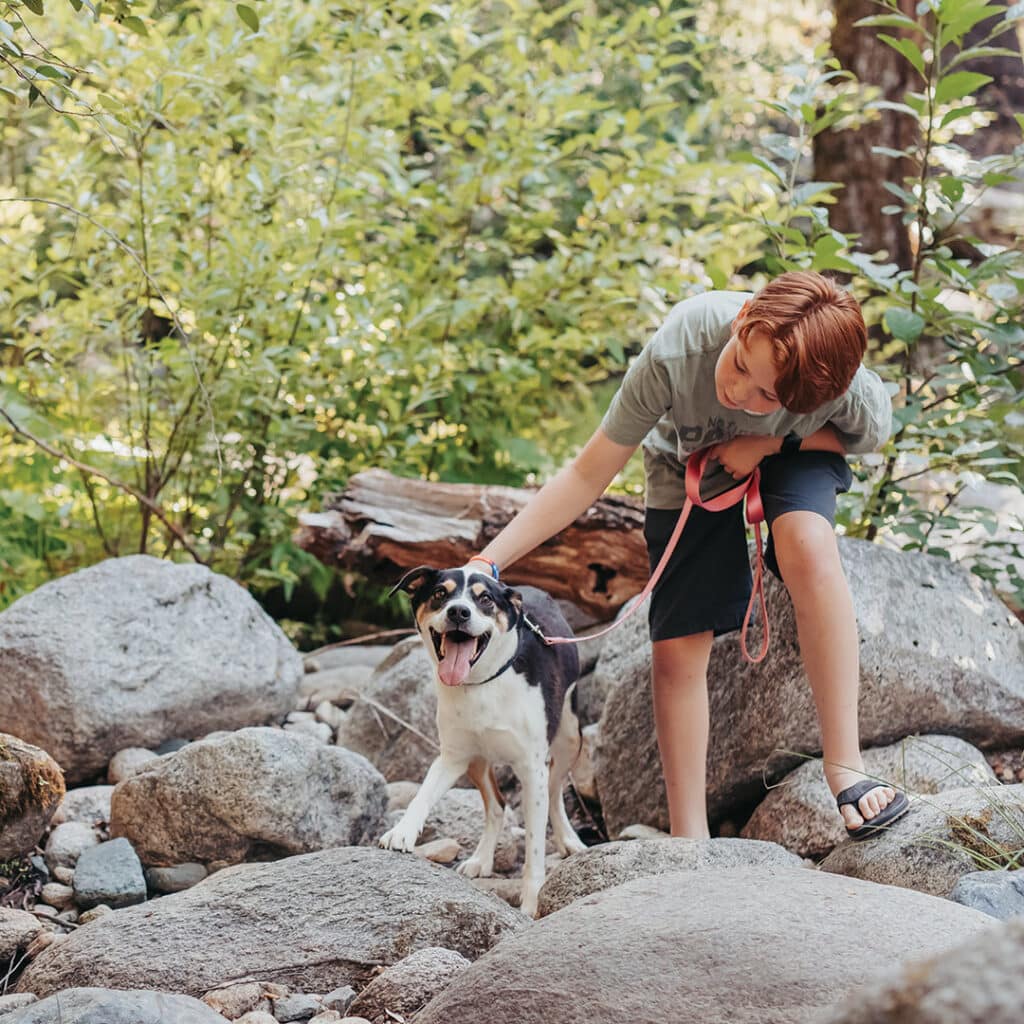 Whiskeytown also offers ranger-led BARK in the Park hikes – typically in the fall – where participants can complete the requirements on a hike with their dog. That's how Linhart and Bones did it. She took him to a BARK in the Park hike in Whiskeytown's Tower House Historic District. About a dozen dogs and their owners participated. Linhart says she learned about the area's past as well as the expectations for exploring Whiskeytown with Bones.
"It was a healthy combination of both dog safety information and historical information," she says. "I'm fully planning on doing it again, it was such an enjoyable thing to do. And it's free. Why wouldn't you do it?"
She's appreciative of being able to take Bones to nearby Whiskeytown. "It's a great area. He and I like going out there a lot."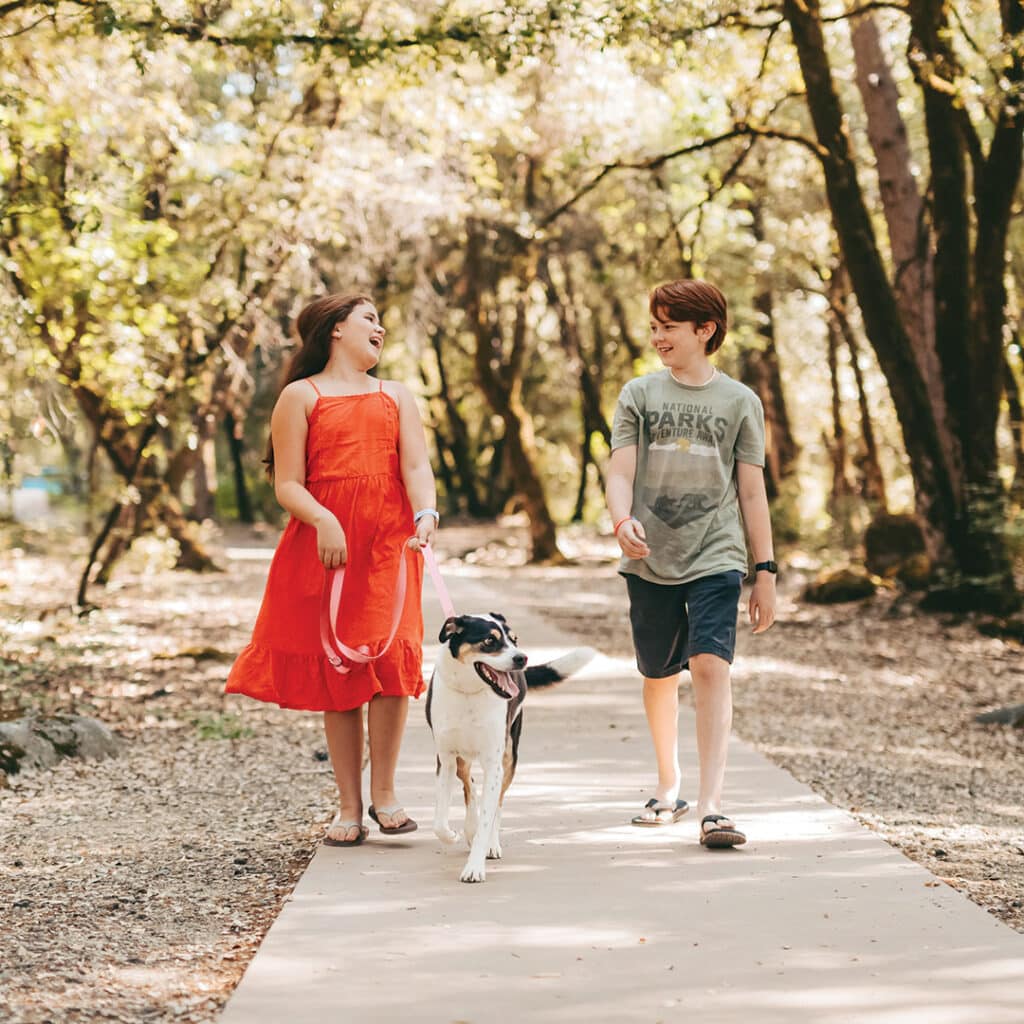 Whiskeytown allows leashed dogs on all hiking trails and much of the lakeshore. The places dogs cannot be are in buildings and on the swim beaches – Brandy Creek, Oak Bottom, East and Whiskey Creek Group Area. They also are not allowed at the picnic areas adjacent to the swim beaches. Not everyone likes dogs, and the rules are designed to keep beach-goers and picnickers safe, happy and comfortable.
Requiring dogs to be leashed protects people, wildlife and dogs, Einberger says. A loose dog on a trail might chase birds and other creatures, hurting or stressing them in the process. Running after a rabbit or deer also could result in the dog becoming lost.
"Dogs have been lost in the park, never to be found," Einberger says. "We're not putting these rules in place because we are the no-no police. We want pets to be safe."
Coyotes, bears, mountain lions and rattlesnakes are among the wild residents of Whiskeytown that pose serious risks to off- leash dogs. An unleashed dog also can pick up poison oak oils and ticks.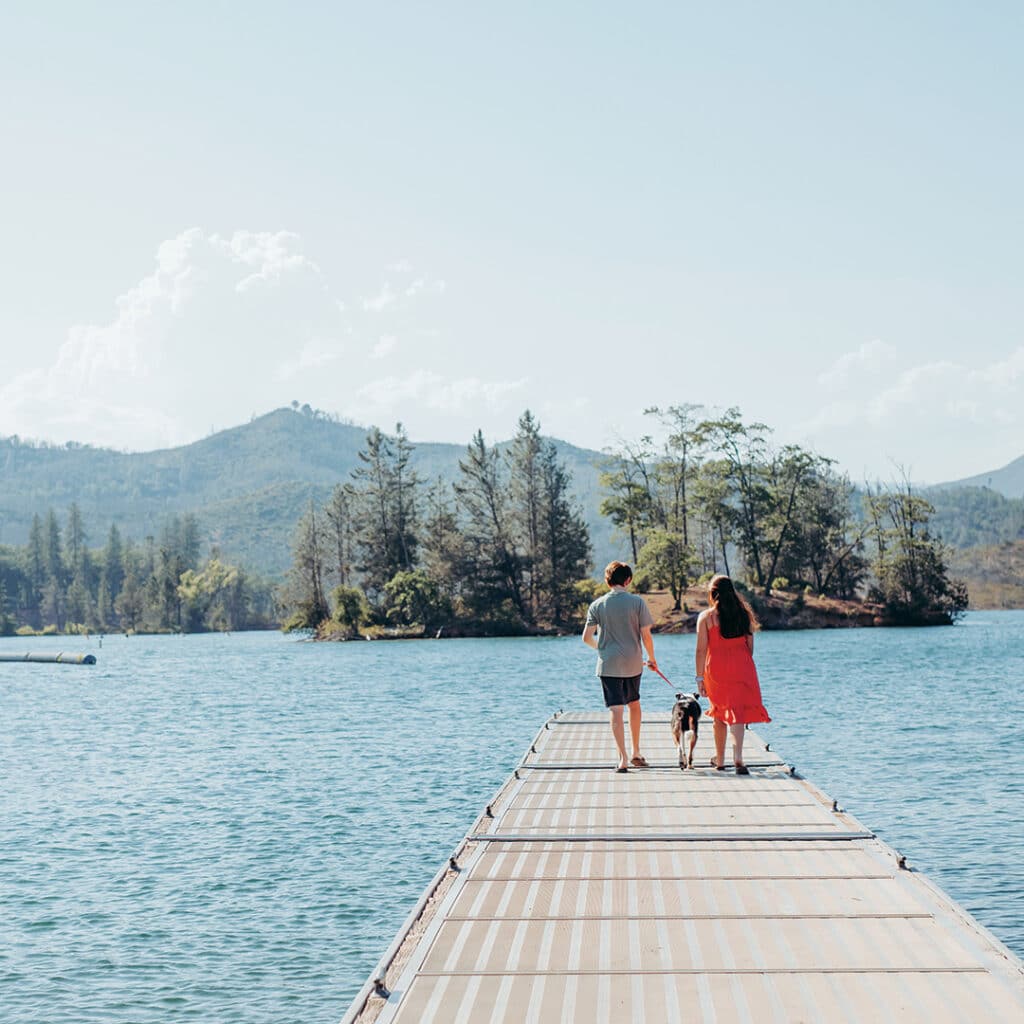 "Leashing your dog while hiking is the single best thing a visitor can do," Einberger says.
Bagging dog poo is important not just out of courtesy for other trail users, but also because pet feces are not part of the natural ecosystem. They can contain pathogens that are dangerous to Whiskeytown's wild animals.
In addition to following the BARK rules, Whiskeytown officials urge dog owners to think ahead when planning an outing with their dog. Avoid walking in the heat of the day, bring plenty of water, do not leave your pet unattended or in a closed vehicle and be aware that hot asphalt in summer can burn dog paws.
www.nps.gov/whis/