Whats Cookin' – July 2023 Recipe – Strawberry Crumble
Enjoy this fresh strawberry crumble as a delightful celebration of strawberry season. It's a great dessert for a family meal or small gathering.
Strawberry Crumble
Prep time: 15-20 minutes
Bake time: 35-40 minutes
Makes 6-8 servings, depending on portion size
Filling Ingredients:
4 cups fresh strawberries, hulled and quartered
¼ cup granulated sugar
1 T lemon juice
2 tsp. cornstarch
Crumble Topping Ingredients:
1 cup old fashioned oats
½ cup all-purpose flour
½ cup light brown sugar
½ tsp. cinnamon
¼ tsp. salt
½ cup unsalted butter, cold and cut into small cubes
Garnish:
Vanilla ice cream or whipped cream (optional)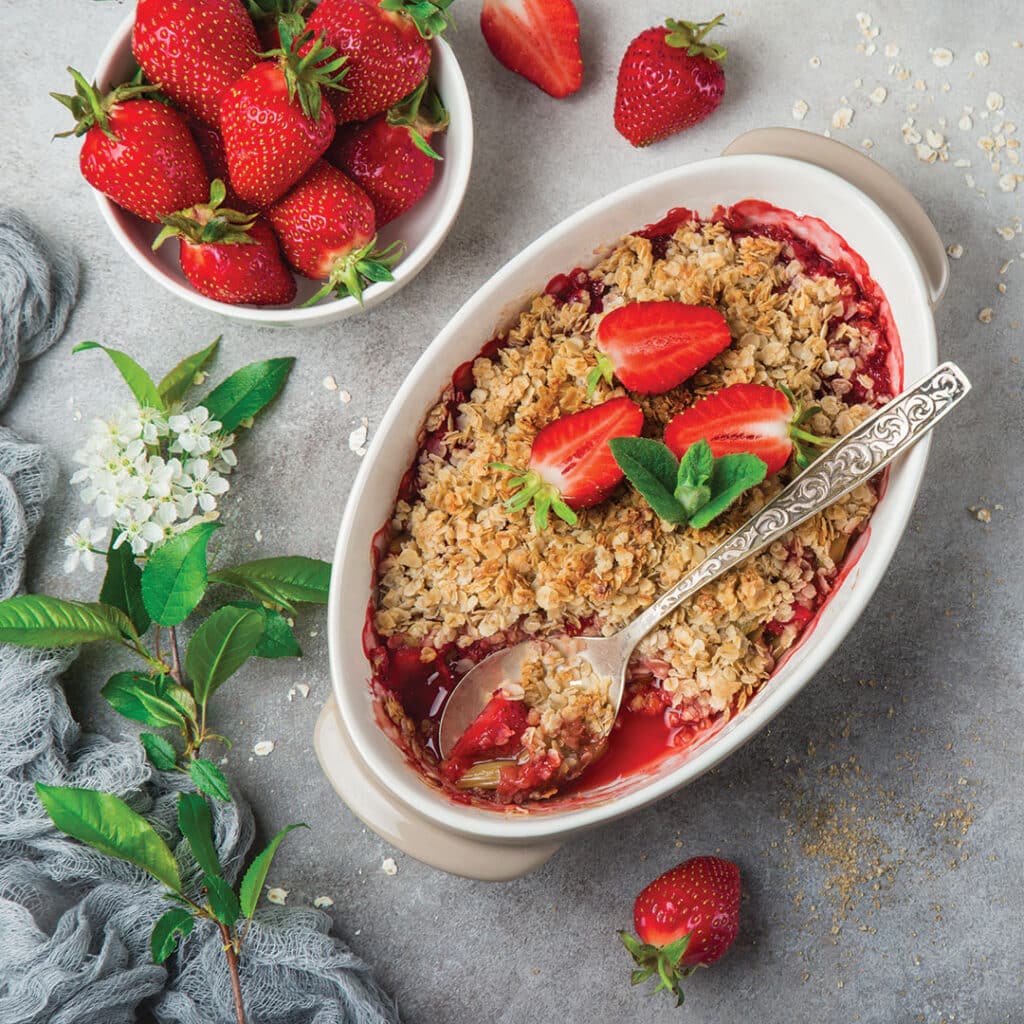 Directions:
Step 1: Preheat oven to 350 degrees. Grease a 9-inch pie dish or similar-sized baking dish.
Step 2: Prepare the filling: In a large bowl, combine the strawberries, granulated sugar, lemon juice and cornstarch. Toss until the strawberries are well coated. Transfer the strawberry mixture into the prepared baking dish.
Step 3: Prepare the crumble topping: In a separate bowl, combine the oats, flour, brown sugar, cinnamon and salt. Add the cubed butter. Use your fingers to rub the butter into the dry ingredients until the mixture resembles coarse crumbs.
Step 4: Sprinkle the crumble topping evenly over the strawberry mixture.
Step 5: Bake for 35-40 minutes, or until the crumble topping is golden brown and the strawberry filling is bubbling.
Step 6: Allow the crumble to cool for at least 15 minutes before serving.
Step 7: Serve the crumble warm, garnished with a scoop of vanilla ice cream or a dollop of whipped cream, if desired.
LOVE OUR RECIPES?
Come into Enjoy the Store in Redding each month and ask for your FREE recipe card.
Recipe by:
Jenna Ryan is a business owner and mom of two darling daughters, Carly and Harper. She loves spending time with her husband Patrick, going to sporting events, and eating delicious food!