Steeped in History
The Ranch in Salyer…
Built in 1911, The Ranch in Salyer is still family- owned and thriving, its fourth generation owner Nicolé McCullough turning it into a historically unique and secluded destination for groups and special events.
It all started with Dr. Matthew Fountain, one of the first settlers in the area, who was a practicing dentist in the Blue Lake/Arcata area. He bought the 200-acre property on the Trinity River's north bank and built Salyer's first bridge connecting the two sides. At the time, walnuts were a big commodity, and he planted 1,000 trees. Along with being a dentist, ranch owner, bridge builder and father of six, Dr. Fountain also carried the mail from Crescent City to Rio Dell via horseback. On one of those trips, he got shot in the stomach by a guy who tried to steal his mail, but Dr. Fountain still managed to apprehend the thief and take him to jail. However, years later Dr. Fountain died of stomach cancer.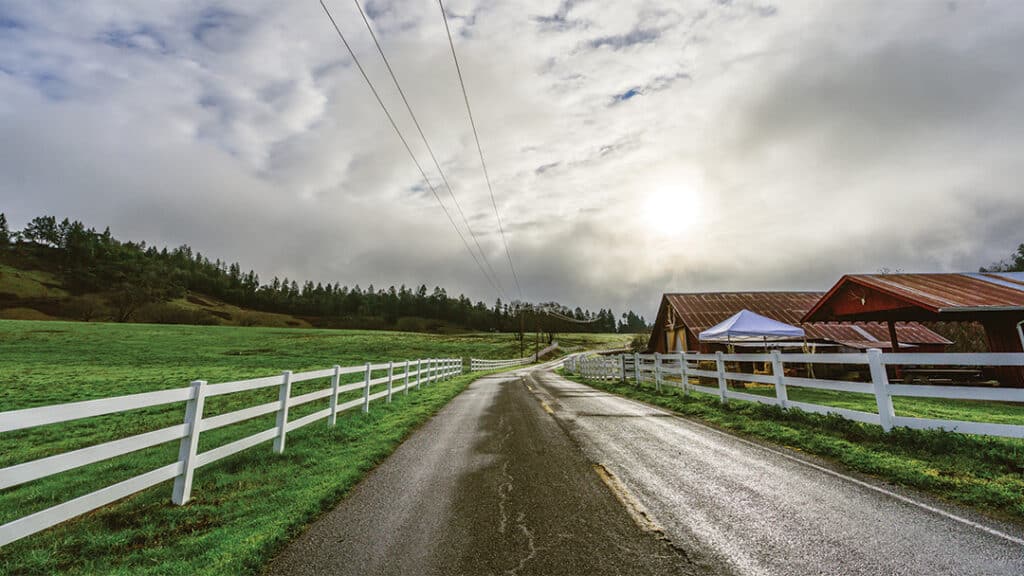 Nicolé's grandfather, Everett Fountain, took over the ranch when he was in his early 20s and raised sheep and cattle. Her great- grandfather, Bill Johnson, had cattle and grazing rights on the Trinity Summit, which allowed them to keep a 100-head herd.
Thanks to the bridge that Dr. Fountain built, The Ranch became a stagecoach stop for miners and others passing through (eventually the county took over the bridge and replaced the one-way wooden crossing with a cement one).
However, Everett's wife Delphine (Nicolé's grandmother) contracted tuberculosis in 1940, and Everett leased out the ranch for the next decade and moved closer to Delphine's care. Nicolé's mother was 13 when Delphine was cleared of TB and the Fountains moved back to the ranch and started raising cattle and sheep again. However, managing The
Ranch was a lot of work, so Everett and Delphine opened it as a boy's camp for troubled youth.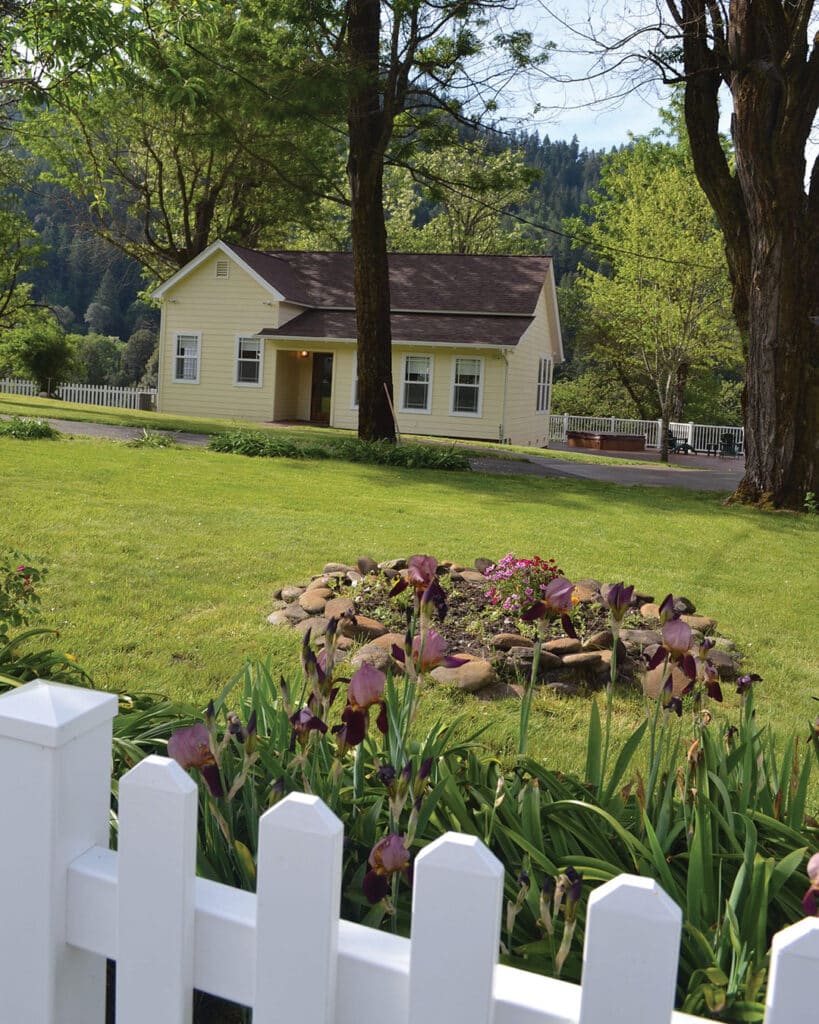 "Fifteen to 20 boys would come and stay a summer. About five of them ended up staying indefinitely and going to Hoopa High School. Two of those boys went off to war. Grandpa was a hard man, but he could handle them, and he loved them. [Everett and Delphine] played a huge role in those young men's lives," Nicolé said. She was young at the time when it was a boy's camp, living in a house at the edge of the property.
When the Fountains were ready to retire, Nicolé's dad, Hugh McCullough, took over The Ranch and raised Pole Hereford cattle. Everett transferred over the grazing permit, and he continued moving the cattle back and forth between The Ranch and Trinity Summit until 1992.
After Delphine passed away, Nicolé's uncle wanted to sell The Ranch, and Nicolé asked her then-husband Erick Ammon if he was interested in buying it (Erick had ties to The Ranch, as his grandparents Chan and Ruth worked there alongside Everett and Delphine). Nicolé already owned a piece of The Ranch where she grew up, and in 2009 they bought the entire thing.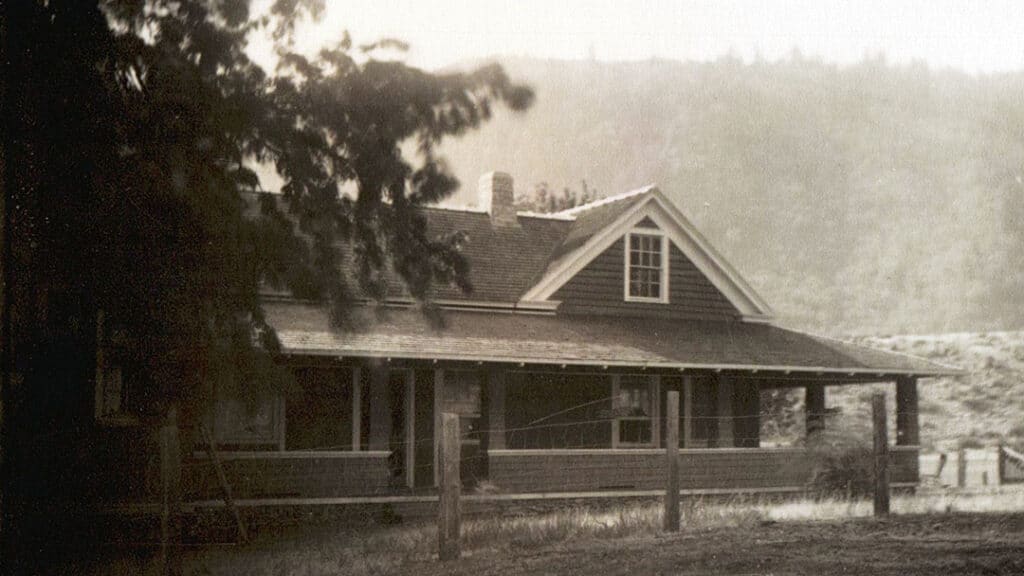 Nicolé and Erick parted ways, making Nicolé the sole owner, and she and her dad got back into raising cattle. She now keeps a 50-head herd, and 15 calves have been born just this season. Along with the cattle, Nicolé also has six ewes, a ram, 100 chickens and a hog.
"People can buy fresh products directly from the farm, made by loved animals," she says.
In its current state, The Ranch is home to not only farm animals, but it also acts as an event venue ideal for small weddings and events. "This is the most beautiful place to come. It's completely secluded," Nicolé says.
The venue where people usually get married is the original three- bedroom ranch house, and the inside has been renovated to meet modern needs. "I've been to The Plaza in New York City, and this is just as nice; I call it 'The Plaza in Salyer,'" Nicolé says. She's passionate when talking about The Ranch's offerings, and she enjoys seeing what people do with the space. An expansive deck connects beautiful rose gardens and the actual ranch, all overlooking the Trinity River.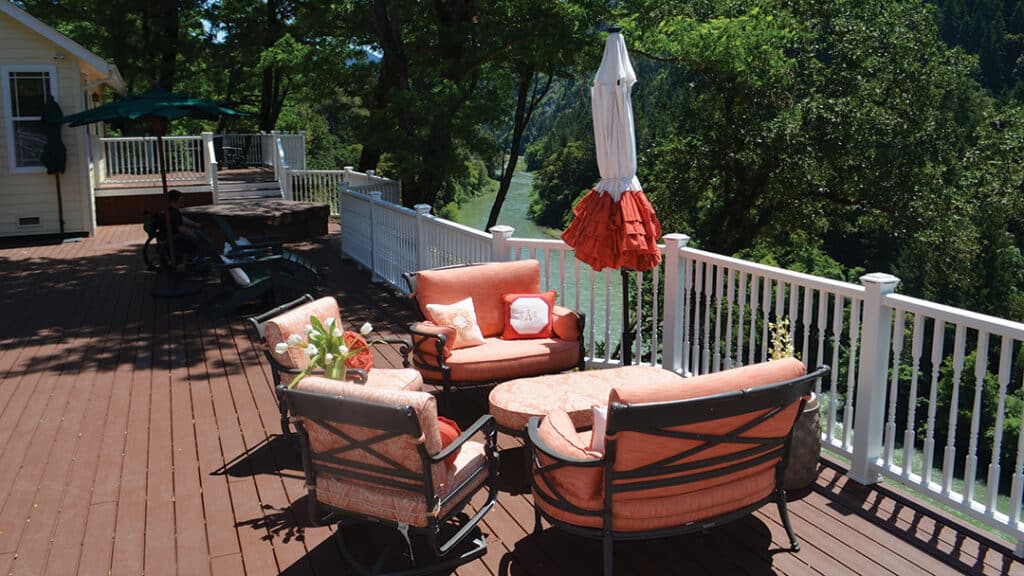 Guests also have access to an infinity pool and hot tub, and it has all paved sidewalks to be ADA-accessible. There are even six of the original walnut trees left. The Ranch has a barn that is big enough to hold a ceremony in case the weather turns, and a commercial kitchen in the garage for caterers.
Along with the main Ranch House, Nicolé's childhood five- bedroom Bridge House with a pool is available to stay as well as a two- bedroom Cottage House. Since it's so secluded, people book their events in three-day minimums.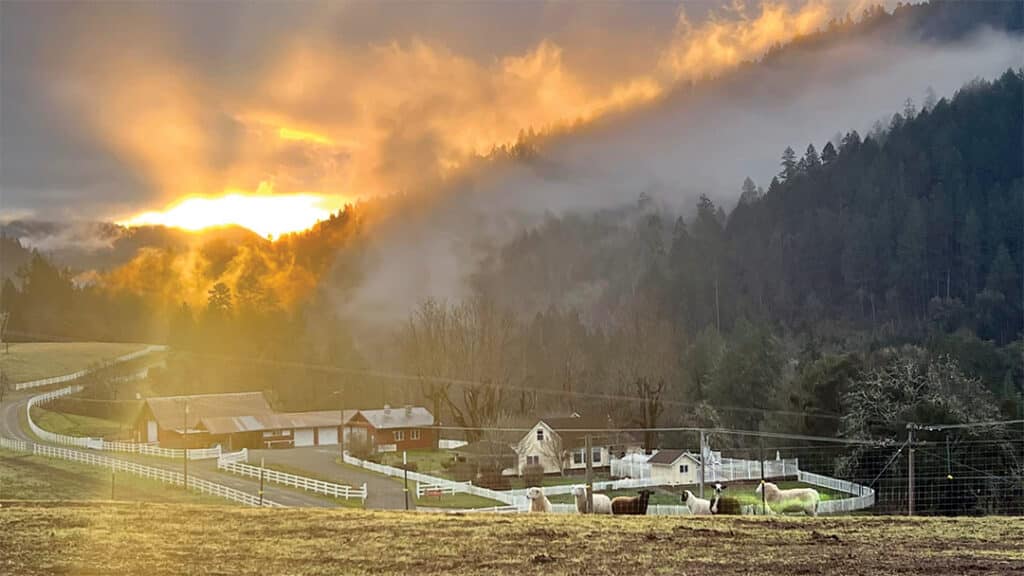 "Twenty-five people can sleep on the ranch and there are two RV spots, so it's a destination for 40. There are hotels and accommodations in Willow Creek, too," she says. "I love when people come and all the different things they do, from elaborate ceremonies to simple affairs. The entire property flows beautifully."
When asked what the future of The Ranch holds, Nicolé replies, "I have this in my future to continue on. I don't have a mortgage or bills, so if I could do 10 to 15 weddings a year, then I'd be doing wonderfully." She has six kids and at least 10 grandchildren herself, so she hopes that her farm animals and event space can remain practical. "The Ranch has sustained four-and-a-half generations and has evolved to look to the future."•
The Ranch • www.theranch1911.com