A Taste of the Wild West
Dutch Oven Cowboy Stew…
Cowboy stew—or chuckwagon stew or campfire stew – is a traditional dish that has its roots in the American West. It originated with cowboys and other workers on the range, who would prepare it over an open fire while out on cattle drives or on the trail.
he dish typically consists of beef, potatoes, onions and various vegetables, all cooked together in a single pot, preferably a Dutch oven. The ingredients were often canned to make them easier to transport, and the dish was often served with biscuits or cornbread.
Cowboy stew dates back to the late 19th century when cowboys were often on the road for weeks at a time. The stew was not only a convenient and filling meal, but it also served as a way to use up any leftovers from previous meals.
The traditional recipe for cowboy stew is simple and rustic. The beef is browned in a pot, then canned vegetables are added, and the stew is simmered until the meat and vegetables are tender.
Today, cowboy stew is a popular dish that has been passed down through generations and it is enjoyed not only in the American West but also around the country. The dish has been popularized in literature and movies, and it is still enjoyed by many people today, both in the American West and beyond.
One of the best things about cowboy stew is its versatility; it can be made with whatever vegetables you have on hand, and it can be as simple or as complex as you want it to be. It is a perfect dish for a cold winter evening or a camping trip. It can be cooked on a stove, in a slow cooker or even over an open fire.
For a modern twist, try adding some spices like cumin or chili powder to give it a little extra kick. And, if you want to make it a little bit healthier, you can use lean cuts of beef and add more vegetables.
Cowboy Stew is a traditional dish that is steeped in history and tradition, and it is a perfect meal to enjoy with friends and family. It is hearty, comforting and delicious. Give it a try and experience a taste of the Wild West in your own kitchen.•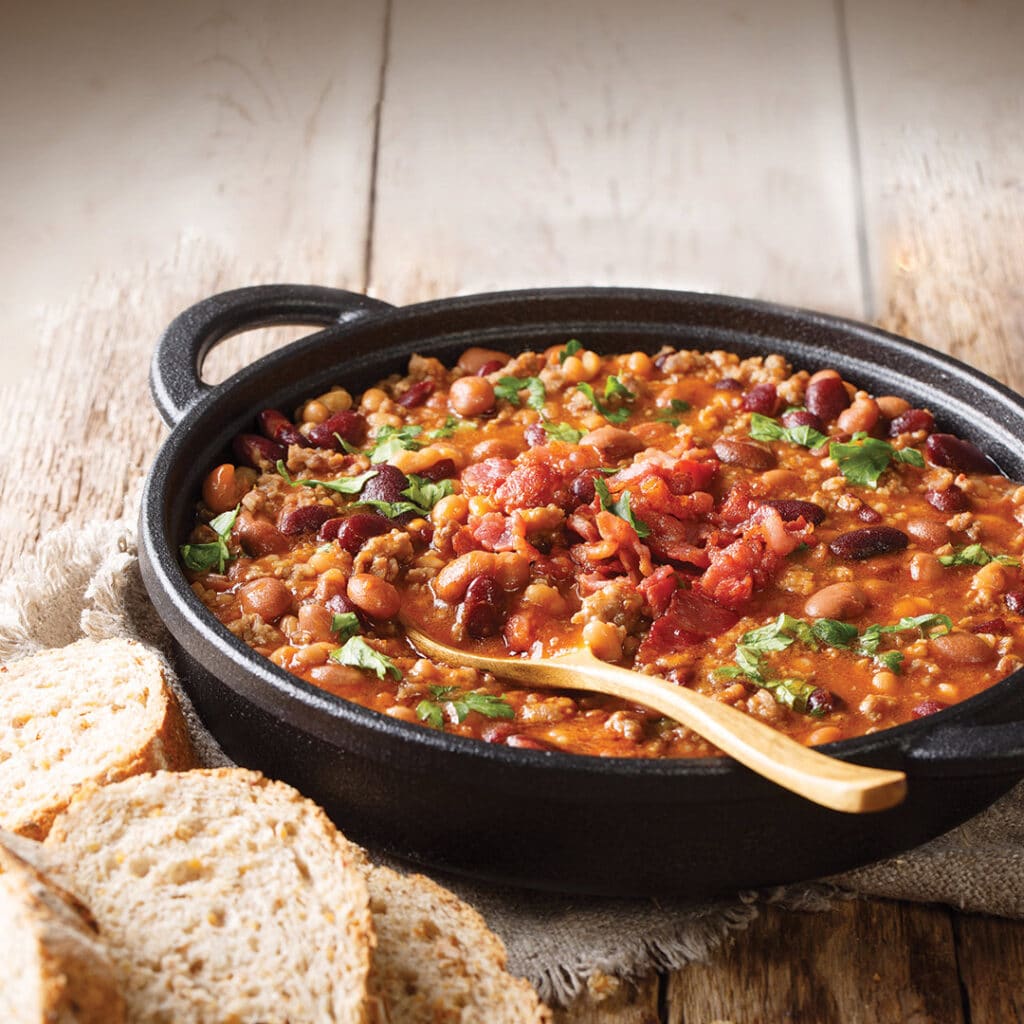 Dutch Oven Cowboy Stew
Servings: 8 | Prep Time: 10 minutes | Total Time: 1 hour
Ingredients
• 1 lb. ground beef
• 1 onion
• 4 slices of bacon, cooked and cut into small pieces
• 4 cloves garlic, minced
• 3 potatoes (Yukon Gold preferred, but any potatoes will do)
• 1 15-oz. can green beans
• 1 15-oz. can baked beans
• 1 15-oz. can black beans or pinto beans
• 1 15-oz. can tomato soup
• 1 15-oz. can corn
• 1 15-oz. can diced tomatoes
• 1 12-oz. can of beer
• 1 tsp. chili powder
• 1 tsp. cayenne pepper
• 1 tsp. cumin
• Salt and pepper
• Hot sauce (Tabasco preferred, but any hot sauce will do)
Instructions
Step 1: Cut potatoes into cubes (about 1 inch).
Step 2: Dice onio.
Step 3: Place 12-inch (6-quart) Dutch oven on high heat and brown ground beef and onion until onion is translucent.
Step 4: Add garlic and potatoes and stir for about 2 minutes.
Step 5: Add green beans, baked beans, black beans, tomato soup, corn and diced tomatoes. (NOTE: Do not drain the cans.)
Step 6: Add beer.
Step 7: Add spices.
Step 8: Reduce heat to about 225 degrees.
Step 9: Simmer for about 45 minutes, stirring every 10 minutes or so.
Step 10: Garnish with bacon pieces.