Chocolate Chips Scones
Most scones have an unfortunate reputation for being dry and unsatisfying, but this recipe is here to change that. These chocolate chip scones are soft, buttery and simply delicious. Pair them with a cup ofcoffeeorteatoaddsomesweetnesstoyourday. Enjoy!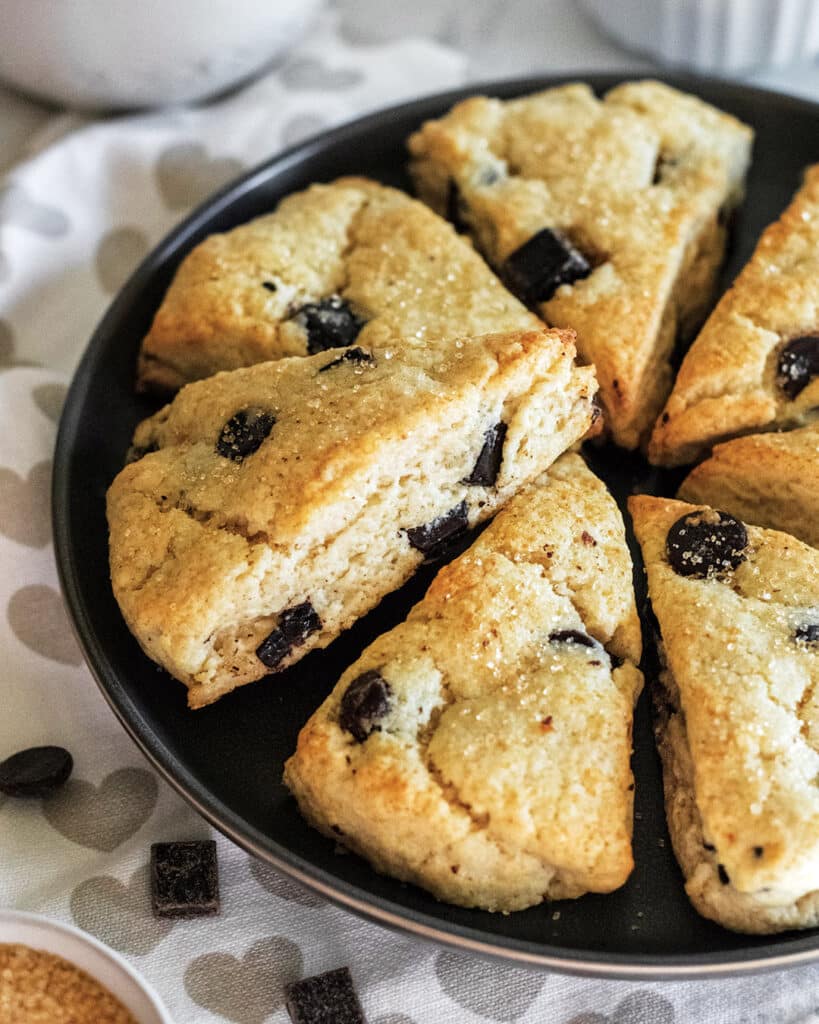 Chocolate Chips Scones
Prep Time: 15 Minutes
Bake Time: 10 Minutes
Makes: 16 Scones
Ingredients:
3 cups flour
1⁄2 cup sugar
2 T baking powder
1⁄2 tsp. salt
10 T butter, cold and cubed
3⁄4 cup heavy whipping cream, cold (plus about 2 T more for tops)
1 T vanilla
1 cup chocolate chips or chunks
Raw sugar or sugar sprinkles (for top, optional)
Store scones in an airtight container at room temperature to keep fresh for several days.
Scones can be reheated and warmed quickly in the microwave for 8-10 seconds or eaten at room temperature. Enjoy!
Note: Scone dough can be made ahead of time and kept in the refrigerator until ready to bake. Just brush with heavy whipping cream and sprinkle with sugar immediately before baking.
Directions:
Step 1: In a large food processor add the flour, sugar, baking powder and salt and pulse several times until combined.
Step 2: Cube the cold butter into small chunks and add to the ingredients in the food processor. Pulse until the butter is just combined with the flour mixture.
Step 3: Combine the heavy whipping cream and vanilla in a measuring cup and slowly pour over the flour mixture in the food processor. Pulse until just combined, being careful not to overmix the dough. Once combined, pour the dough into a medium-sized bowl and fold in the chocolate chips.
Step 4: Separate the dough in half and form into two separate dough balls. Refrigerate the dough to keep cold while prepping for the next step.
Step 5: Preheat the oven to 400 degrees and line two baking sheets with parchment paper. Take one of the cold dough balls from the refrigerator, put it on a silicone baking mat or lightly-floured surface, and use your hands to shape into a round disk measuring about 7 to –8 inches in diameter and about 1⁄2-inch thick. Once shaped, cut the dough like a pie into 8 triangular slices. Place scones onto the lined baking sheet a couple of inches apart and place in the refrigerator to stay cold. Repeat this step with the other cold dough balls.
Step 6: Right before baking, brush the tops and sides of each scone with heavy whipping cream using a pastry brush. Add raw sugar or sugar sprinkles to the top of each scone and place in the oven to bake. Bake for 10-11 minutes. Once baked, remove from the oven and let the scones cool on the baking sheet for several minutes before transferring to a cooling rack. Repeat this step for the second baking sheet of scones.
LOVE OUR RECIPES?
Come into Enjoy the Store in Redding each month and ask for your FREE recipe card.