Whats Cookin – Soft Gingerbread Crinkle Cookies
The Christmas season is here and with it comes the best seasonal flavors and treats. These Soft Gingerbread Crinkle Cookies are a twist on the classic gingerbread cookie, they are packed with warm spices and covered with a powdered sugar coating that melts in your mouth. These super-soft cookies are easy to make and sure to become a holiday favorite. Enjoy!
Soft Gingerbread Crinkle Cookies
Makes 24 cookies
Prep time: 10 minutes
Bake time: 9 minutes
Ingredients:
• 1 large egg
• ½ cup butter, softened
• ¾ cup brown sugar, packed
• 1 T molasses
• 1 T vanilla
• 1½ cup flour
• 1 tsp. cinnamon
• ¾ tsp. ginger
• ¼ tsp. nutmeg
• ½ tsp. cloves
• ½ T cornstarch
• ½ tsp. baking soda
• ¼ cup granulated sugar (for rolling)
• ⅓ cup powdered sugar (for rolling)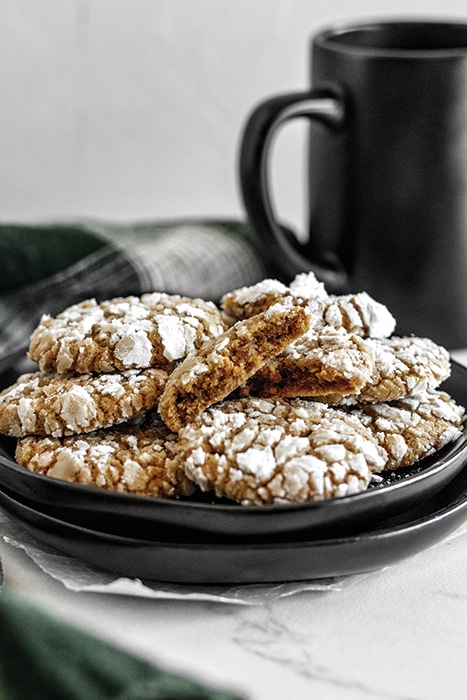 Directions:
Step 1: Line a baking sheet with parchment paper and set aside. Preheat the oven to 350 degrees.
Step 2: In a large bowl or bowl of a stand mixer with the paddle attachment, add the egg, butter, brown sugar, molasses and vanilla and beat together until fully combined.
Step 3: Add the flour, spices, cornstarch and baking soda to the bowl and mix until combined.
Step 4: Add the ¼ cup of granulated sugar and the ⅓ cup of powdered sugar to separate small bowls and set aside. Use a regular-sized cookie scoop to scoop dough balls one at a time and place them in the bowl of granulated sugar to coat evenly. Add the dough ball to the powdered sugar and cover it fully. Place the sugar-coated dough balls on the lined cookie sheet a couple inches apart.
Step 5: Place the baking sheet on the middle oven rack and bake for 8-9 minutes.
Step 6: Remove from the oven and let them cool on the baking sheet for a few minutes before transferring to a cooling rack.
Step 7: Store cookies in an airtight container at room temperature to keep fresh for about a week.
LOVE OUR RECIPES?
Come into Enjoy the Store in Redding each
month and ask for your FREE recipe card.