5K Finish
Three Shasta Wheelman Vie for Top Mileage…
Late last spring, three competitive bicyclists rolled leisurely toward the finish line. Gary Nelson, Keith Elzner and Cindy Begbie took it easy because this was no race. The dozen or so fellow Shasta Wheelmen members following at their pace formed a procession of honor for the three ride leaders, who finished a contest not of speed, but distance.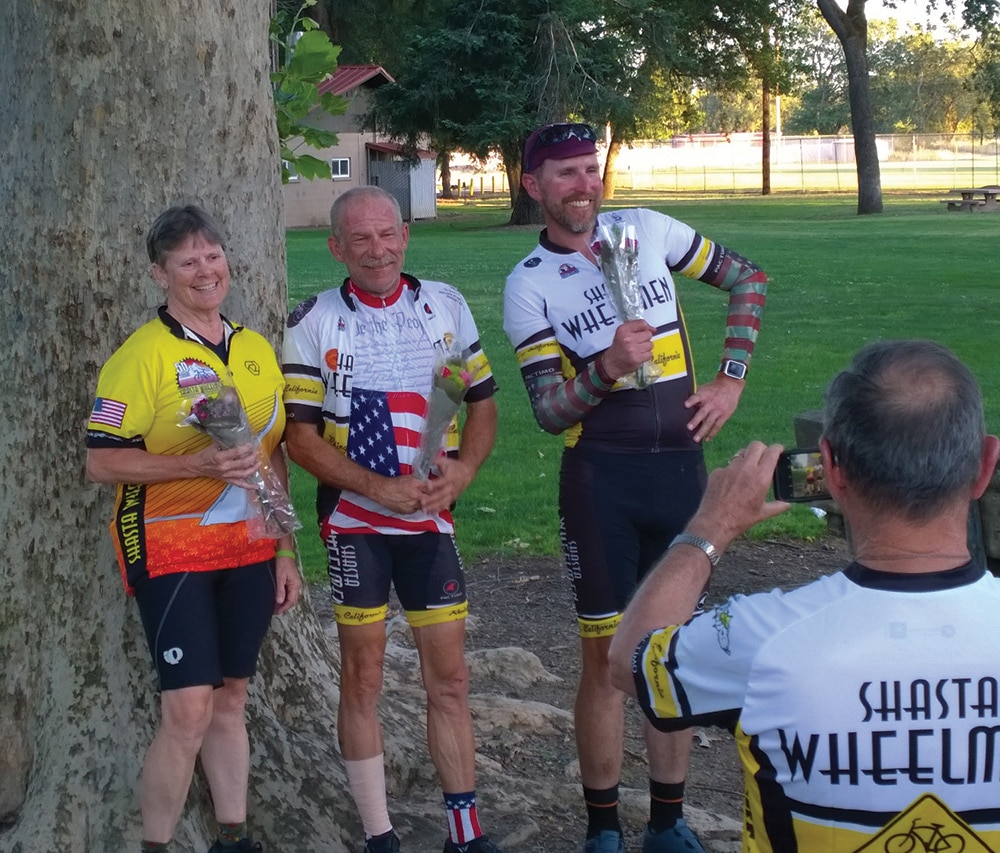 This was the last day of May, officially National Bike Month, and the final day to log miles in two concurrent competitions – one national, one international – and the results were all but in as the three ride leaders finished in Anderson River Park at a potluck celebration dinner. As they rolled in, dozens of club members roared their support with a chorus of cheers and woo-hoos.
Truly a momentous effort, between May 1 and 31, Begbie rode her bicycle a total of 1,024 miles, aimed at taking first place in the national female category. Elzner cranked his to second place nationally in the male category with 3,204 miles, a leg-cramping average of more than 100 miles per day. Incredibly, Nelson dusted that with an IV-assisted 5,003 miles, nailing first place in both the national and international contests.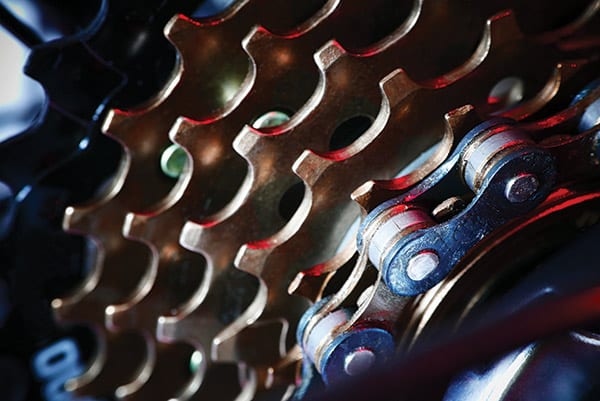 To reach this lofty goal, Nelson tried to sleep six hours a night to ride 10 hours a day. "Just getting on the bike every day is a challenge," he says. "Your mind is telling you you can't do it. Your mind is telling you to go back to bed. I had to totally immerse myself to get through it all."
He mapped out a 20-mile route that wound through mostly Anderson neighborhoods and counted his laps, usually ending a day at eight or nine, or 160 to 180 miles. Every. Day. The 56-year-old, 5-foot-6, 150-pound cyclist became a 135-pound machine. To counter any possible damage to his body, he included his doctor's office on his route and scheduled six appointments.
"Three were just checkups, to see how I was doing," he says. "The three others, they put an IV on me, an intravenous hydration pack. And potassium."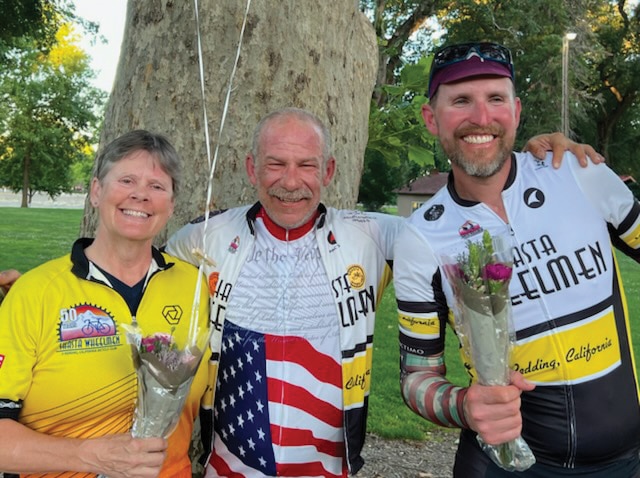 Nelson knows medical procedures well. He was in his 30s when he had to go on disability for nine herniated discs, after years of bending over eight hours a day welding sheet metal. He went on pain killers, then began to fade.
"I was sitting in a chair, waiting to die," he recalls. "Then one day I was walking to the mailbox, and this old guy goes riding by on a bicycle. I bought a $250 bike. On a bike, your back doesn't twist. It's beautiful for me because it's the only thing I can do without hurting myself."
Patty Shackleton, a Shasta Wheelmen board member, remembers the first time she saw Nelson ride with the club. "He showed up on a green comfort bike," she says. "I motivated him to chase me up hills. Me, 15 years his senior. Pretty soon he got a new bike."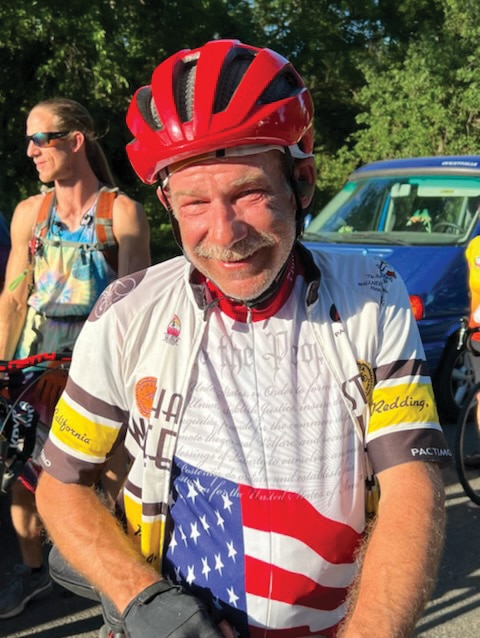 Impressed with his discipline and dedication to cycling, she nominated him to a leadership position in the club. "He has become a really stellar ride captain," she says. "When we ride, he talks to everyone. He makes them feel included. He makes sure no one's left behind. He tries to help everybody."
One of those he helped is this year's second place national winner. When Elzner joined the club, Nelson took him under his wing. The younger rider credits his ride captain for keeping him on the road. Nelson and Elzner pedaled that 20-mile course together on many 10- hour days. "If it wasn't for Gary, I wouldn't be riding," Elzner says.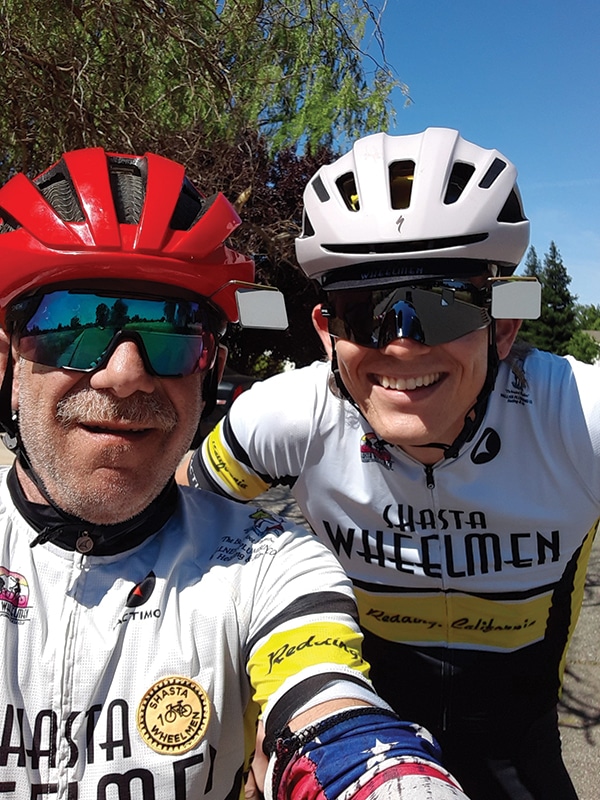 Begbie, the third finisher, dismounted at the potluck in the park believing her 1,024 miles had scored the national first place award, but later found out a faceless opponent had bested her by just 20 miles.
Contestants track their standings online. Some cycling apps or devices allow a rider to upload their mileage manually, and not necessarily on the same day they ride. A bicycle-encouraging nonprofit called Love to Ride runs the national competition though their website and accepts uploads of miles ridden by the 31st for up to a day or two later. The international contest is similarly managed through an app called Strava and an online account.
Though surprised by the final number, Begbie shows no disappointment. "I'm not that competitive," she says. "I actually crept up to 1,000 miles without realizing it, because I didn't know how to look up the stats." She said she was just following Nelson's encouragement.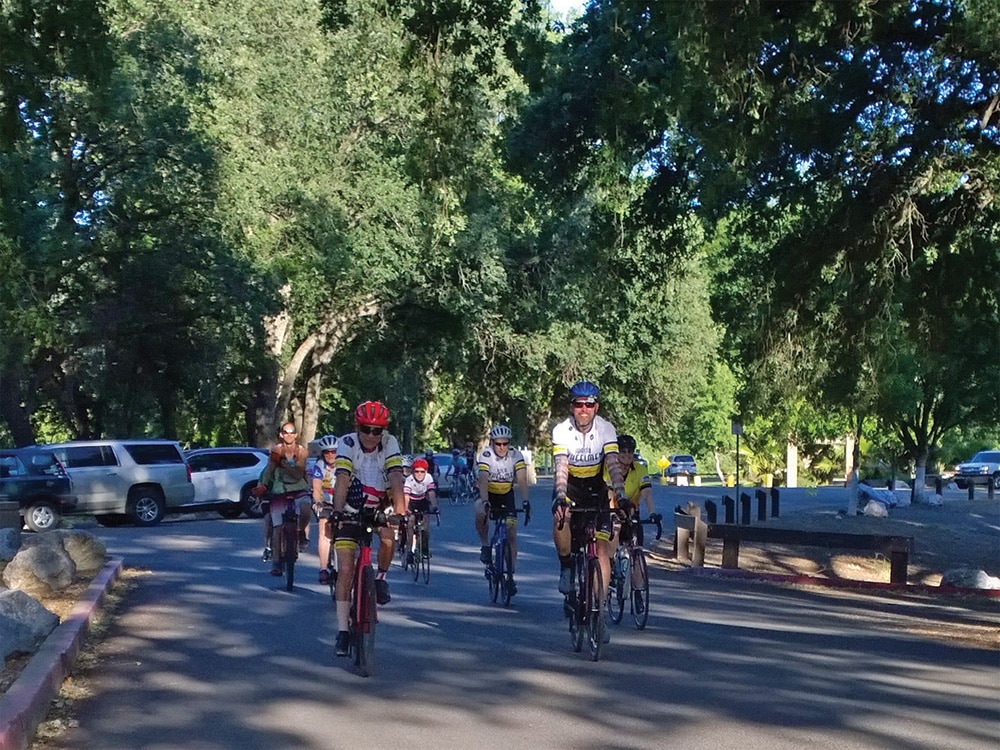 "Months ago, I had the stamina, but no speed. I wanted to leave the rides," she recalls. "The club wouldn't hear of it. Gary stuck with me. He will help anyone he sees who wants to know more."
Nelson has announced he will pass on next year's competition and instead will train Elzner, perhaps for the coveted international first place award. He's made the same offer to Begbie.
"I don't know if that's in my future," she muses. "Love to Ride worked two-fold for me. I'm riding consistently and I'm training for a 545-mile ride coming next month."
Nelson says he's rendered speechless by the support and praise he's received from his bike club. "I wanted to create a little excitement," he says. "I did better than I thought."•