What's Cookin – Chocolate Sandwich Cookies with Strawberry Cream Cheese Frosting
Cookie sandwiches are a fun way to enjoy a sweet treat, and these chocolate sandwich cookies with strawberry cream cheese frosting are sure to satisfy. The cookies are soft, chewy and full of chocolate flavor, which pairs perfectly with the naturally colored pink strawberry frosting. This recipe comes together quickly and is the perfect way to add some extra fun to these summer days. Enjoy!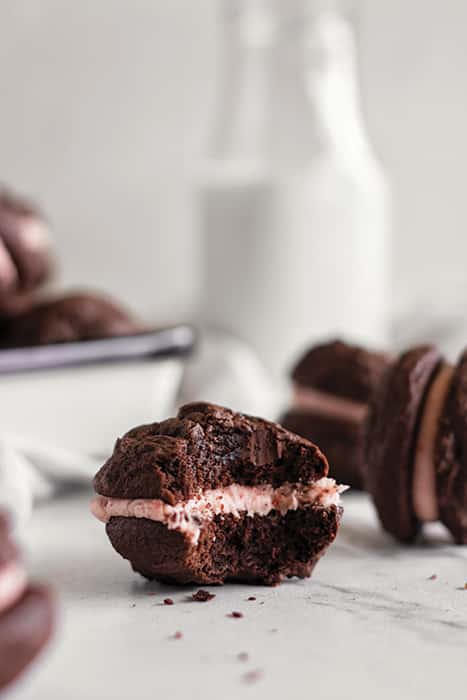 Chocolate Sandwich Cookies with Strawberry Cream Cheese Frosting
PREP TIME: 20 MINUTES
BAKE TIME: 8 MINUTES
MAKES: 13 COOKIE SANDWICHES
COOKIES INGREDIENTS:
1 egg
1 egg yolk
½ cup brown sugar, packed
⅓ cup sugar
½ cup butter, softened
1 tsp. baking powder
½ T vanilla
1 cup flour
½ cup cocoa powder
½ T cornstarch
¾ cup chocolate chips
FROSTING INGREDIENTS:
⅔ cup freeze dried
strawberries, finely crushed
3 oz. cream cheese, softened
2 ½ cups powdered sugar
1 tsp. vanilla
2 tsp. heavy whipping cream
DIRECTIONS:
Step 1: Preheat oven to 350 degrees. Line a baking sheet with parchment paper or a silicone baking mat.
Step 2: In a large bowl, combine egg, egg yolk, sugars and butter and mix with an electric hand mixer or in the bowl of a stand mixer with the paddle attachment until fully combined.
Step 3: Add baking powder, vanilla, flour, cocoa powder and cornstarch to the bowl and mix well until fully incorporated.
Step 4: Add the chocolate chips and mix into the dough with a rubber spatula until evenly incorporated.
Step 5: Scoop the cookie dough using a regular sized cookie scoop and place on the prepared baking sheet a couple inches apart. Bake for 8-9 minutes.
Step 6: Once baked, remove from the oven and let the cookies cool on the baking sheet for 5 minutes before transferring to a cooling rack.
Step 7: While the cookies cool, prepare the frosting. First, prepare the freeze-dried strawberries by adding them to a food processor and pulsing until they become fine crumbs. Set aside. Next, add the softened cream cheese to a medium-sized bowl and beat with an electric hand mixer for about 30 seconds. Add the freeze-dried strawberry crumbs, vanilla, heavy whipping cream and half of the powdered sugar. Beat together on low speed until fully incorporated. Add the remaining half of the powdered sugar until the frosting reaches a smooth consistency.
Step 8: Using an icing bag or a butter knife, add frosting to the bottom side of a cooled cookie, then sandwich the frosting in with another cookie. Repeat until all the cookie sandwiches have been made. Cookie sandwiches can be stored in an airtight container at room temperature and will stay fresh for several days.
LOVE OUR RECIPES?
Come into Enjoy the Store in Redding each month and ask for your FREE recipe card.