Ropin' & Ridin'
Thrills and Spills at the Etna Rodeo…
Few Scott Valley traditions are as revered as the two rodeos that take place at Etna's Scott Valley Pleasure Park on the first Sunday of May and the last Saturday in July. If last year's May rodeo theme, "Living the Cowboy Way," is any indication, the rodeos celebrate the quintessential heritage of ranching and the cowboy life. It's a lifestyle dedicated to rough stock and grueling labor, immortalized in poetry, stories and images with honor derived from eking out a living under Western skies.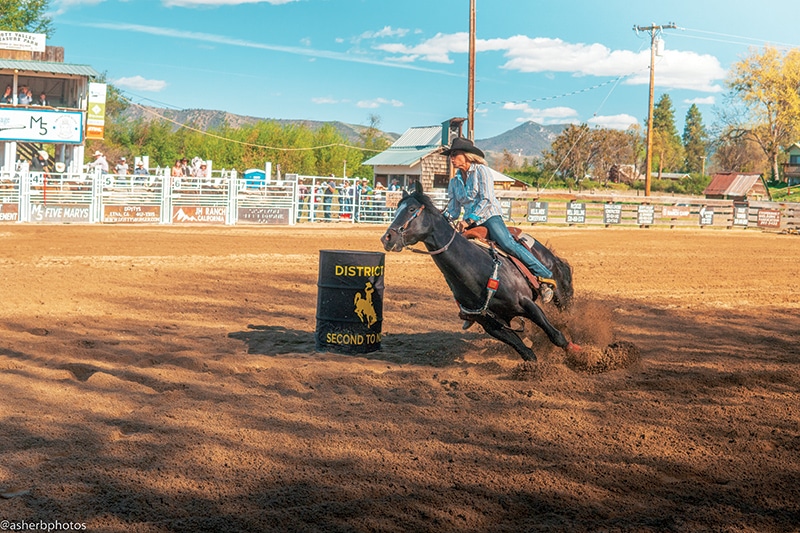 "For an organization that only has two major events a year, it's such a core part of the community, especially with the parades and events that happen around them," explains Judd Hanna, a former Pleasure Park board member and lifetime participant in the rodeos. In fact, it is Hanna's father, Skip Hanna, who designed the logo for the park still in use today. "I don't even know when that came about, but his drawing of that cowboy on a horse has just been the symbol of the rodeo for as long as I can remember. It's pretty special to us," recalls Hanna. The drawing has even been engraved into some of the winning belt buckles. "When I saw that, I was like, I gotta win me one of those," he says with a laugh.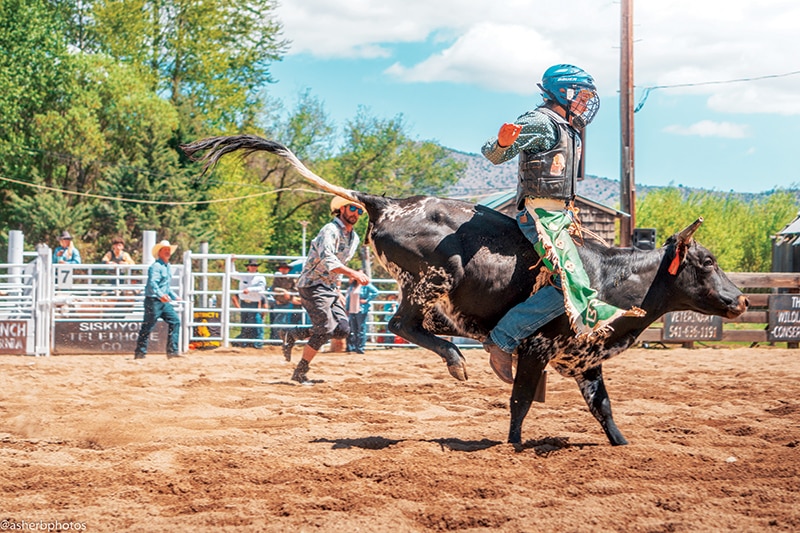 The idea of a rodeo comes from a surprising blend of cultures. From Prescott, Ariz., to Cheyenne, Wyo., several places try to lay claim to the first official rodeo, but no one is entirely sure when cowboys started making their daily chores a competition. The word "rodeo" comes from the Spanish word, "rodear," which means "to encircle," or "round up" in Western parlance. The earliest days were more like a ranch-versus-ranch competition to see who the best ranch hand was. But after the Texas Revolution in the 19th century, rodeo really took off in the United States, eventually becoming the more formalized rodeo that spectators watch today.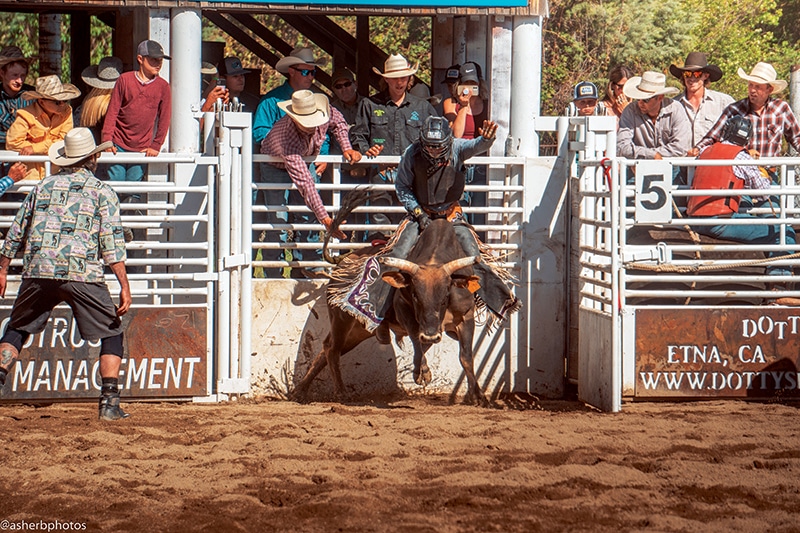 The history of the rodeo in Etna, however, is well-documented. It started with a group of friends who played horse polo in the 1930s, and after a flood in 1964 washed out the original Pleasure Park grounds, the community came together to rebuild the arena at its current site two years later. For a while, the May rodeo was run as a professional rodeo, while the July rodeo was more locally focused. "The May rodeo was never a PRCA rodeo, but it was part of the California Cowboys Association. And then the July rodeo was the Old Time Rodeo," Hanna explains. In recent years, however, the May rodeo has shifted to an "open" rodeo. "With the more professional rodeo, they were seeking out-of-town contestants. But the date started to conflict with other rodeos that weekend, so it just worked better to open it up to any riders. 'Open to the world' I think is their new motto," says Hanna with a broad smile.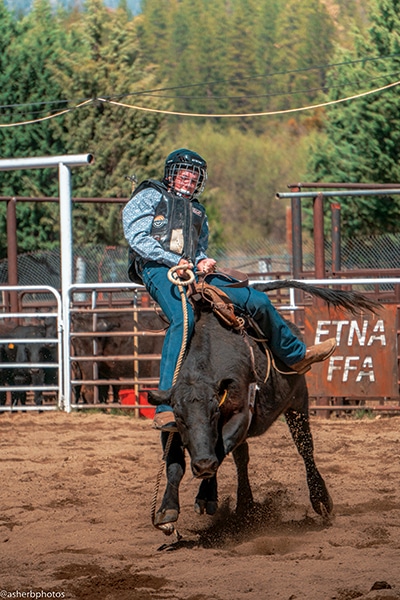 Aside from more traditional rodeo events like barrel racing, bull and bronc riding, the Etna rodeo also includes a variety of original local events that go back to 1949 and 1950, such as wild cow milking and a cowhide race where contestants throw themselves on a cowhide and are dragged in the dirt behind a horse for the fastest time. There's also the saddle cow, where cowboys try to do a qualifying ride on a wild cow before pulling the saddle and throwing it into the back of the chute with a partner for the fastest time. "Siskiyou County is kind of the birthplace of the saddle cow event. They argue if it started over in Shasta Valley or in Scott Valley, but it's a pretty unique event that other rodeos are now starting to pick up on. It's a real crowd pleaser." That particular event holds a special place in Hanna's heart. "I did saddle cow for far too long. I started probably in high school and I did it well into my 40s, and there's still guys doing it who are 10 years older than me. But it's a great little adrenaline rush."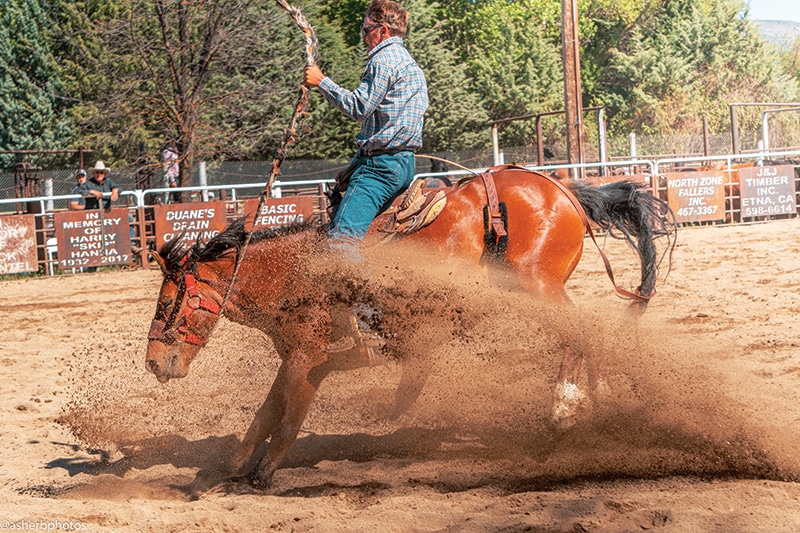 For Hanna, it's the rodeo's ability to bring together generations throughout the community that touches him the most. "My best memories are with family. We would always ride into town on our horses like the Von Trapp family as an entry for the parade. Of course, we weren't singing, but then we would all ride into the rodeo. And then, growing up and watching my brothers compete, hanging out with friends and watching my kids do drill team mutton bustin', it's just such a fun time. I look forward to it every year."•
Scott Valley Pleasure Park • www.etnarodeo.com