The Town With A Tale
The Historic Town of Gasquet…
Along the picturesque Smith River on the fringe of the Jedediah Smith Redwoods State Park, there's a small, lush little paradise called Gasquet. Even though several American Indian tribes are credited for inhabiting the area first, the town is named after the enterprising Frenchman Horace Gasquet, who landed in Crescent City in 1853.
He went a half-hour inland in search of gold, and ended up hiring workers, purchasing a ferry and acquiring a stagecoach station to help transport supplies. He constructed the town's first building, an inn/spa, followed by a store and a restaurant. He even had a toll road that the Crescent City Board of Supervisors approved and charged 25 cents for a person to cross (sheep and pigs cost six cents to enter, and a half-dozen horses cost a whopping $4 to continue). People and animals had to pay to pass through Gasquet up until 1902 when Del Norte County took it over, making it a free road until the state of California assumed control.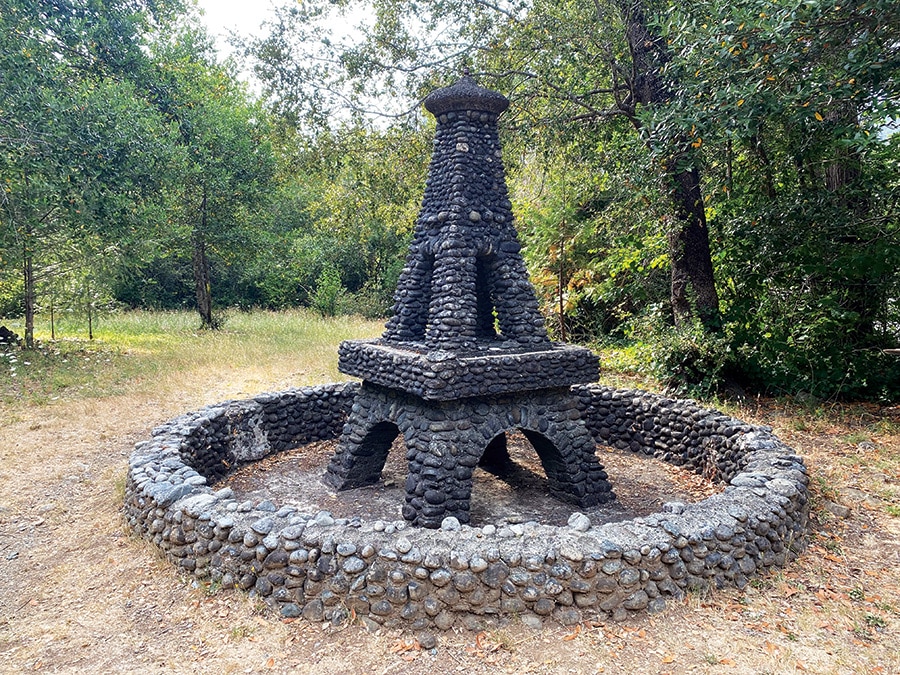 During this time, Horace Gasquet befriended a couple from France who owned a French restaurant in Crescent City. However, one history source proclaims that suddenly the couple went back to France, and no one knows why. Sometime later, Madeleine Fournier returned alone, married Horace, and brought her French culinary skills to the Gasquet Inn. She is forever known as "Madame Gasquet."
Horace died in 1896 and is buried at the Crescent City Catholic Cemetery, and Madame Gasquet died on November 27, 1889, at age 77, and is laid to rest on a cliff overlooking the Smith River. The spot perched over Gasquet Flat was considered one of her favorite spots to go to. The gracefully aged white marble gravestone is still there, surrounded by a white picket fence and facing the Smith River.
The Gasquet cemetery is easy to access if you want to spend the day exploring. Located up on the hill behind the Gasquet Market, follow Del Norte Road and turn onto Madame Gasquet Road. At the end of the cul-de-sac, a small wooden sign that states "Grave Site" points to the cemetery.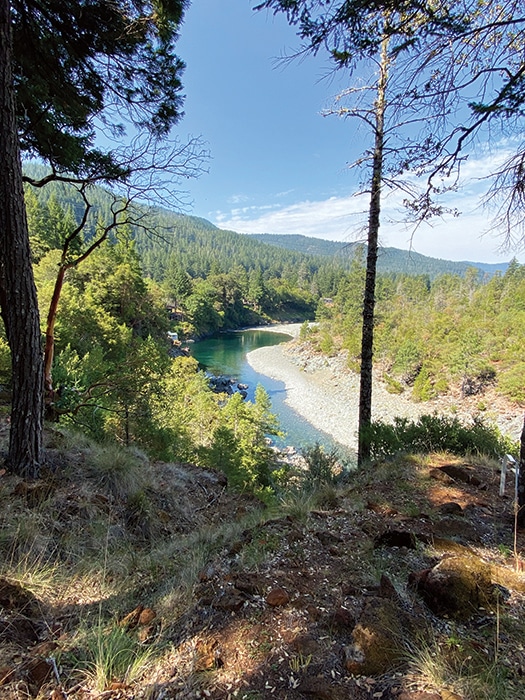 The cemetery is only about 500 yards away from the street. A bed of pine needles and fallen leaves is within the moss-covered rocks and ferns lining the way under a canopy of oak, pines and shade trees. Past the cemetery, the rocky dirt path continues along the cliff, hugging the Smith River that leads to one of the main roads.
For more information about the history of Gasquet and the surrounding area, visit the Smith River National Recreation Area Headquarters (also known as the Six Rivers National Forest Ranger Station) on Highway 199 and ask to see the Gasquet Ranger District History 200-page book, compiled by Marcia Ruffell. And don't forget to take a picture with the famed Sweet Water Otter. The Gasquet post office also has a framed display featuring photos and information on the history of Gasquet. •