Orange Appeal
Make A Stop At Joe's Giant Orange in Shasta Lake…
Just off I-5, a big plastered painted orange sits perched in front of what is dutifully named Joe's Giant Orange Café. Established in 1946, it was one of dozens of juice stands along the original Highway 99 and currently the big ol' orange is one of the few left standing in California.
Today, Joe's Giant Orange Café serves a full menu of Mexican and American food along with fresh-squeezed orange juice served in a variety of cool drinks. Joe's Giant Orange Café is owned by Ruben Garcia, who also runs Trendy's at 1730 Gold St. in Redding.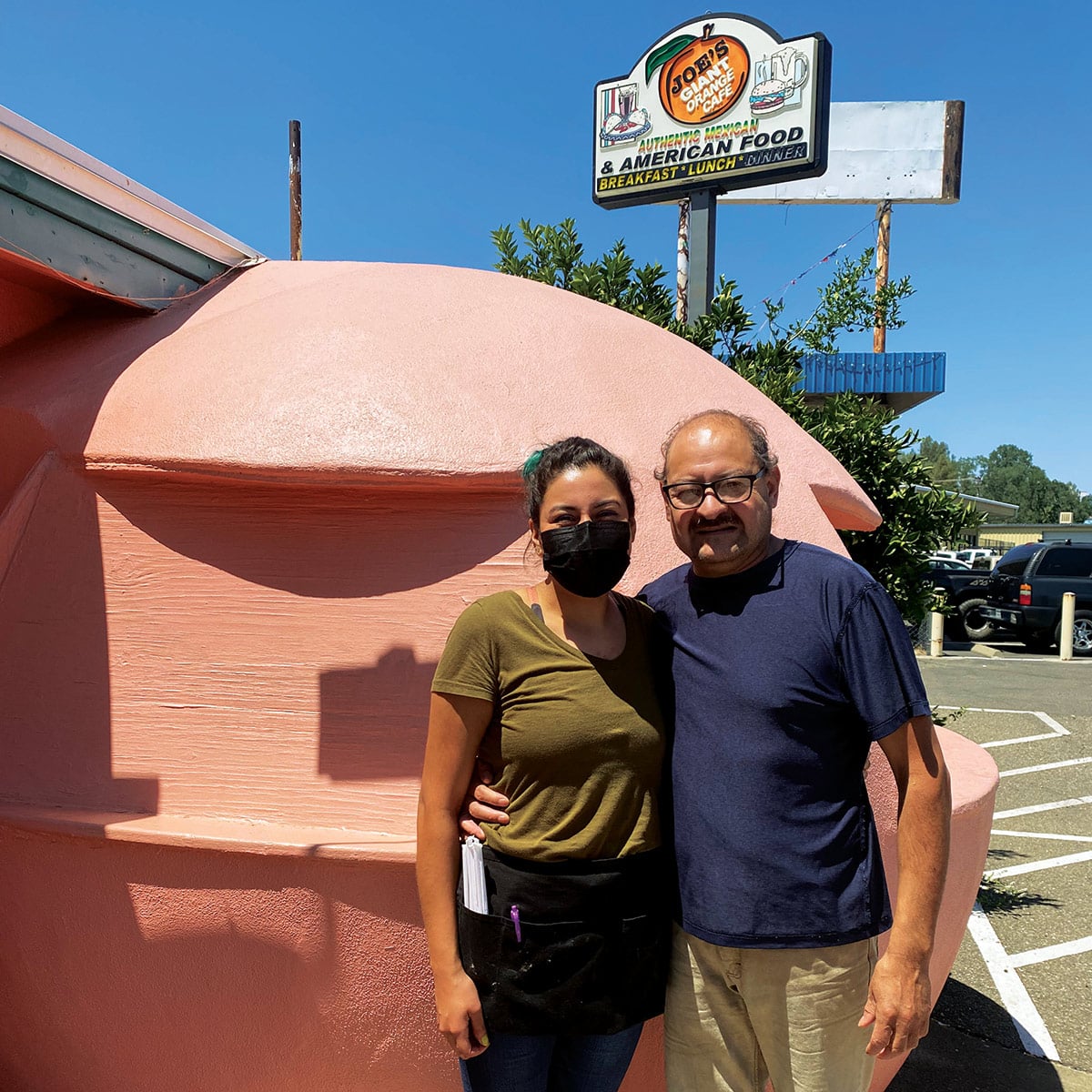 Originally from the Michoacan region of Mexico, Garcia moved to Chico when he was 14 and worked at Jack's Family Restaurant for the next 20 years. While eating at a Redding restaurant, he learned Joe's Giant Orange Café was for sale. Garcia had worked so long in the restaurant business that he felt like his former boss in Chico taught him everything he needed to know about how to run a diner, and he wanted to give it a shot. Garcia bought Joe's Giant Orange Café in 2015, expanding the menu and improving the quality of food. A big part of that was serving freshly squeezed orange juice to his customers.
"They used to have these big machines that just kept the juice cold. It wasn't fresh like it is now," Garcia says. His
friend in Orland grows the citrus, and Garcia regularly drives to his friend's farm to get boxes of recently picked oranges for the cafe. Garcia also upgraded its juicer, getting an industrial machine that holds 20 pounds of oranges, squeezing out up to three gallons of orange juice per cycle.
According to the Shasta Lake Heritage and Historical Society, the Giant Orange juice stand was originally in Pine Grove on Highway 99 just north of Redding. George and Adelaide Castle ran it until 1953, then Don and Jerry Duryee bought it. Harriet Baker Duryee reopened it and built a restaurant onto it, later changing it to an antique store. Somewhere down the line, a guy named Joe bought it; all Garcia knows about him is that Joe owned it for about 10 years.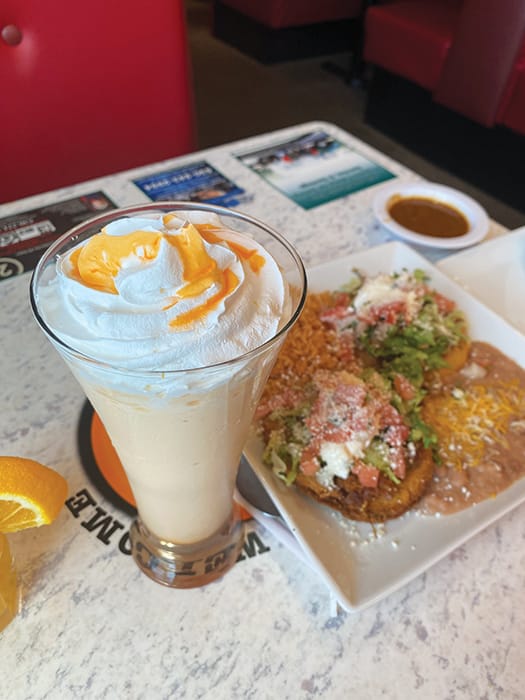 But the physical Giant Orange has remained put all of these years, and when mentioning that it's pretty neat that the physical orange is still intact, Garcia replies, "I think the history attached to this place helps business. I think it's important to serve fresh food, and people love our orange juice."
All of Joe's Giant Orange Café meals are made of quality ingredients, affordable and appeal to everyone while also providing Northern Californians with a piece of nostalgia.
"A lot of people take a picture in front of the Orange," Garcia says, noting that about 20 people have come in over the years who've worked there. Over one of the booths shows a historical collage of the Giant Orange with a black- and-white photo of two young boys. Recently, one of the boys – now a man in his 80s – came back to have a meal and recognized himself in the picture. The inside of the Giant Orange is now used as storage.
Garcia's daughter Rosie then drops off a lunch special of housemade sopes made of a thick, fried, crunchy dough topped
with cheese, crema, lettuce, tomato and cooked chunks of carnitas (served with a glass of orange juice, of course). Its giant menu portrays a multitude of American and Mexican dishes.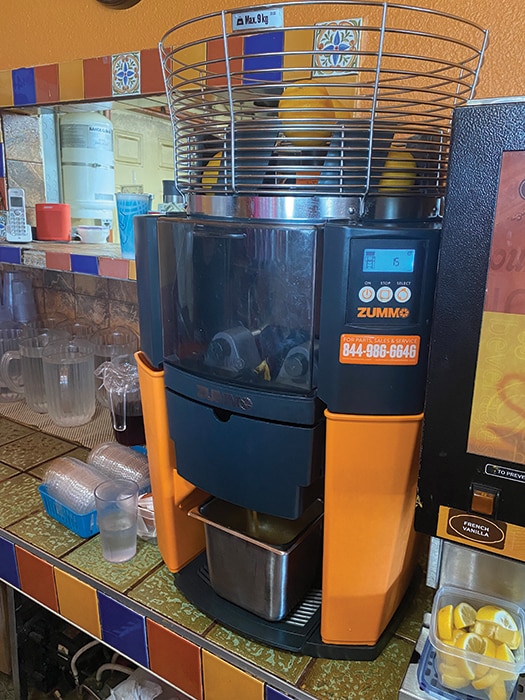 The most popular items on the menu include the chile verde, chicken fried steak and broasted chicken, voted the best in
Shasta Lake. For breakfast, the Arizona enchilada omelet, Whole Hog and steak fajita omelets are favorites.
Between the fresh-squeezed mimosas and lunch specials that include tortas, 8-oz. ribeye with shrimp for only $15,
and "Michoacan style" enchiladas, it's hard to make a decision no matter what time of the day you go there.
However, the Orange Freeze is a must-have, especially on a hot summer day. Made of ice cream, orange juice and a little bit of Fanta, it's one of the restaurant's most sought-after treats. It tastes like a creamsicle. It makes sense that the Giant Orange can blow through up to five gallons of ice cream a week when temperatures creep above 100 degrees.
"Some people will come in at 6:30am and order an Orange Freeze," a server says.
Joe's Giant Orange Café is traditional, friendly and comfortable and totally worth the hype; a must-stop on a NorCal summer day. •