Rhythm of Life
North State Artist Michael Perkin…
For a painter who focuses on the natural world, the North State is filled with inspiration. "I like landscape painting and there's a lot of great landscapes to paint here," says artist Michael Perkin.
Perkin arrived in Redding two years ago after many visits from the Bay Area, where he spent 38 years with a t-shirt printing business, as an art teacher and a kiln technician at Laney College. The move has been auspicious not only for the inspirational vistas to paint, but also for the space to build a soda kiln for his ceramics, which have become popular items at Enjoy the Store.
His Happy Valley home provided the space for a kiln and the COVID-19 pandemic provided time to build it. "The pandemic meant free time to put it together," he says. Perkin traveled to Half Moon Bay to purchase a kiln and then took it apart piece by piece to rebuild as an atmospheric soda kiln, which is a newer style of kiln. "It's not like a normal process, but a lot more interesting," he says. "It's pretty fun."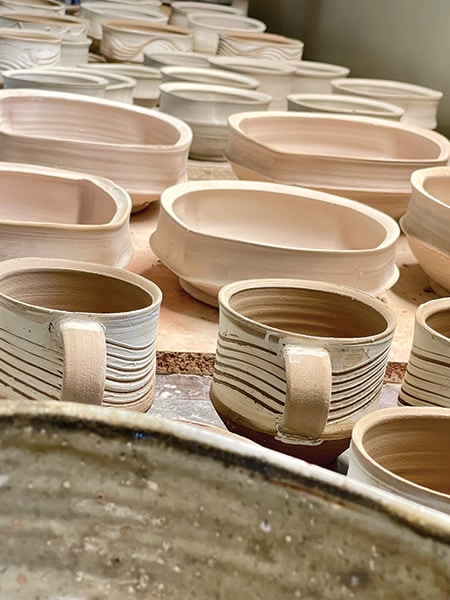 In this type of kiln, the atmosphere is tightly controlled and the kiln can be starved of air and concentrated with fuel. "There's a big learning curve to know how to use it," says Perkin. "It's real labor intensive, but every time I fire it I learn a little more." When it's incredibly hot, baking soda is sprayed in, which gets in the flames that fan the pots, creating exciting design elements. Designs will vary depending on where ceramics are placed in the kiln, with distinctions noted between those on the bottom, in the middle and on the top. "This is what's so exciting to me about ceramics," he adds. "It's the art of ceramics, in my opinion."
The process from start to finish takes about a month per batch, with two weeks to create enough pieces to fill the kiln. Then another week to glaze all the pieces, followed by a week to carefully place and fire the pieces. The firing process itself takes eight to 10 hours and must be monitored at all times. After a firing, he has to grind out all of the soda from the kiln to make it essentially new. "Now for the rest of my life I'm going to have fun with this kiln," he says with a laugh.
Perkin also enjoys collecting ashes from burn sites for his glazes, and says his style is influenced heavily by Japanese art. "I really love their aesthetics," he says of the many Japanese artists he started friending on Facebook. "I don't want a bunch of perfect plates that all look the same," he adds, noting an appreciation for the Japanese concept of wabi sabi that embraces imperfection.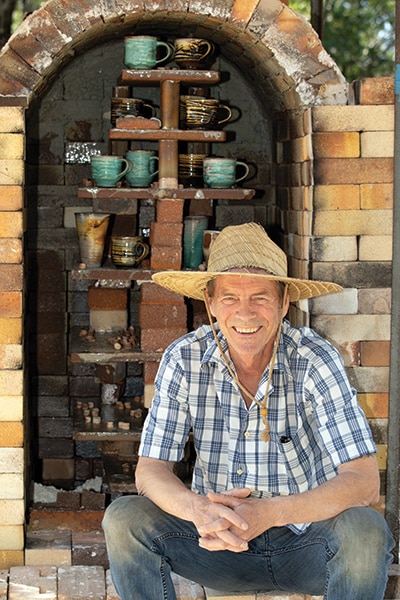 While Perkin often batches his ceramics, making a load of plates or mugs at once, he enjoys the subtle and not-so subtle differences that emerge in each one. "It's a really great medium," he says. "Maybe an accident happens and you like that accident. It may make that one coffee cup that's unique to you." Perkin thinks a lot about coffee cups
and what makes them perfect for an individual. While his preference is for a smaller cup, he knows other prefer hefty cups with wide brims or sturdy handles. Each one he creates will vary slightly in size and shape with the hopes that it will become the perfect mug for the right person.
Perkin's life has been dedicated to art in one way or another, and in the North State he gets to indulge another passion. "Basically, if I'm not doing art, I'm in the mountains," he says. "I climbed Mt. Shasta, which was really quite an amazing experience for me. I'm going to climb every mountain in the Trinities I can."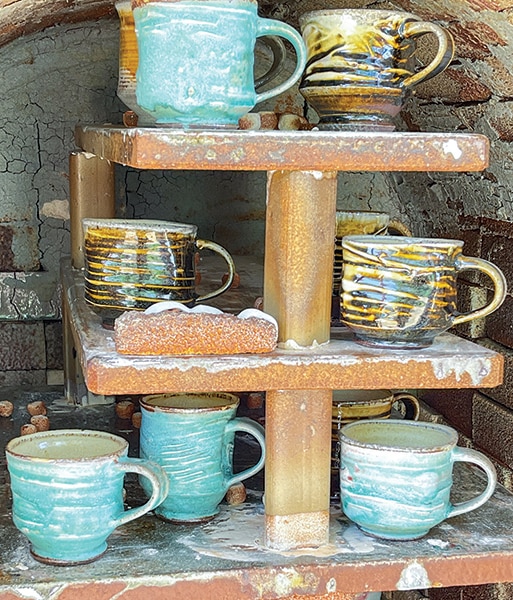 His life has taken on a rhythm of painting, ceramics and hiking. "Ceramics are real easy for me," he says. "I can just
sit down at my wheel and make a bunch of stuff in batches
of 10. Paintings are much harder. I'll get stuck and go to my
wheel." In between, he'll plan a hike in the area.
"They call me a Peak Bagger," he says with a laugh. "I like to climb to the top of a mountain. I research a spot to hike and explore and I always run into old mining camps. It's so fascinating. There's so much to explore."
He's also enthusiastic about meeting the creative community of the area. "There's a lot of talent here," he says. "I feel like I'm new here and there's a lot to get excited about."