All I Want For Christmas
Alexandrea Designs – Inspired by Nature, Created by Hand…
Alexandrea Young is a natural born artist who would rather be amongst flowers, forests and flowing waters than the hustle and bustle of city life. She grew up in Pennsylvania and studied graphic design in college. Eventually she found her way to the West Coast after meeting her California-born husband, Tom, while working as a graphic designer in Nashville. The couple decided they wanted to be closer to the ocean and went back to near where Tom grew up, posting up in an old RV at a Christmas tree farm in Silverado Canyon. At the farm, Young discovered her love of making nature-inspired jewelry.
"I liked living out of the city and having some land that provided the opportunity to explore," she says. With the holidays coming around, Young wanted to use her art skills to create memorable, one-of-a-kind jewelry pieces for the ladies in her life and came up with little acorn terrarium pendants fastened together with antique bronzed caps. Her family loved the unique gifts and wore them around often, and soon strangers started to take notice and wanted necklaces of their own. Thus, Alexandrea Designs was born.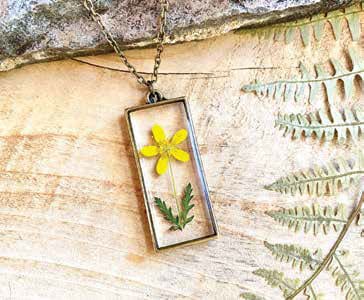 Young is completely self-taught, watching YouTube videos and seeking out online tutorials to perfect her craft. She's proud to grow and pick her own flowers, encapsulating the delicate plants in four pours of resin "to keep them safe inside." Considering that her favorite plants are ferns and forget-me-nots, it made sense to seek out an environment where ferns grew aplenty. "Forget-me-nots are such pretty unique blue flowers, and ferns look like little trees to me," she says.
The Youngs found a 10-acre property in Montgomery Creek, about 45 minutes east of Redding just outside of Burney. "Elevation and climate were really important to us," Young adds, moving to Northern California in June 2018 in "the summer of all the fires," she says.
Rolling Roots Ranch features sweeping vista views and a wild environment close to Hatchet Creek Falls, Burney Falls, Lake Britton and more. In the two or three developed acres, Young keeps a garden filled with vegetables, lavender, ferns and forget-me-nots. "The goal is to have a gigantic wildflower field; fortunately, things are starting to spread," Young says with a smile. "My husband gets the structure of the garden in place and I'm more of the planter. When we moved here, the property was completely overgrown. It was six feet of blackberries and poison oak due to the Fountain Fire that came through 30 years ago. So, we're sculpting it and making it safe."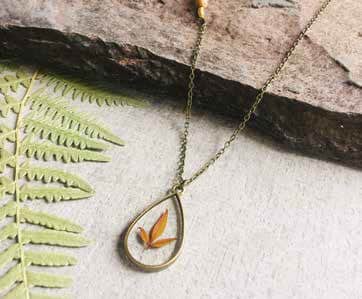 Recently, Young also started working with stones and agates, finding that they pair well with the necklaces she makes. However, her biggest priority is finding ways to get the word out about her jewelry in a time of uncertainty.
"Last year, I toured half the year to events in Texas, the East Coast, Lake Tahoe and Southern California, participating in art walks and big festivals. This year, I had a full tour booked from spring to fall but it was all cancelled due to COVID," she says. "My goal is to not lose momentum; I hope this year isn't too much of a hiccup."
Young primarily sells her jewelry through her website, alexandreadesigns.com, and at Enjoy the Store in Redding. She also welcomes commissions. "Gals will send me their flowers from their wedding bouquet or baby showers, and I'll create pendants for their bridesmaids or family members out of them. It acts as a cool little time capsule and it's fun to do a piece like that that's memorable," she says.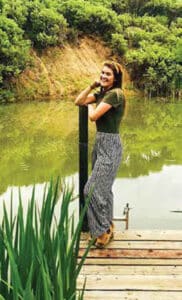 As the holidays approach, the Youngs continue to put down roots in Montgomery Creek, grow flowers, enjoy the peacefulness and fresh air, and prepare themselves for (hopefully) a holiday rush of orders.
"We gift wrap all of our pieces in ecofriendly material. We try to be conscious of what we use in our packaging and make it so that it's all ready to be opened if you can't be there in person with your loved ones," she says.
Alexandrea Designs
www.alexandreadesigns.com