Water Feature
Lake Almanor – The Perfect Norcal Retreat…
Nestled in the pines at the base of the towering Lassen Peak, the manmade 90-foot-deep Lake Almanor draws anyone interested in a place that offers an abundance of outdoor recreation. It's where people develop fond memories, whether they're camping, catching a gigantic trout, standing up for the first time while learning to wakeboard or venturing into Lassen Volcanic National Park to hike up a mountain peak overlooking Northern California or drive past boiling mud pots.
Originally inhabited by the Northern Maidu Native American tribe, settlers arrived in 1820. Back then, Lake Almanor was referred to as Big Meadows and it kept that name for the next century. By the late 1800s, hydroelectric power was gaining in popularity and the Great Western Power Company built a 180-foot-tall wall to dam up a reservoir that gathered rainfall and snowmelt (now much of the land around it is owned by PG&E). When it was finished in 1914, the body of water was renamed Lake Almanor after the lead project coordinator's three daughters, named Alice, Martha, and Eleanor.
Coincidingly, Lassen Peak became a national monument and a park was created around it, beckoning visitors. Commercial and private development lots on Lake Almanor's western shore opened up for sale and a family built one of the area's longest standing establishments, the Plumas Pines Resort, in 1932. It changed hands a few times over the years, but it is currently owned by the Geer family who has managed it since 1999.
"I've heard we're the longest tenured family," says Plumas Pines Resort Owner and General Manager Todd Geer, whose father Glenn bought the resort when Todd was 13. While running a family business can be challenging, he thinks it helped being interested in his dad's new venture at such a young age. Born and raised in Chico, Todd studied small business and entrepreneurship at Chico State University to get the experience needed to take over the family business.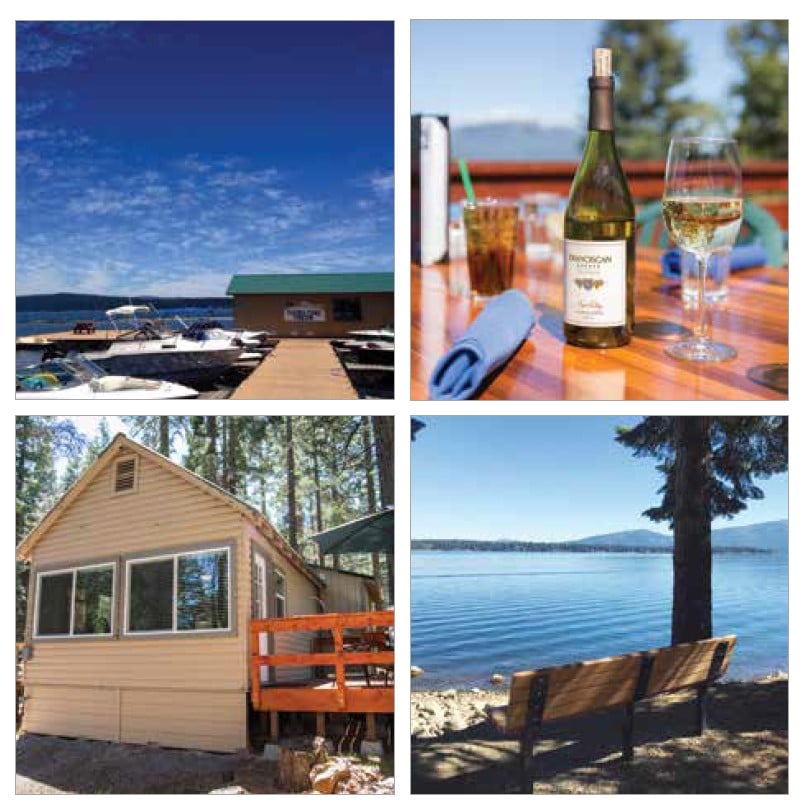 Since being in the Geers' control, Plumas Pines Resort has made small upgrades that add up to a lot while keeping its simplistic charm. In the last decade, the owners started managing their own restaurant instead of leasing it out to an outside restaurateur, and they launched an online reservation system to easily book rooms and cabins. They also recently renovated their restrooms to be ADA-compliant.
"A lot of people say that they're the nicest bathrooms in Northern California," Todd says. Future plans include expanding the resort and making improvements to its rooms and cabins, like adding electricity and modernizing room amenities.
However, there haven't been a whole lot of changes to the Lake Almanor area in general over the years, which is great for the people looking for a quiet mountain retreat away from the hustle and bustle that is common of neighboring cities. "Lake Almanor is the heart of the Shasta Cascade because it's central to everything around us. The young and old can come and enjoy; there's an activity for everybody," Todd adds.
From Memorial Day through Labor Day, places like Plumas Pines Resort help keep surrounding areas like Chester alive by offering accommodations for those who want to stay on the lake or visit Lassen Volcanic National Park, but the best times to visit are in the shoulder seasons, like right now.
"Winter is kind of a ghost town around here. We're closed April and November (because those are the area's slowest months); it's tourism that keeps this place alive. We get the most benefit from people coming up here in the fall. September is the best month to be here because the water's still warm and the weather is still nice. In October the weather is a little iffy but hunting season starts and the German Browns (trout) start running," Todd says.
"We get a lot of people who come up here and are blown away by how much space there is and how affordable the food, drinks and cabins are. And at Plumas Pines, we're right here on the water with the best view. We're kind of the party spot with total facilities and amenities," Todd notes. And as the Almanor Recreation and Park District continues to drum up more fun events and connect major hiking trails, Lake Almanor will appeal to more people.
"The spirit of this place is strong. Maybe (Lake Almanor) is hidden away for a reason. This is a place that's truly special," says Lassen Volcanic National Park Ranger Kevin Sweeney.