Challenge Accepted
Redding team takes on the Fiji Eco Challenge…
Heather Gustafson has climbed Mt. Kilimanjaro, run endurance races and climbed Mt. Shasta six times. Yet, there was a night, midway though her team's trek in Fiji during the Eco-Challenge race, that she thought, "I don't want to be the drop (out), but I'd be OK if someone else does."
Team Regulators – Gustafson, captain Steven Bell, Crista Jorgensen and Josh Watkins – were running on little sleep as they approached an eight-kilometer stretch of river navigation. They'd scaled a waterfall at night, arrived on a plateau and trekked through dense jungle to the river. "We decided that everyone was at their limit and to huddle together and sleep," says Gustafson, a management analyst for the City of Redding.
And that's the lure of the Eco-Challenge for extreme athletes – the desire to test your physical and mental limits and then push past. The Eco-Challenge, created by Mark Burnett of "Survivor" fame, began in 1995 and ran until 2002 before being brought back by last year and hosted by Bear Grylls for an Amazon Prime 10-episode series.
"We had no idea what we were walking into," says Bell, a lineman and former Army Ranger. "I think we'd all done similar things, but nothing of that distance or magnitude. There were extreme highs and lows, but, as the captain, I told everyone 'We're going to have fun and finish as friends.'"
Sixty-six teams of four from throughout the world raced the 417-mile course. They trekked on foot, pedaled on bike and floated on various non-motorized vehicles. They traversed jungles and oceans, rappelled cliffs and navigated waterways using only a map and compass to reach the next checkpoint.
Though Team Regulators didn't get a lot of face time on the Amazon Prime series, Gustafson said it wasn't about being a TV star. "Bear Grylls was at the finish line and he's one of my idols," she says. "We got maybe 10 seconds total. They were focused on the top teams and there were cameras with some of the teams we were with – we were in the picture. We did it for ourselves."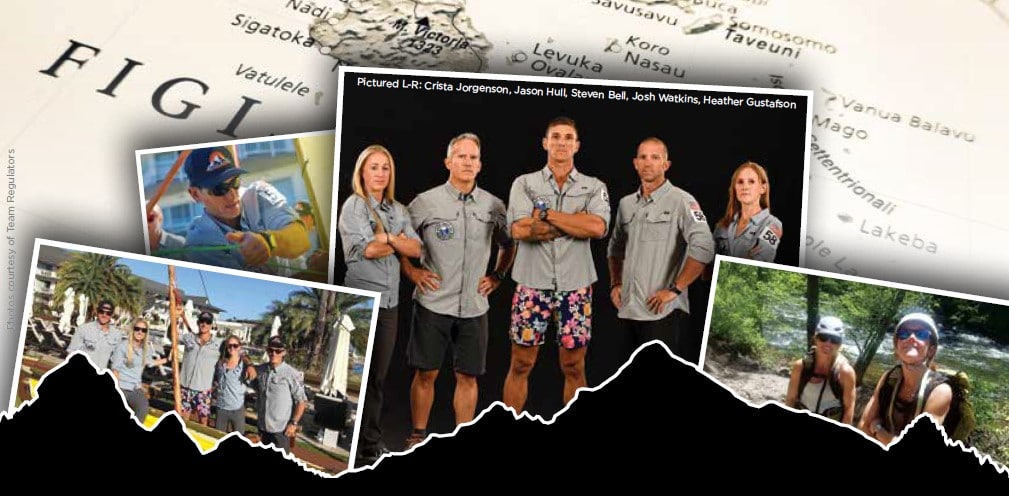 She says it was Bell who approached the group after seeing something on Facebook. He gathered 36-year-old North State Crossfit owner Jorgensen, 38-year-old Gustafson and 44-year-old Watkins, a profusionist (one who operates the cardiopulmonary bypass machine during cardiac surgery). Jason Hull, an entrepreneur, served as the team's crew person in charge of ensuring their gear was ready to go at each checkpoint. They produced a video and were eventually accepted for the September 2019 race.
"We figured what the heck," Gustafson says, echoing Bell that the goals were to finish and still be friends. Both were accomplished, Gustafson and Bell said as Team Regulators finished 39th out of 44 finishers.
To prepare, the group trained for seven months. In addition to normal daily training, they'd paddle down the Sacramento River, navigate in the Lake Tahoe wilderness and even took a four-hour sailing tutorial on the San Francisco Bay. "We climbed Shasta and Lassen in a day," Gustafson says of herself and Bell doing the double summit in just under 18 hours.
The team shipped out to Fiji on Sept. 4 and six days later began the race.
Bell and Gustafson each said they're watching the Amazon Prime show – slowly – and there's a sense of déjà vu seeing the places they've trekked. Especially toward the end, where the team was in a race to finish complete the final ocean leg prior to the time cutoff.
Bell recalls being on the ocean less than two miles from the finish. The seas were rough, forcing his crew to take refuge. "The winds and waves were too heavy," he says. "We're sitting there and I'm imagining the clock running out."
They found shelter on a deserted beach, the glowing torches of the finish visible in the dark Fiji night. "We started to wonder 'Are we going to be able to finish?' " Gustafson says. "We woke up and everything was going against us. The tide was low, the reef was showing. We didn't know what would happen, but we said a team prayer asking for strength like Samson."
Bell says once they got into open water – about a mile away from the finish – he knew his team was going to finish. "We had about two miles on an open-ocean kayak in four-foot swells," he says of waves they hadn't seen during the race. "I told myself, 'This is the push, it's happening or they're going to have to come rescue us.' I knew halfway through that we'd finish – that we just completed the Eco-Challenge. That for me was the shining moment."
Gustafson said it was surreal seeing Grylls at the finish line. "For weeks after, I would dream this isn't the finish line," she says.
But for her, Jorgensen and Watkins it was. "Two days after the race, I asked if they wanted to do the next one (scheduled for Patagonia)," Bell says. "They all said, 'Absolutely not.'"
Still, Bell said it was a lifelong goal and takes pride in knowing Team Regulators finished. "The crazy thing about adventure racing is you can't be great at everything. You need the strength of the group," he says. "And we can say we're part of a group that has done something 99 percent of the population can never do."