Cool Days
A Few Ways to Beat the Heat this Summer…
As NorCal folks know, the summers can be sweltering hot, and there is only one place to be on a 113-degree day – near a source of refreshingly cool water. Thankfully, there are several places where you can lower that body temperature no matter whether you have the day or an hour, all within the Redding area. These are a few reasons to keep your swimsuit with you during the hot months before school kicks up again.
Shasta Lake
www.shastatrinitycamping.com
Constructed in 1948 a few years after Shasta Dam was completed, this lake is known for its many fingers and coves shaped from the Pit River, McCloud River and Sacramento tributaries that feed into it. A popular place for fishing, boating, waterskiing, camping and wakeboarding, Shasta Lake draws in people from all over the nation to go houseboating. Bridge Bay, Shasta Marina Resort (at Packers Bay), and Jones Valley Resort rent ski boats, personal watercrafts, wakeboards, paddleboards and other water-related toys. Thanks to a big winter, Shasta Lake is full this summer, giving lots of boaters plenty of room to roam.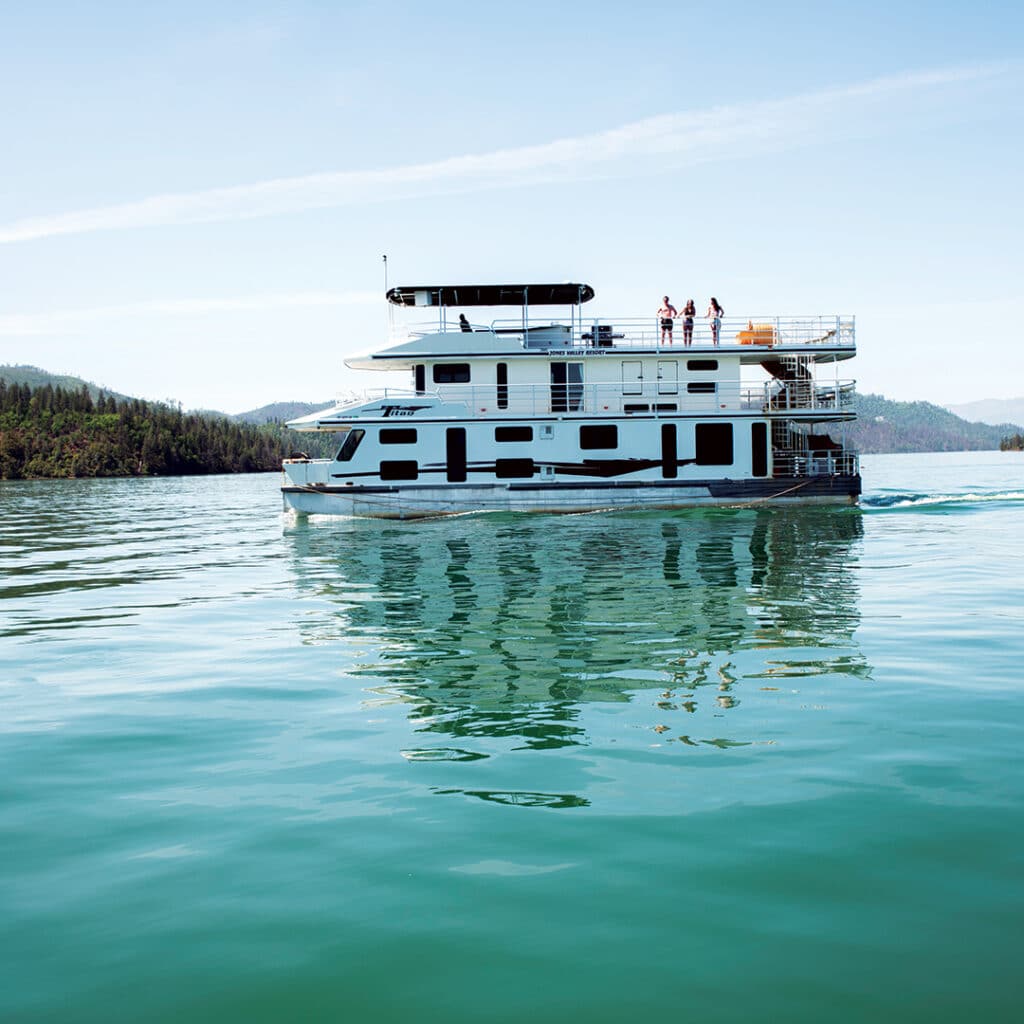 If you have the entire day, check out:
WaterWorks Park
www.waterworkspark.com
In business since 1985, WaterWorks Park is a summertime fun land for kids of all ages. I will never forget being 10 years old, walking up the steep slope to the top of the slide and the anticipation of going down. The thrill of the spiraled slide and getting shot out into the pool was everything I imagined it would be. Years later, I still remember the exciting atmosphere and eating Fun Dips before delving down more water chutes. Throughout the last few decades, WaterWorks Park has improved its equipment, adding more slides and ADA compatibility. Newer favorites for all ages and abilities include The Avalanche and Lazy Lagoon where sunbathers can just drift along the gentle current. WaterWorks Park is also one of the few Native American-owned businesses in the North State.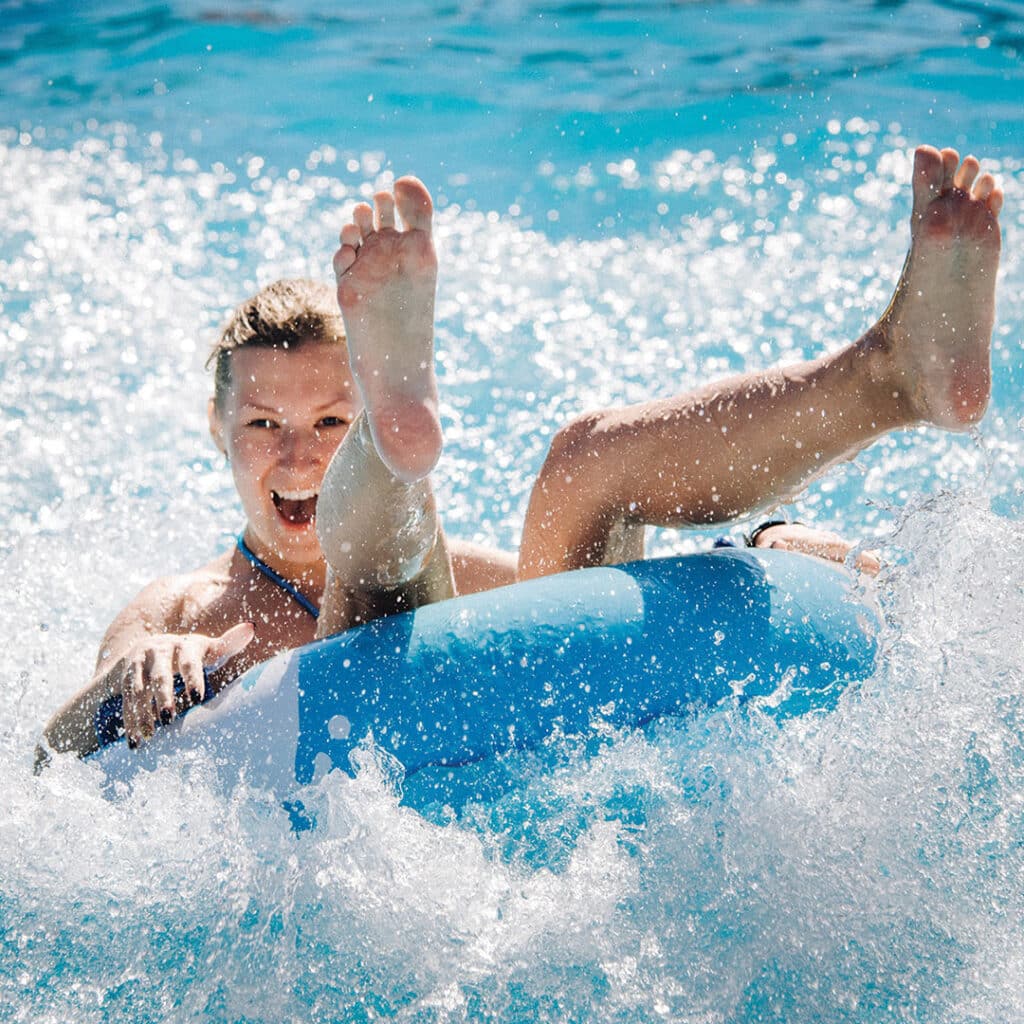 Whiskeytown Lake
www.nps.gov/whis/
If you head west outside of Redding instead of north, you'll encounter another large blue body of water contained within Whiskeytown National Recreation Area. Whiskeytown Lake holds 241,000 acre-feet of water that feeds in from the Trinity River. Along with hiking, camping, and waterfall-exploring, the lake itself attracts swimmers, waterskiers, anglers and sailboats on particularly hot days.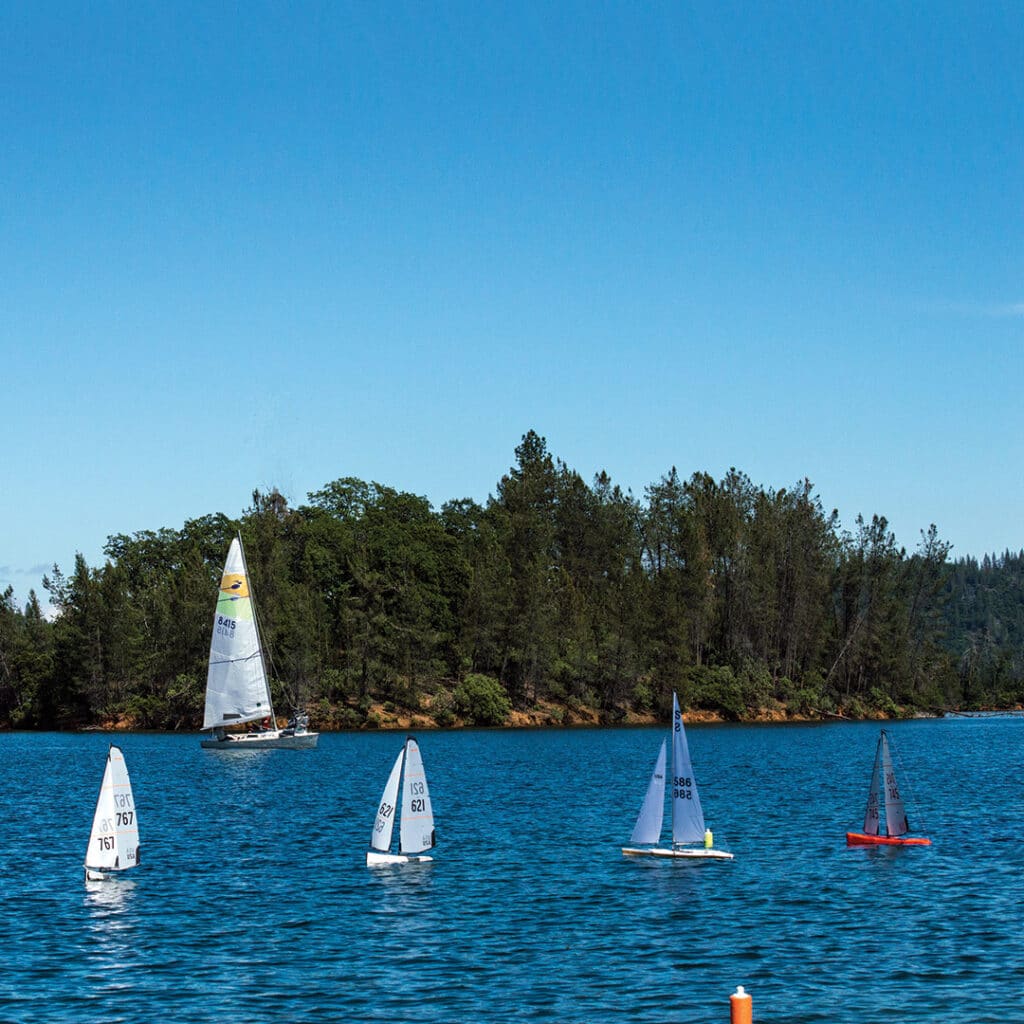 Sacramento River
www.raftredding.com
Floating the Sacramento River is one of the best ways to see all that Redding has to offer from the unique vantage point of the water. While taking in the fresh air via standup paddleboard, kayak or sturdy raft, keep an eye out for the waterfowl, wildlife, mountains and architecture as you glide through the small rapids and meandering waters between Downtown Redding and Anderson. Rent your own 6- or 8-person raft for the day with North County Raft Rentals near the Sundial Bridge or take a 2-hour guided tour with them to get the full experience.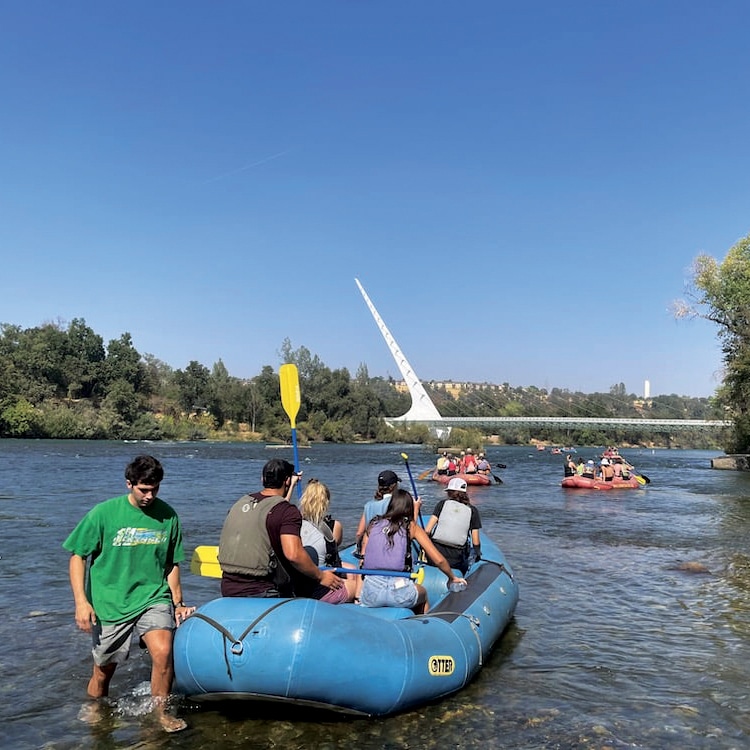 If you only have an hour, then visit:
Enterprise Park Fantasy Fountain
www.cityofredding.org/departments/parks-recreation/fantasy-fountain
Regarded as one of the best free forms of entertainment you can find in Redding, this especially rings true at Enterprise Park's Fantasy Fountain during the hot months. Now until Labor Day, families and friends can stroll through the splash zone with several different kinds of water sprays to hop, skip and splash around in. It's right next to Kids Kingdom, and even if you don't want to get in the water, you can hang out at one of the nearby picnic tables under a shade tree and people-watch.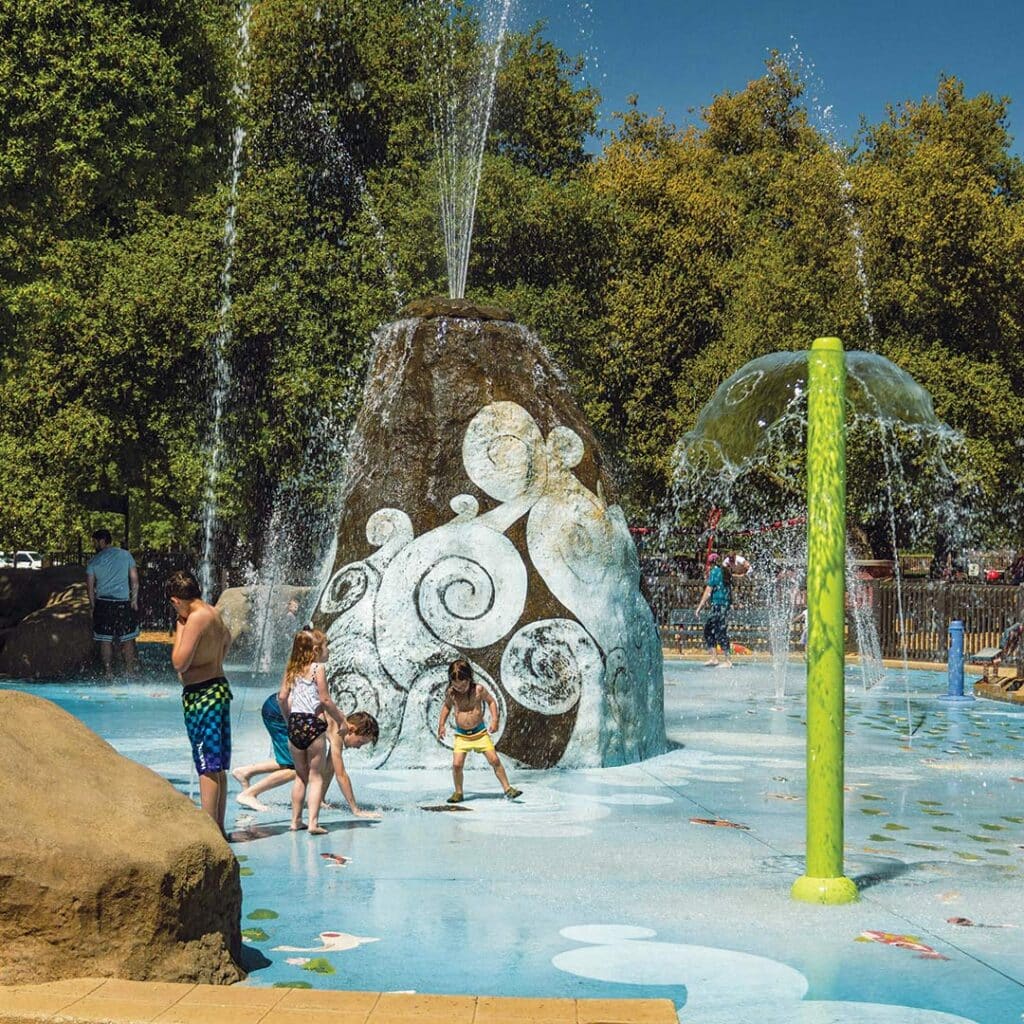 Redding Aquatic Center at Caldwell Park
www.cityofredding.org/departments/parks-and-recreation/aquatic-center
Formerly called The Lake Redding Park Plunge, this heated pool has been around for generations, providing the Redding community a place to relax, recreate and swim. The city renovated "The Plunge" 20 years ago to include two diving boards, an activity pool with a two-story slide, and 50 meters of swimmable room for more competitive lappers. Whether it's learning to swim, taking a paddleboard yoga class or holding a birthday party, the Redding Aquatic Center is open seven days a week with all kinds of programs going on when school is out for summer.
Sun Oaks
sunoaks.com/aquatics/pool-schedule
Growing up on the banks of the Sacramento River, my parents wanted my brother and me to learn how to swim before we even knew how to walk. Therefore, my mom enrolled us at Sun Oaks, a tennis and fitness club on Argyle Road. Along with tennis courts and a gym, Sun Oaks has a 25-yard heated pool that is open year-round (with a dome over it in the colder months) and a separate toddler pool for little ones to play around in during the summer. Single, couple, family and even friends monthly memberships are available.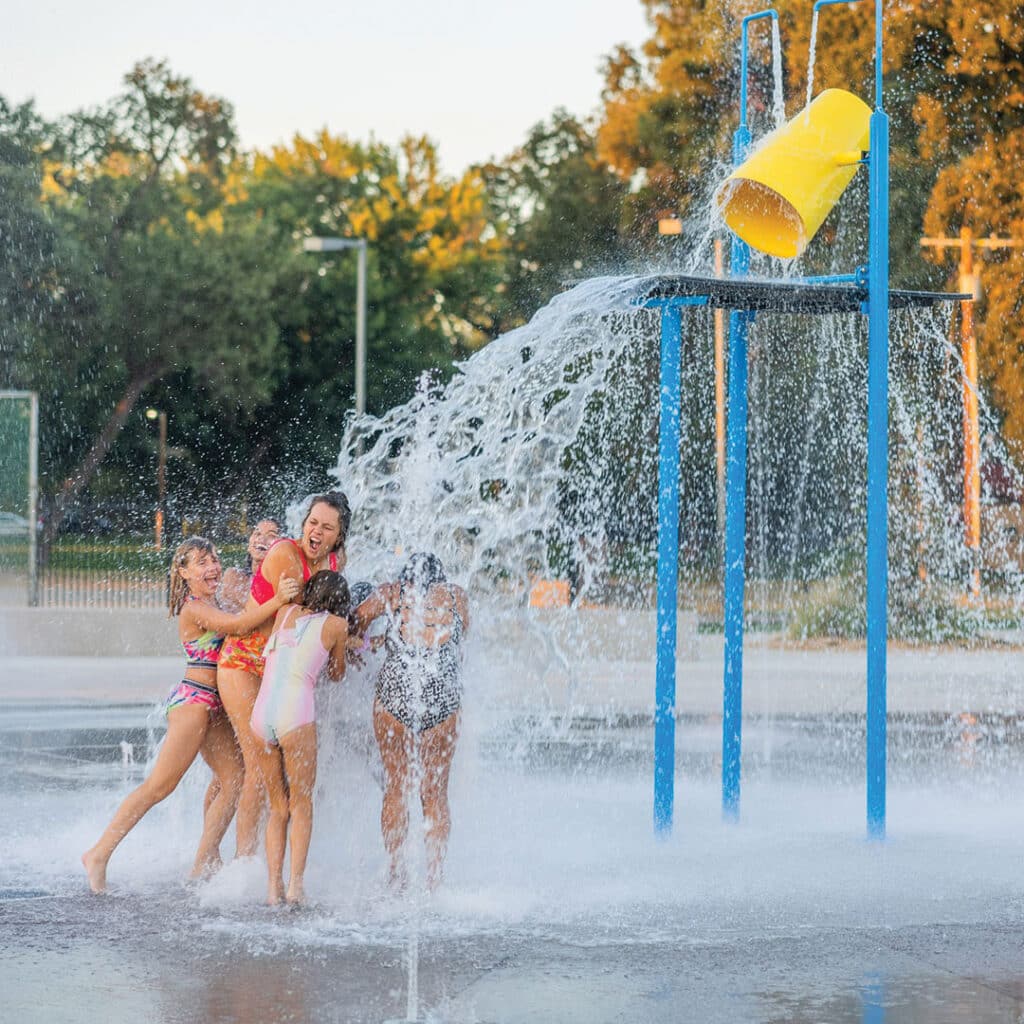 River Splash at Anderson River Park
www.ci.anderson.ca.us/departments/parks.php
Since the City of Anderson doesn't have a community pool, staff recognized the need for someplace for families to go, and worked diligently for years to install a splash pad at Anderson River Park. River Splash has 41 jets of water shooting up from the ground, recirculating through a 4,100-gallon tank that activates every 10 minutes. A bonus for hot bodies is a big bucket suspended in the sky that will randomly dump water onto those below.
When introduced to the public, River Splash became an instant hit amongst kids and families. It's free and open every day from 10am to 10pm in the summer, and its geysers even light up at night in a functional art display.