What's Cookin' | Gouda, Ham, and Tomato Pasta
Want a pasta dish with a delightful and flavorful change-up? You can serve this recipe as a full meal or have as a side dish year round, serving warmed for winter or chilled for summer. The gouda cheese, stewed tomatoes and black forest ham additions makes this dish a hit! Enjoy!
Gouda, Ham, and Tomato Pasta
Serves: 9-12
Ingredients:
• 2 boxes of Suddenly Pasta Salad™ (classic)
• 2 T garlic olive oil
• 1.5 lb. wedge of smoked gouda cheese (rind removed, cut into cubes)
• 2 lb. black forest ham (cut into cubes)
• 2 cans Italian recipe stewed tomatoes, strained to remove excess liquid and chopped into smaller pieces
• fresh basil and parmesan cheese for garnish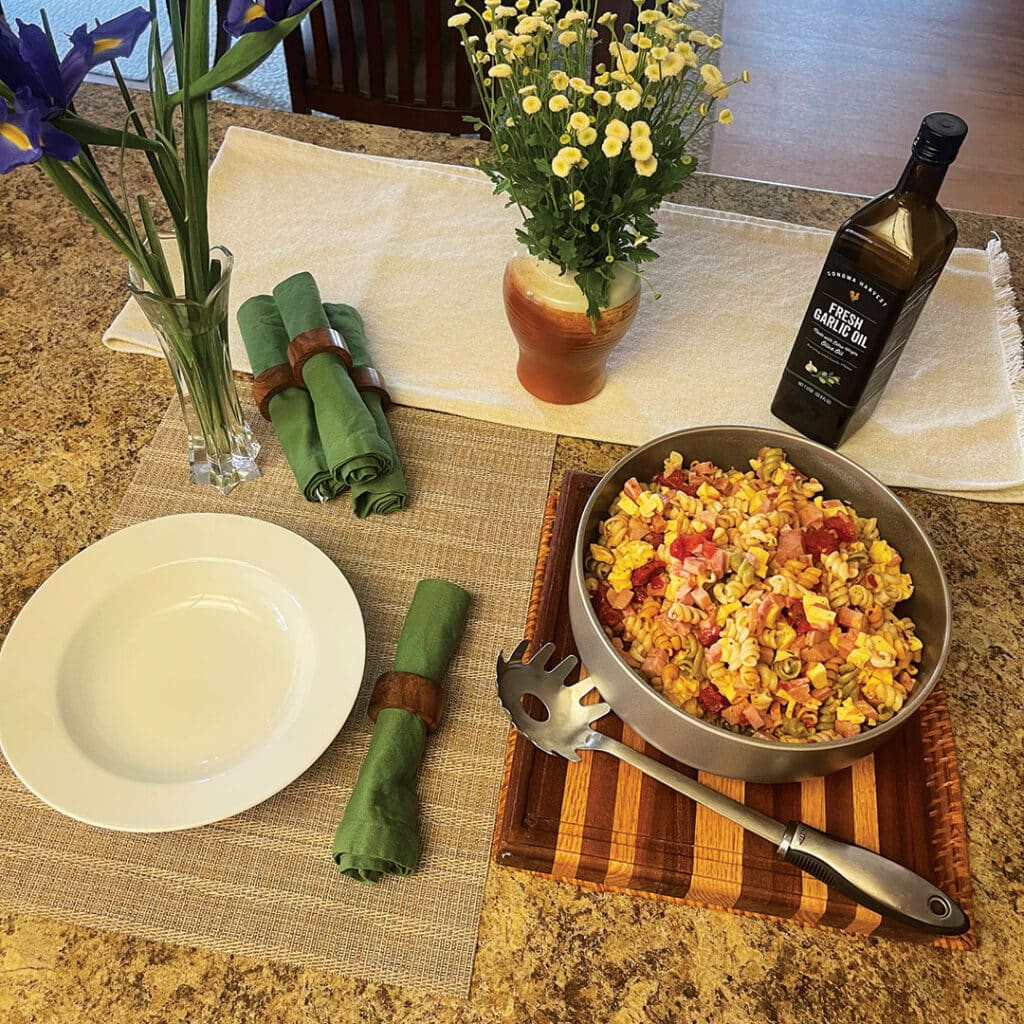 Directions:
Step 1: Follow the directions on the boxes of Suddenly Pasta Salad™. Strain and pour pasta into a large glass or plastic bowl. Add the garlic olive oil and flavor packets and stir well.
Step 2: Cover with plastic wrap and put in refrigerator.
Step 3: Cut the gouda cheese, ham and stewed tomatoes.
Step 4: Add cheese, ham and tomatoes to chilled pasta and stir thorougly.
Step 5: Chill in refrigerator for an hour.
Step 6: Garnish with fresh basil and/or parmesan cheese.
Serve cold or microwave until the gouda cheese melts for a warm dish.
LOVE OUR RECIPES?
Come into Enjoy the Store in Redding each month and ask for your FREE recipe card.
Recipe by:
Jen VerMaas was born and raised in Redding. She has a background in fine art as a graduate of The Academy of Art University in San Francisco. After painting for many years in the Bay Area and showing in galleries, she returned to Redding and met her husband. They are very happy, working and enjoying recreational activities here. She loves to garden, cook, oil paint, and spend time out in our community.