Ride On
Norcal Boomtown BMX Rides Again…
On a recent Friday night, a handful of kids of all ages and their parents are gathered at the NorCal Boomtown BMX track at Margaret Polf Park in Shasta Lake City. Kids donning helmets and Fox Racing gear stand perched in one of the eight start gates at the top of the course, their anticipation high before the gates drop and riders pedal down into the dirt/pavement track. Racers furiously pedal their bikes, going off jumps and speeding around berms in their two or three laps around the track, as their families sit cheering in the bleachers above. Afterwards, kids show off their trophies and visit the snack bar as The Ramones blast out of the speakers in the middle of the course.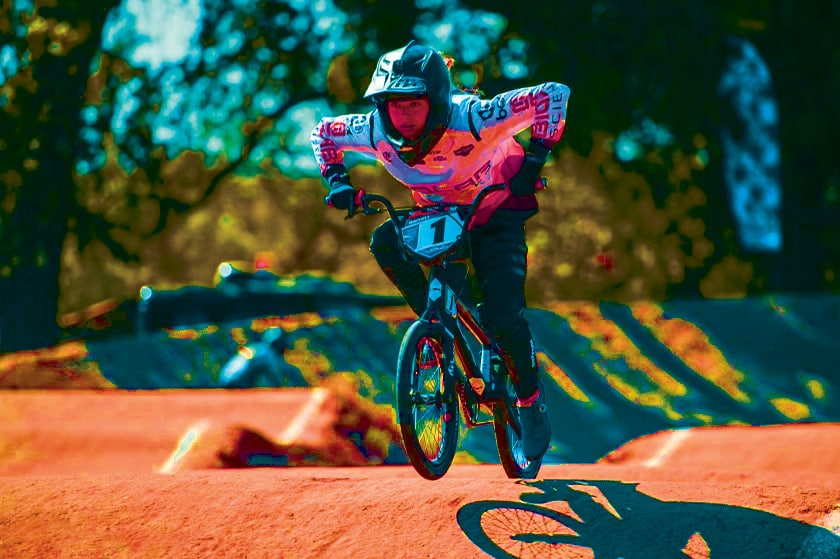 NorCal Boomtown BMX has been going for the past three decades, but the local chapter of USA BMX took a hiatus when participation waned. However, the next generation has come together to revive NorCal Boomtown BMX and bring back the family-friendly atmosphere. Many board members raced when they were younger or now have kids who are interested in the sport. NorCal Boomtown BMX Board Treasurer Darlene Steiger has five children who have been racing since they were 6 years old. NorCal Boomtown BMX Track Operator Alycia Barrett has children who both raced; her 15-year-old daughter Briella is ranked number seven nationally and number one in the district.
"I raced there from when I was 14 to 16 years old and now a couple of us are on the board who all raced together; we all go way back," Alycia says. The passionate former and current BMXers got the track back up and going again in 2020.
The pandemic threw a wrench in things for those first couple of years, but it is now holding races twice a week, as well as regular practices. The BMX track in Chico recently closed, and its manager has been helping out at Boomtown.
The BMX track at Margaret Polf Park is a 1,000-foot downhill fast track, made up of dirt jumps and concrete berms. It's considered one of the smaller tracks in California, appealing to more novice riders in the Shasta County region. Around 10 to 15 "motos," or races, are held each night. Riders are put into classes depending on age and ability, and race two motos before advancing into the finals/main events.
The season begins January 1 and ends December 15, but it's all weather dependent. At the Boomtown track, an average moto consists of around four riders (three minimum, eight max) and anywhere from 40 to 80 people show up. "Sometimes we'll get 15 families, and they'll maybe bring 1 to 5 competitors. It really varies," Alycia says. Weather, other area races, or competing sports events can affect a BMX race turnout.
"If people aren't going to other BMX events, they may be concerned about coming up if the track is damp or wet. If that happens, we will not race," Alycia says.
A wet track can be dangerous for racers, as rain can create ruts in the dirt and damp pavement can cause bald tires to slide out. The bikes may survive in a wipeout, but depending on how fast their riders are going, they may not always fare as well. BMX bike tires have "knobby," a tire tread that grips down into the dirt. The tires themselves are totally bald which can cause massive peel-outs, since when the asphalt gets wet it turns to slime. "The bike likes it, but the body doesn't," Alycia says.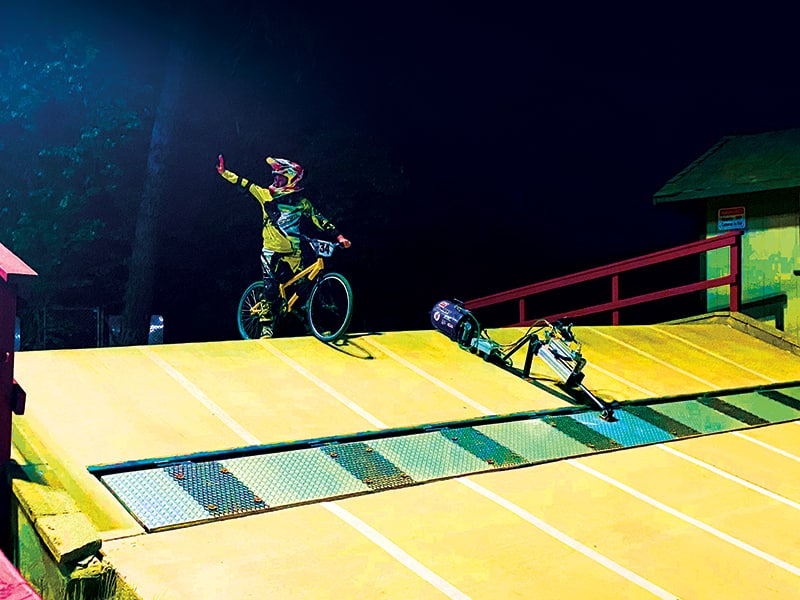 The dirt part of Boomtown's track does need to be watered down in the summertime to minimize dust, and it takes at least 2-3 people to maintain it during races. Alycia says they need a lot of volunteers to make these races happen and encourages anyone who has an interest in racing to come out.
"It's very family oriented," Alycia says. "The kids are involved, the parents hang out, music is playing, it's laid back. The kids love it and for the adults, it's a nice place to go after the work week ends."
The kids – especially in the younger novice level – get really excited to win the trophies, while the older, more advanced racers like Briella revel in cheering the younger ones on. "They get stoked over their successes," Alycia adds.
The more racers that come out, the more it levels the playing field, and everyone is truly welcome. There is a 65- plus age class and under 5 class as well. "The 80-year-olds take forever to get around the track, but at least they're out there doing it," she says.
"We keep building it up to have more kids and keep it fair. Just come out, you will always have someone to race. Whoever shows up gets put in motos," she adds.
Reflecting on her younger years, Alycia says continuing these NorCal Boomtown BMX races feels like a throwback for her and the board, too. "I remember the trees around the track; it feels so much the same of how it was 30 years ago, but maybe my love of racing adds to that. A lot has changed but a lot has stayed the same."
A kid rides his bike with one hand on his handlebars and another on his trophy, just like kids did 30 years ago, and lollipops at the snack bar are still 25 cents apiece. Some things never change. •
Find NorCal Boomtown BMX on Facebook