Backyard Adventure
Explore Shasta County – CAD Visitors Guide…
With 3,800 square miles of territory, Shasta County is one very large outdoor adventure playground, and with a population density of about 46 people per square mile, the chances of running into crowds on your adventure outings are slim – especially once you wander off the beaten path.
Locals tend to take it all for granted, but we are reminded every time friends and family come to visit and we take them on a tour of the sites just how amazing our backyard really is. If you are visiting Shasta County and don't have the zealous family members to take you around, here are some of the top experiences for you to explore:
1: Lassen Peak. Visible from 100 miles away, Lassen Peak is "the other mountain" that crowns Northern California, along with Mt. Shasta. Even though the peak of Lassen is at a respectable 10,400 feet, a great hiking trail makes it possible for (almost) anyone to conquer it. Allow yourself 3 to 5 hours to get up and back from the Lassen Peak trailhead parking lot. The views are spectacular and the experience is top-notch.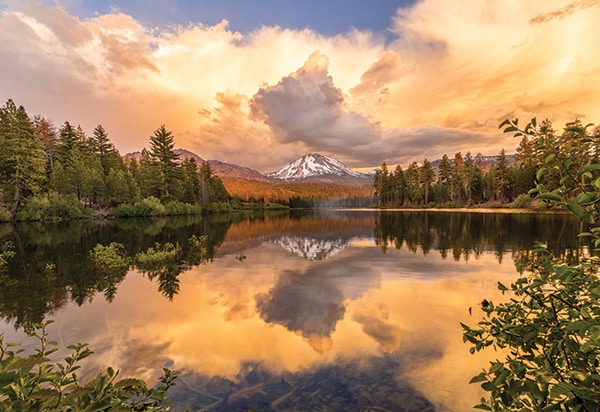 2: Lake Shasta Caverns. Take a magical journey to inner-earth at Lake Shasta Caverns, just 25 minutes north of Redding. The entrance to the caves sits at 900 feet above Lake Shasta and you will take a boat ride across the lake before enjoying the guided tour through the jaw- dropping caves. Many thousands of visitors travel far and wide to visit this historical natural landmark every year.
3: Shasta Dam. Separating the man-made Lake Shasta from the Sacramento River, the eighth-tallest dam in the United States is located less than 10 miles from Redding and it's easy to get to. Check out the visitors center, then stroll across the top of the giant 600-foot- high structure, surrounded by great California scenery. On the way back through Shasta Lake City, make sure to stop off at Heritage for a great cup of coffee.
4: Burney Falls. A scenic and twisty one-hour drive out of Redding later and you are in another world called McArthur-Burney Falls Memorial State Park, with the Burney Falls waterfall as the main attraction. This awe-inspiring spectacle of rushing water from 129
feet above is a must-see. Allow for this experience to take up the entire day as you stroll through the beautiful forest trails.
5: Whiskeytown-Shasta-Trinity National Recreation Area. This is where locals go to cool down in the heat of summer. The recreation area encompasses just over 200,000 acres, sharing some with neighboring Trinity County, and features tons of trails and wildlife, and one of our favorite watering holes, Whiskeytown Lake. Located just 15 minutes out of Redding, Whiskeytown is the perfect getaway for an hour or two – or all day.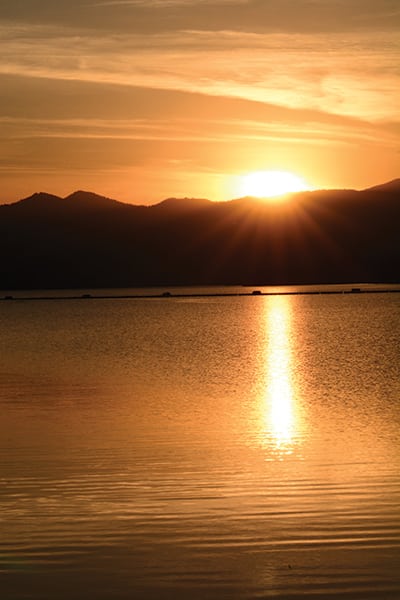 6: Lake Shasta. Lake Shasta is actually a 30,000-acre man-made reservoir, but some locals use it as one of their favorite vacation spots, even though it's only 20 minutes away from Redding. Use it as your local beach and to swim, waterski, camp and float around on the world-famous houseboats. If you are visiting the area for a week or more, spending a couple days lounging around on Lake Shasta will rejuvenate your soul.
7: Sacramento River Trail. At just over 12 miles from end to end, the Sacramento River Trail is the perfect trail for walking, running or biking, and with many enter and exit points, you can make it as long or as short as you want. The river trail takes you along the shore of the Sacramento River and past some of the most beautiful scenery, including the Sundial Bridge. The entrance at the top on Hilltop Drive is a great place to start if you'd like a bit of an ascent and descent, with the entrance at Sundial Bridge being the perfect spot to enter if you'd like to keep it more even-keeled. Spend 15 minutes on the trail, or the entire day – it's up to you.•
www.CaliforniaAdventureDistrict.com