Practically Picture Prefect
The California Poppy…
Can you name California's official state mineral? State fossil? How about the state lichen?
Hmmm. Not so easy. But odds are you know California's state flower. California poppy (Eschscholzia californica) is well recognized, widely distributed and much admired. Not only is California poppy an official state symbol, it has its own special day – California Poppy Day on April 6. The California native plant is showcased on the state's "Welcome to California" signs and scenic highway markers. And its image appears on California driver's licenses.
In other words, this wildflower is no wallflower.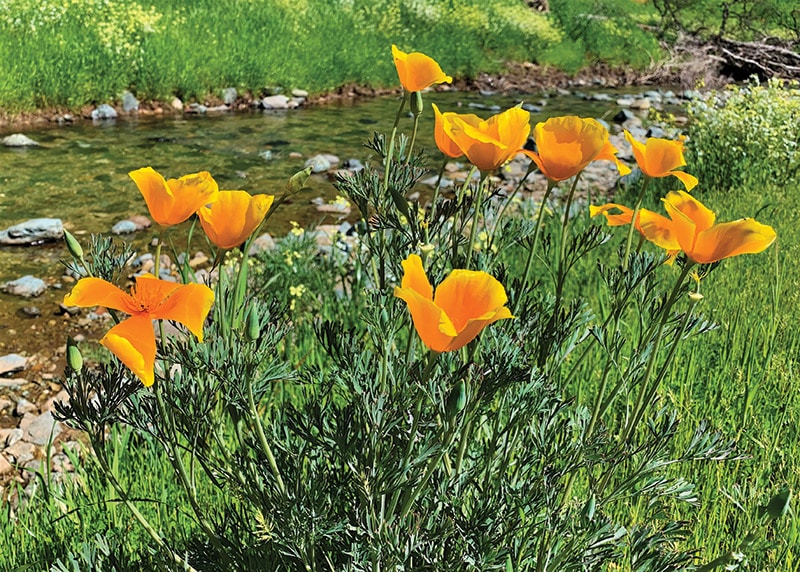 "I love California poppy," says botanist Susan Libonati, president of the Shasta chapter of the California Native Plant Society. "The vivid color, the tissue-like petals, the abundant bloom, the haunting, elusive fragrance."
The flashy flowers unfurl in spring, cloaking hillsides in orange and popping up enthusiastically along roadsides, in vacant lots and other locations. California poppy grows in the state's deserts, foothills, valleys, along the coast – and its reach goes beyond California. The wildflower is found from Western Oregon to Baja California, according to botanist Julie Kierstead, who had a long career with Shasta-Trinity National Forest.
California poppy is identified by four petals, many stamens, pointed buds and fernlike leaves. The bluish- green slender stems and frilly foliage contrast with satiny petals that vary in color from yellow to bright orange. In keeping with their sunny disposition, poppies open and look their best on bright days. They close tight at night and during cloudy weather. They don't care much for wind or cold, either.
California poppy is drought-resistant, thanks to a chunky taproot. In some places it grows as a perennial, dying back and then re-emerging from one year to the next. In colder climates, poppies are annuals that sprout each season from seed. Seedpods give California poppy its pop. The slender capsules dry and then split with an explosive force that scatters a multitude of tiny dark seeds well beyond the mother plant.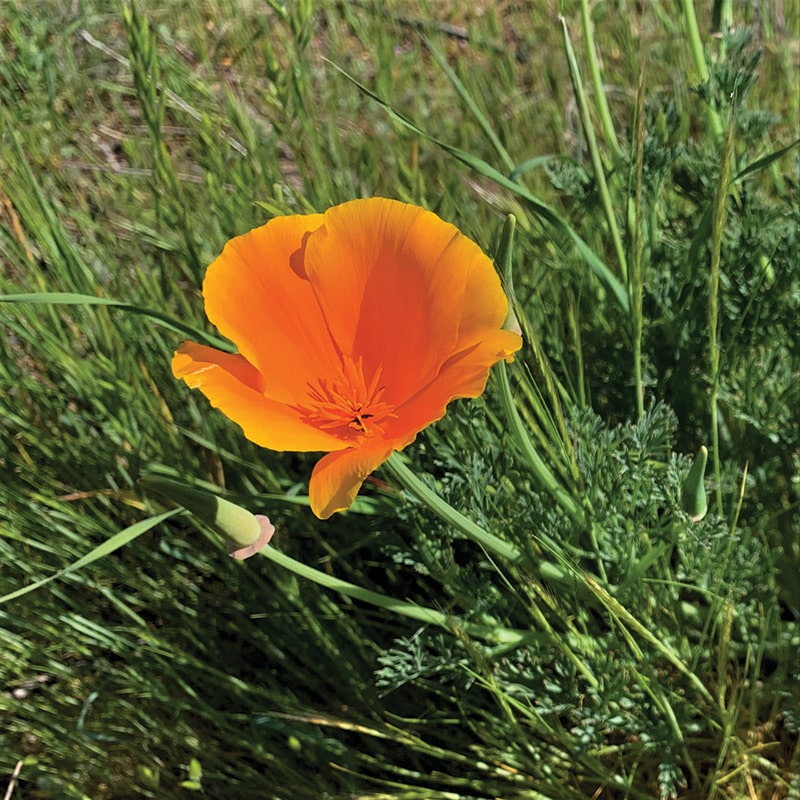 Adelbert von Chamisso, a naturalist aboard a Russian ship exploring California in 1816, found and described the flower. He named it Eschscholzia californica in honor of the ship's doctor and entomologist, Johann Friedrich Eschscholtz, inadvertently dropping the "t" from his friend's name, Kierstead notes.
Of course, the plant was already well known before von Chamisso's "discovery," being important to the area's first people. "Tending the Wild," by M. Kat Anderson, says the poppy had different uses among tribes, including alleviating headache, healing newborn baby navels and inducing sleep. Leaves were used as a food after a process that included boiling or roasting with hot stones, according to the book.
During the 19th century, California poppy seeds were introduced to European gardens, where new garden versions were bred in various colors.
In 1890, the California State Floral Society voted to recommend the omnipresent California poppy as the state's official flower. It crushed the other two contenders – Matilija poppy and Mariposa lily. After more than a decade, the society's poppy push proved successful. California poppy was officially designated the state flower in 1903.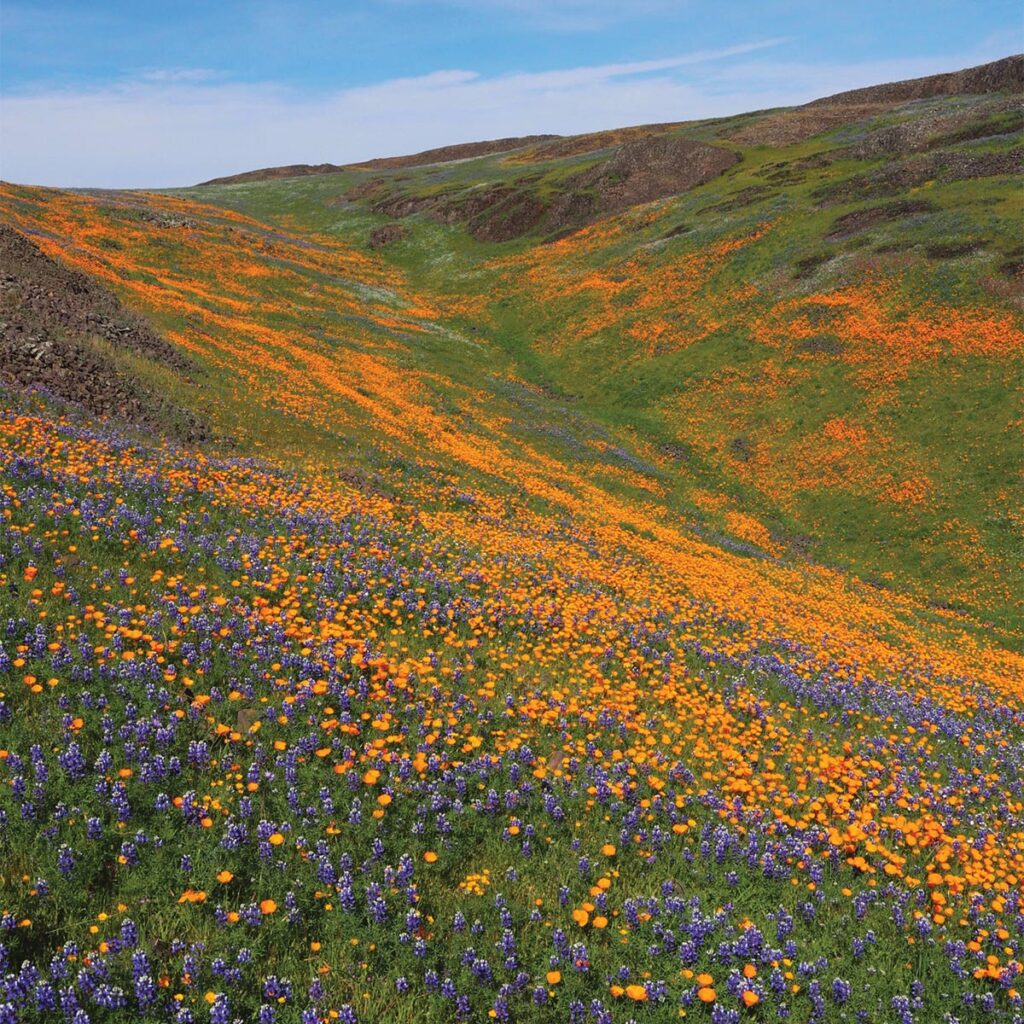 While Eschscholzia californica is the poppy with the most fame in California, plenty of plants carry the poppy name. Other native poppies in the North State include fryingpan poppy (Eschscholzia lobbii), foothill poppy (Eschscholzia caespitosa) and bush poppy (Dendromecon rigida).
Good spots for spotting poppies in spring are Millville Plains, Bureau of Land Management's Clear Creek Greenway Cloverdale area, Shasta State Historic Park and North Table Mountain Ecological Reserve.
California poppies are happy to grow in home landscapes, too. They do best in full sun and well-drained soil, and have an affinity for disturbed places. Libonati suggests gathering pods when they are still a bit green and then letting them fully dry in a closed brown-paper bag. ("Don't be alarmed by the popping," she says.) Scatter the seeds after the first rains in November. The poppy seedlings should begin popping up in late winter. •