It's a Nice Day for a Wild Wedding
Wedding on Location…
There are a very few days on life's calendar that have the power to match the magic of your wedding day, but a beautiful, serene, off-the-beaten-path locale can up the wow-factor exponentially. There is no shortage of stunning natural places in the North State that would make the perfect backdrop for your special day – with some proper research, planning and a permit where it's required, of course. Follow along to find a bit of inspiration on some wild places to be wed.
LOVE IS A MOUNTAIN ON HIGH: Imagine exchanging your vows in the presence of a majestic, snow-capped giant like Mt. Shasta. The rocky peaks of Castle Crags or the iconic flat edge of Half Dome would create more than just a remarkable wedding photo opportunity. That mountain scape may just become a symbol that will inspire you and your love to continue climbing together.
Marriages – like mountains – evolve over time. They bear witness to good weather and bad and they keep right on standing. It takes commitment and endurance to climb a mountain, just as it takes to push through some of life's challenges as a married couple. Whether you prefer to enjoy your mountains in the background or long to feel them under your feet, getting married in the vicinity of an ascending giant is a monumentally beautiful way to commemorate your wedding day. If you built your love connection while hiking, rock climbing, camping or just basking in nature's glory, a mountain wedding might be for you.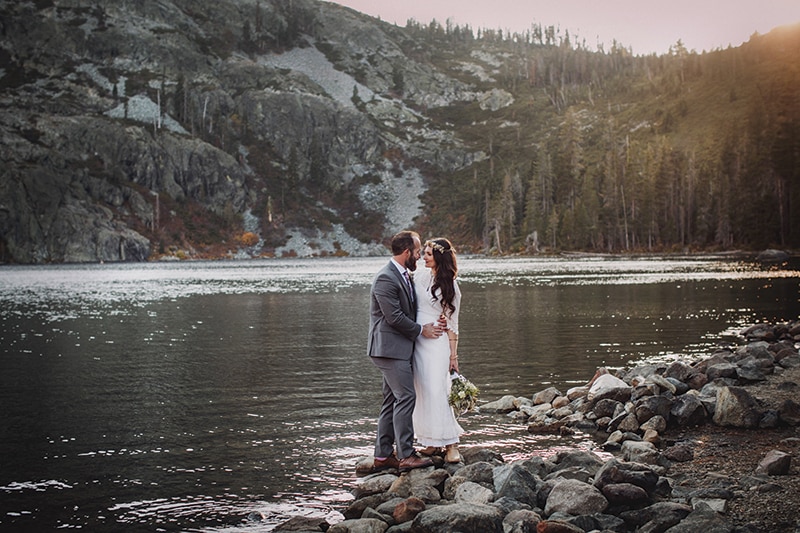 Feeling wild? Consider backpacking with your forever hiking partner, your officiant and any guests up for the climb to your favorite peak. Bonus points if your wear hiking boots with your gown and tux.
LOVE IS A WINDING RIVER: A river – whether it roars with the force of rushing water or bubbles along, gently kissing the land's edge – exudes romance. Getting married near moving water is sure to create an ambiance, not only visually, but auditorily. There are plenty of places along the Sacramento, Trinity or Klamath rivers to capture your big moment amongst the lush greenery and enchanting sounds at the
river's edge.
Let the river be a reminder to stick together along the straight and winding paths, through calm waters and rapids that come with marriage. Remember that there is power in moving together in a singular direction. If you fell in love while fly-fishing, stand-up paddle boarding or just basking in the sun from the comfort of your favorite inflatable device, consider taking your vows along the watery pathway where it all began.
Feeling wild? Say your I-dos on a leisurely float down the river or on a whitewater rafting adventure. Bonus points if your wedding attire doubles as a swimsuit. Don't forget the life vests.
LOVE IS JOY'S REFLECTION: A hot Northern California day at the lake is synonymous with summer fun, laughter, friends, family and fond memories. During fall and winter, spending time at the lakeside can signify serenity, peace and restoration. Your favorite alcove or campground could welcome friends and family in style and hold all the magic that comes with being by the lake. The water will present a unique opportunity for your photographer to play with lighting and reflection.
Let the lake symbolize the importance in seeing things from different perspectives, letting the light in and holding space for beautiful moments and happy memories with your spouse. A lakeside wedding is ideal for water lovers or anyone who finds comfort along the banks of expansive blue. Whether it's a sunkissed ceremony at Whiskeytown or Castle Lake on a crisp fall day, your wedding will be a lovely reflection of your love for each other.
Feeling wild? Set off on your new journey together aboard kayaks, a sailboat or even on a group of stand-up paddle boards. A houseboat on Shasta Lake could be great for a destination wedding and honeymoon, simultaneously. Two birds, one stone.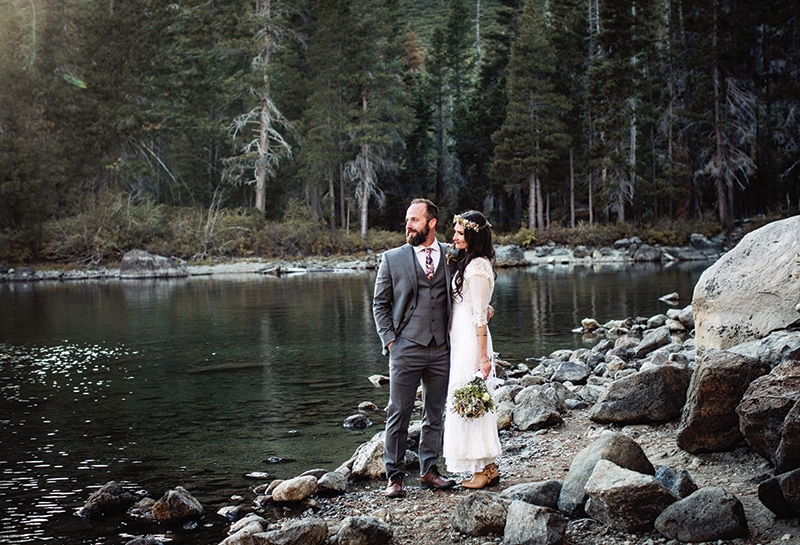 LOVE IS EVER FLOWING: Let's face it: a waterfall has never had to work hard to be mesmerizing. Whether the water trickles or gushes from on high into the crisp pools or jagged rocks below, a waterfall of any kind serves as a virtually unparalleled backdrop for your big day. As the mist from the falls works as a stunning filter for the natural light, the surrounding trees and rock formations will conspire to bring out the very best in your wedding photos.
Let that waterfall remind you and your love to always go with the flow as you travel life's road together. A wedding at a waterfall is perfect for adventure seekers and those who crave an air of mystique.
Feeling wild? If it's safe to swim at the location, have your guests bring their swimsuits and towels for an after-wedding splash. What a way to bring the family together!
SIX RULES FOR YOUR WILD WEDDING
Plan ahead. Do you need a permit or permission to get married in the location of your choice? How many people can gather there? Is the location available on a firstcome-first-served basis? Don't have a failure to plan ruin your wedding day. Do the research necessary to ensure everything goes smoothly.
Location, location, location. Not every location is ideal to accommodate all your guests. Your elderly or disabled family members and young children aren't likely to be able to make strenuous hikes to remote locations. Keep your guest list in mind and plan accordingly.
Keep your guests in the loop. Include any out-of-the-ordinary plans or considerations in your wedding invitations or on your wedding website. The more guests know about what to expect, the better prepared they can be. That ensures it'll be fun for everyone and not catch your loved ones off guard.
Dress accordingly. Who says you must wear typical wedding attire to your nuptials? Wear what works best for the location or venue. This is an opportunity to create a wedding experience that is tailormade to you and your spouse.
Bring the necessary supplies. Are you expecting cooler temperatures at the location? Bring a stash of blankets for your guests. Will you be in direct sun? Bring extra sunblock. Will you need bug spray? Locations near the water may include some pesky, unexpected guests. Knowing what to expect at the location – particularly as the seasons change – is the key to a happy experience for everyone.
Weather changes matter. Make sure to have a contingency plan in case the weather is inclement.
Photography by Heather Armstrong
Shot on location at Mt. Shasta at the wedding of Katie Miller and Sean Hunter