Take A Stand
Paddling the Sacramento River…
Just after the break of dawn at the Sundial Bridge in Redding, groups of paddlers in human-powered vessels of all shapes and sizes steadily launch into the Sacramento River. While the sun stretches toward the sky, standup paddleboarders donning Coast Guard-approved life jackets are part of the mix, equipped with paddles, dry bags full of protein bars, canteens full of clean liquid, and anything else they may need – such as extra fins and paddles – strapped to the top of their boards to help them survive their quest ahead.
This group of paddleboarders are here for the California River Quest, the famous 100-mile paddle race on the Sacramento River that begins in Redding and ends in Chico. Always held Memorial Day Weekend, in recent years the organizers added 25-mile and 50-mile courses for those who don't want to be paddling on the river into the night.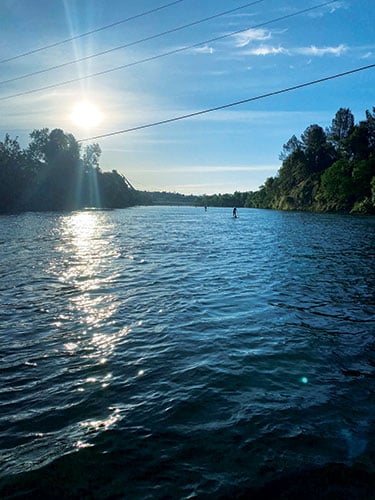 From wherever one starts and ends at in the Sacramento River, standup paddleboarders have an advantage over kayakers, surf-skis and outriggers because the simple act of standing up on the board gives SUPers a better vantage point to see what goes on above and below the water. For instance, you can see when the water gets shallow and kneel on your board if you're afraid of catching your fin in the cobble, and it's easier to ditch your boat and swim to shore if something goes awry.
The most exciting (and demanding) part of the river is the 25-mile stretch from the Sundial Bridge to Anderson. Not only does it give you to the chance to test your ability level with the abundance of rapids, but you can also enjoy the wildlife, wave to the anglers and admire the beautiful homes that dot the shoreline.
The next 25 miles between Anderson and Red Bluff are also scenic, yet more remote and peaceful. There are far fewer houses or services that you can access in that section, but it's also where more wildlife comes out. While in the first portion there's an abundance of Canadian geese and a few ducks, in the next half it's possible to see schools of trout darting under your board, deer and bald eagles. If you're lucky, you might even spot a turtle or otter.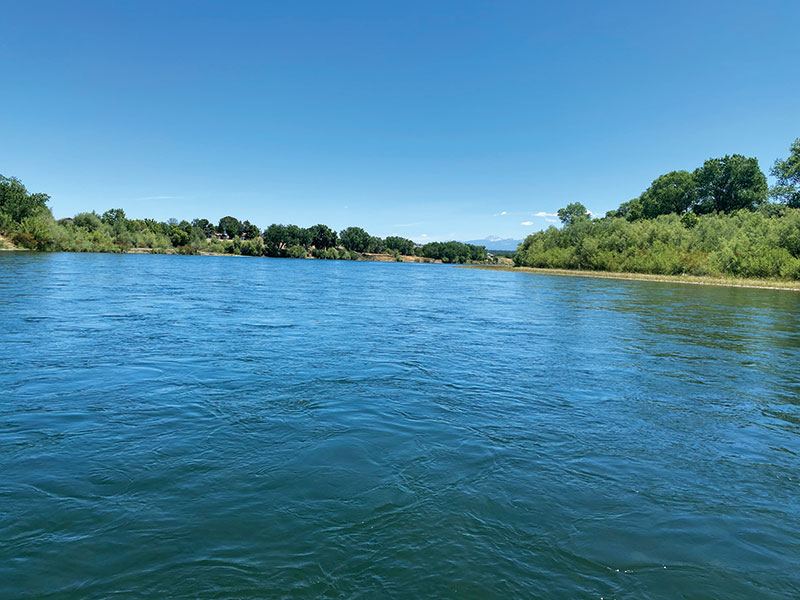 About 10 miles north of the Red Bluff City Park are the Chinese Rapids, a beautiful-yet-challenging area marked by turbulent, moving whirlpools and swirling waters. The best way to get through it is to just keep paddling so you can maintain your momentum and steering, and then relax and drink some water once you get in the calm part again.
SUPing the Sacramento River can be extremely fun, but it's important to be prepared and stay alert. The water is chilly in the Sacramento River, ranging from 48-52 degrees in the summer months. While it may be tempting to jump in when the air temperature heats up, it's better to gently ease into it so you don't shock your system. Wear a Type III life jacket (one with pockets to store your ID and phone is even better) so you always stay afloat and are more visible.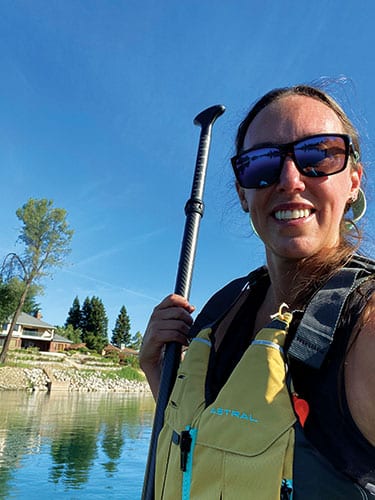 Hazards in the Sacramento River include rocks/boulders, gravel beds, submerged trees, strainers and overhanging trees, and you'll encounter them often. Disturbances and riffles in the water tell you something, like rocks hiding under the surface that you'll want to steer clear of.
The Sacramento River in Redding (miles 0-7) has the fastest rapids while Anderson (miles 14-18) has the most unusual rapids. The Bend Ferry/Jellys Ferry area (miles 40-46) has more constricted flow and is loaded with boulders, making a bit more unstable. From Red Bluff to Chico, the Sacramento River is calm, but it's all flat farmland and can get quite hot. It can take a paddleboarder in decent physical shape around four hours to paddle 25 miles, 10 hours to paddle 50 miles and likely a full 24 hours to paddle from Redding to Chico.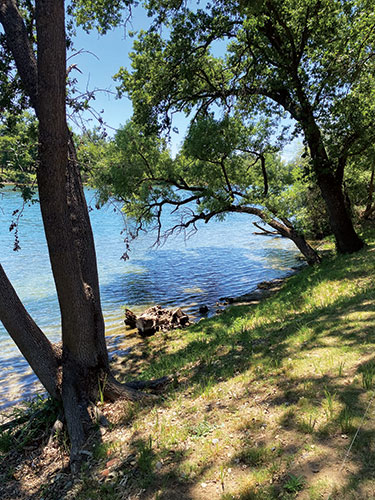 For the right kind of SUP to take on the Sacramento River, err on the side of stability and durability. There are a range of boards you can use, but it's good to have one with built-in bungee cords on the front and/or back to help secure your dry bags, water and extra equipment. Fortunately, cell service is pretty good on most of these sections in the Sac, but it's always a good idea to have a watch or cell phone with GPS capabilities in it or a map (you can download one off of www. californiariverquest.com) to know where you are in case you need help.
SUPing the Sac with friends is unique, fun and adventurous, and you're practically guaranteed to have a story or two about what you experienced out on the water. Just remember that before you go out, check your equipment, go with friends and go with the flow. •