Water Warriors
There is more to explore with Mt. Shasta based River Dancers…
In the uppermost part of California, straddling the border with Oregon sits the Klamath-Siskiyou ecoregion – one of the wildest and largest roadless expanses left in North America. It's been called the "Galapagos of North America" by the World Wildlife Fund and is an ancient landscape of complex geology and extraordinary biodiversity that gives credence to musings that it might also be the stomping grounds of one of the world's most famous and reclusive megafauna, Bigfoot. And flowing through the heart of this magical wilderness is the Klamath River.
"What I find fascinating about the Klamath is it's still pretty Wild West out there in terms of the people and the wildlife. The Klamath Mountains are remnants of a forest that once existed about 40 million years ago, so I think some people think that if there was a creature still lurking about from some bygone era, it would exist there," says Aaron Beverly, who has been guiding rafting trips down the Klamath for more than a decade.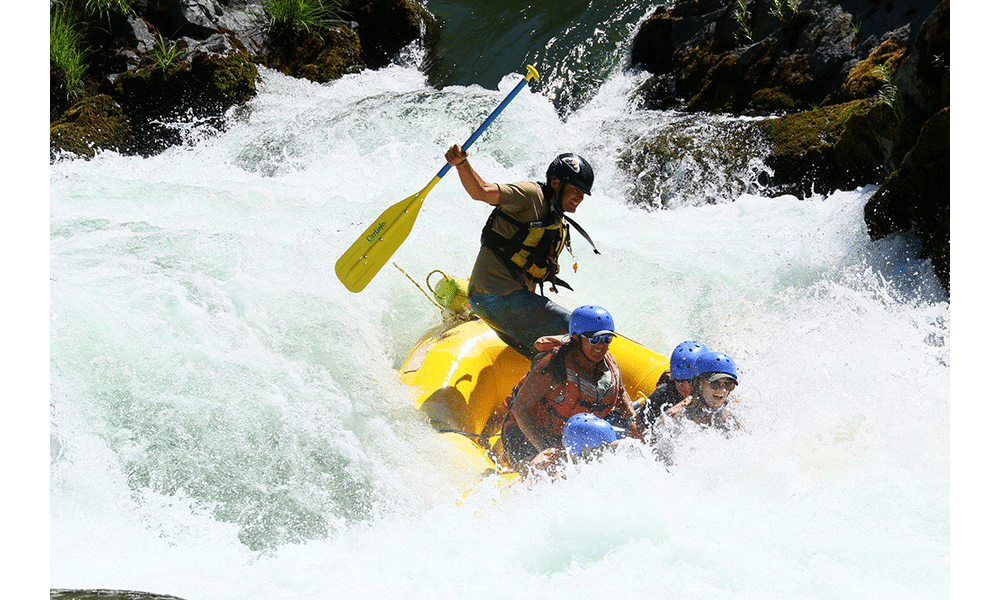 Beverly is the owner of the Mt. Shasta-based River Dancers, a kayak and river rafting guide company that typically does tours from May through September and operates a whitewater guide school in spring. It's safe to say he's gotten to know his way around the major waterways in the area. "They definitely all have their own character. The Klamath is the second longest river in California. It's about 270 miles long and offers everything from Class 2 to Class 5 runs and is super scenic.
The upper Sacramento has really clear cold water that comes out of the mountains west of Interstate 5, actually starting in Mt. Shasta, and the Trinity River is a super-fun Class 3 run west of Redding near Weaverville."
When pressed for a favorite, Beverly hesitates before declaring that it might just be a river in the Klamath watershed that holds a special place in his heart. "The Klamath is the main watershed, so you have a lot of tributaries that flow into it, like the California Salmon, the Scott River and the Trinity River. But I would say the California Salmon is my favorite place because it's just incredibly beautiful and remote, the runs are action-packed and there aren't a lot of people out there. Though you can't go wrong. There really aren't a lot of people on any of the rivers."
It's this sense of rugged outdoor adventure that first brought Beverly to Siskiyou 15 years ago. "When I first moved up here, I got a job mountain guiding, and I thought, well, why not try river guiding? I didn't really have much experience at the time, so I took the guide school through River Dancers. It's a small company so it took me a while to get a job with them, but eventually, there was room and I've been working for them ever since – that is until I bought the business. Basically, I just never left."
Once Beverly took over the company from its original founders, "river dancing" became his full-time pursuit. "My perfect day is just being on the river. I like to kayak, going to places I haven't gone to before. I don't think I've ever had a bad day on the river. I mean, sometimes the weather can be a bit testy, but even when the weather's difficult, everyone enjoys it. I think it kind of brings out the best in everyone."
For people who have never done whitewater rafting, Beverly offers encouragement. "I would say don't be afraid. The river's very friendly. We just did a three-day trip with three six-year-olds and they loved it. For sure, the Class 4 or 5 runs are not for children, but generally speaking, it's really a family-friendly experience." Beverly also recommends booking early. "There are a lot of folks calling, looking to do a trip tomorrow or the next day, and generally we're fully booked by then so it's good to call weeks in advance. If you're going to do a multi-day trip, a lot of people even book in the winter."
When asked about those who seek adventure, Beverly doesn't hesitate this time, offering insight into his own journey to this special region. "I love Siskiyou County. Come on up and check it out."
www.riverdancers.com • (530) 227-5202 • 308 S. Mt. Shasta Blvd., Mt. Shasta