The Joy Of Working At Personal Creations
Job Coaching…
Workers really enjoy their jobs at Personal Creations in Redding. That's the message you repeatedly receive as you tour this sparse crafting shop just south of downtown. Whether working wood, silk screening or laser engraving custom graphics, the folks here openly express their appreciation, and not just for an opportunity to generate a little income.
Personal Creations is an adult day program intended to serve and gainfully employ individuals with developmental disabilities numbering about a half-dozen today. Three staff members, called job coaches, assist them with everything from handling power tools to monitoring personal progress.
"We see guys coming in here with no knowledge and then they're going out to buy their own tools," says Mark Furia, overseeing safety policy in the wood shop. "Time goes on and you see them teaching each other, taking leadership roles. And that's exactly what we want them to do."
This wood shop is for more than fashioning trinkets to fill a worker's time. Personal Creations is a business, a nonprofit striving to support itself – paying employees, overhead and taxes. Staff and workers produce goods that are sold to the public.
"Everybody has an important role here. We all work together. We all get paid the same day," says site manager Zach Brown. "We use person-first language. You focus on the person, not the disability. So I say, this is Mike. He works with me."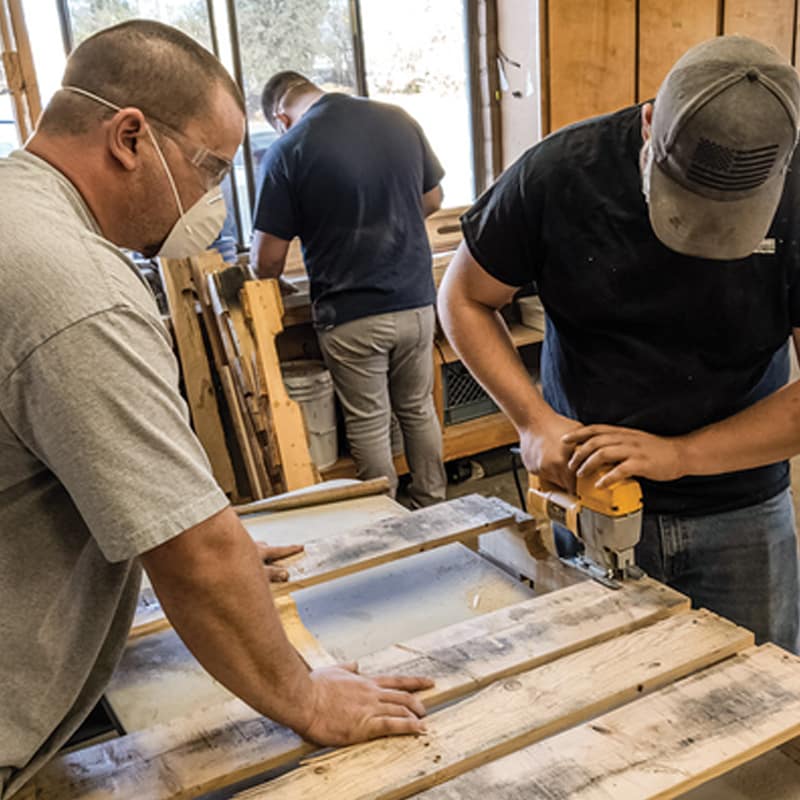 Turns out Mike Comegys had something to teach the management. He grew up in a family that owned a silk-screening business, so he arrived at the shop knowing something about taping up the screens, and looking for pinholes which can speckle a T-shirt design. "We've benefitted from the knowledge Mike brought with him," says Brown. "We also appreciate his ability to work with others."
Comegys clearly enjoys his position here, calling himself the silk screen guy. Asked what he likes most about working at Personal Creations, he refers to the gentle hand of his supervisors. "Everybody's like, we all make mistakes," he says. "They shrug it off."
In the wood shop, workers break down pallets, harvesting raw hardwood for other artistic products. They cut the slats loose with a sabre saw, wrench them free by hand and hammer out the nails. They feed some of this wood into a machine that bonds pieces edge to edge, resulting in a board that will be made into any of a number of household novelties.
"The big thing right now is our surfboards," says Brown, pointing out a display of miniatures, some with clock faces. "We started with T-shirts in March. It grew from there, picking up month by month by month. So now we can cut any vinyl letters or logos and put them on coffee mugs. But it's definitely our laser engraving that sells the most."
The first thing you notice when you step into the design studio, a small room with a modest computer, is the smell of burnt wood. This scent comes from a large device that looks like an industrial-strength photocopier, but it's more like a laser printer – with a real laser. Rather than adding ink, it subtracts wood, according to the company graphic designer, Dustin Gragg.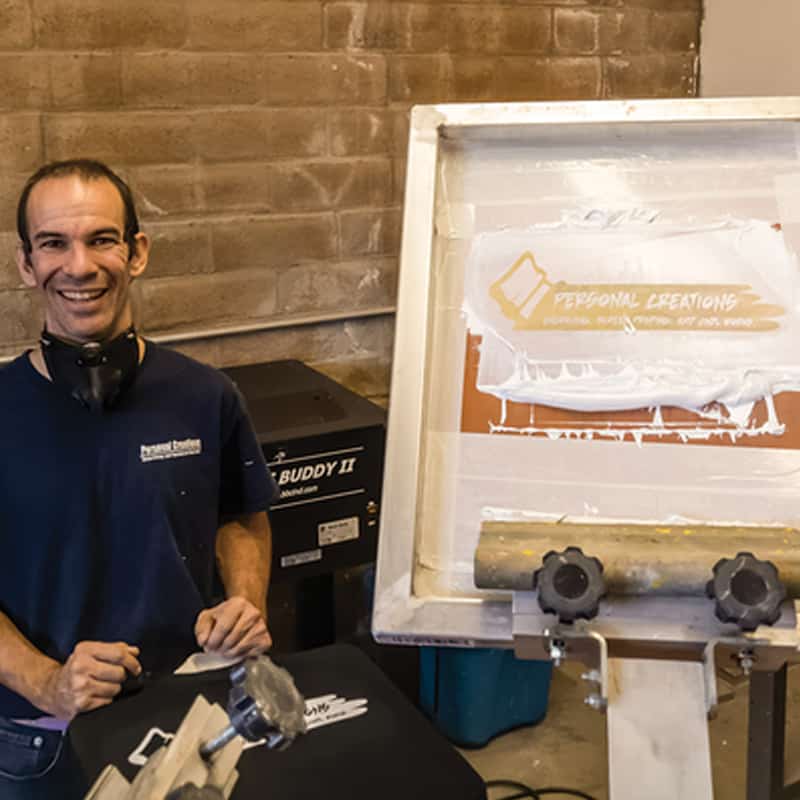 Gragg describes the process as the laser's shuttle runs back and forth over an image of guitar legend Jimi Hendrix. "It's on the second run. You can see more of the image come in with each run. For pictures like this, we'll run it three or four times." He picks up an engraving of a mountain scene and points at the snowline. "We can do this with any photo. Look at the detail."
His excitement is real. The Helix laser engraver is new at Personal Creations, and Gragg is still learning it. He teaches worker Patrick Erickson how to compose layouts on a computer running Corel Draw and, once the design is finished, they hit "print" and the Helix takes over.
Erickson shares his job coach's enthusiasm for production. "I really like seeing how our design translates to the wood," he says. "I think it's more enjoyable than food deliveries and bagging."
The company tries to provide a choice of jobs for its workers. "We ask, 'What do you like to do?'" Brown says. "If someone doesn't like one program, there are others they can change to. We don't put a person in an environment they don't want."
Brown identifies Personal Creations as one program of many offered by parent company Creative Positive Environments. In addition to the artistic opportunities here and the food pantry, workers can join a landscaping team, staff a company thrift store or serve sandwiches in the shop at the Redding Library. "Our guys work a half-day shift, then get picked up and taken to the office. They can hang out, eat pizza, play video games – whatever they want."
Personal Creations is so popular that Brown has a waiting list for those who want to join. Gragg, who's been with Creative Positive Environments for three years and taught himself graphic design for this job, knows why. "It's a really cool company, a really light atmosphere," he says. "I think this helps people get along better with other people." Back in silk screening, Furia says the most rewarding part of being a job coach is seeing his trainees' eagerness "just to do it."
From the look of things, those on the waiting list might have a long wait. Listen to silk screen guy Comegys. Asked if he plans to leave Personal Creations someday, he replies, "I like where I'm at."•
Personal Creations
1477 Lincoln St., Redding • (530) 276-0322
Monday – Friday, 9 am – 3 pm