Catch A Wave
Keeping the Music Playing with Sound Wave Jam Pad…
Live Music is such a big part of Donnie Red's life that he was not about to let the pandemic get between him and his favorite form of entertainment. His solution? Listen on the lake.
Red is the proud owner and captain of the Sound Wave Jam Pad, a mobile soundstage that's equally at home on land or in the water. It's a 30-foot pontoon boat outfitted with a rooftop stage, soundproof generator and a Bose public-address system.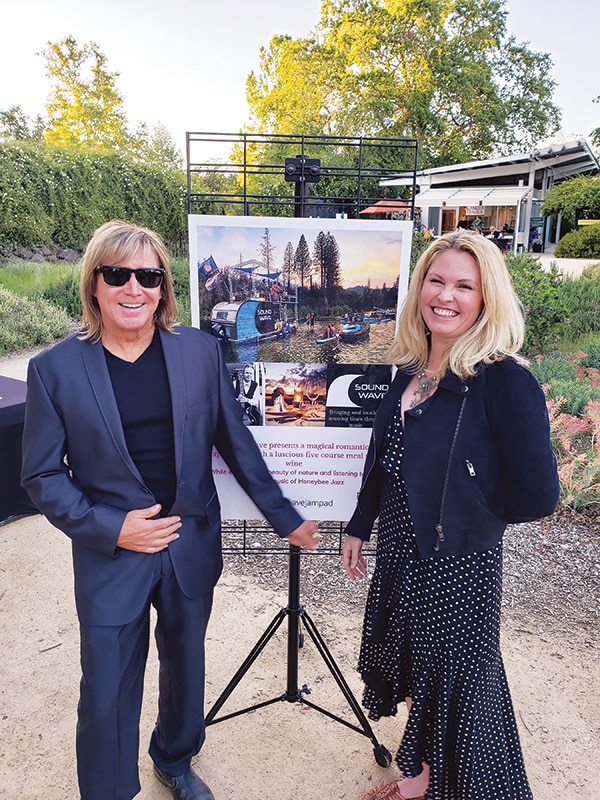 Red, the owner of Northstate Tire and Wheel in Redding, says the Jam Pad inspiration came from conversations with his friends in the folk-rock band Sugarkane and Co. The musicians were bemoaning the lack of venues during the brunt of the COVID-19 pandemic when bars and clubs were shuttered.
"We were thinking of social distancing options for live music, so I thought I'd try to put together this boat project," Red says. "I thought I'd get a used patio boat and maybe put five grand in it to do something out at the lake. It kept growing until what it is now."
Rachel Shannon, a singer and instrumentalist with Sugarkane and Co., says the Jam Pad was also inspired by videos produced by Jam in the Van, the small company that visits music festivals and records artists in a solar- powered mobile studio.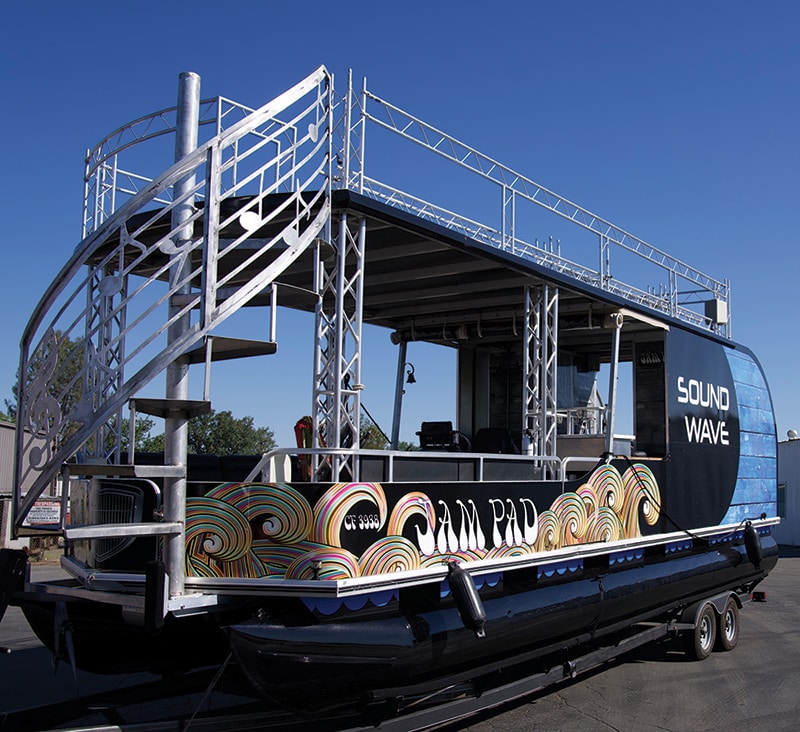 "Around the same time, I got these Bose monitors with a four-hour battery life, so you can play anywhere. I thought it would be fun to play at a swim-up beach like Brandy Creek," Shannon says. "I talked to Donnie and he said he got a boat, so we just ran with it."
Red received a lot of help with the boat, including fabrication work by Steve Gannon, owner of Steven Gannon Chassis; Signarama Redding did a vinyl wrap; John Andrews provided paint; a spiral staircase accented with music notes was created by Tig Tech, Inc.; Tom Aboud with Shasta Wood Products fashioned the custom bar top and cabinets; and Mike Peters, Red's son-in-law, provided the bulk of the welding.
Unique touches include a chrome snare drum serving as the cabin light fixture, a banjo motif for the helm and musical notes embroidered onto the barstool covers by Inked Up Graphics. The Jam Pad is powered by a Mercury outboard motor while front and rear thrusters make it easy to handle, even in the wind, Red says. A 3,000-watt generator in a soundproof cabinet (outfitted with fans to keep it cool) powers the Bose PA system.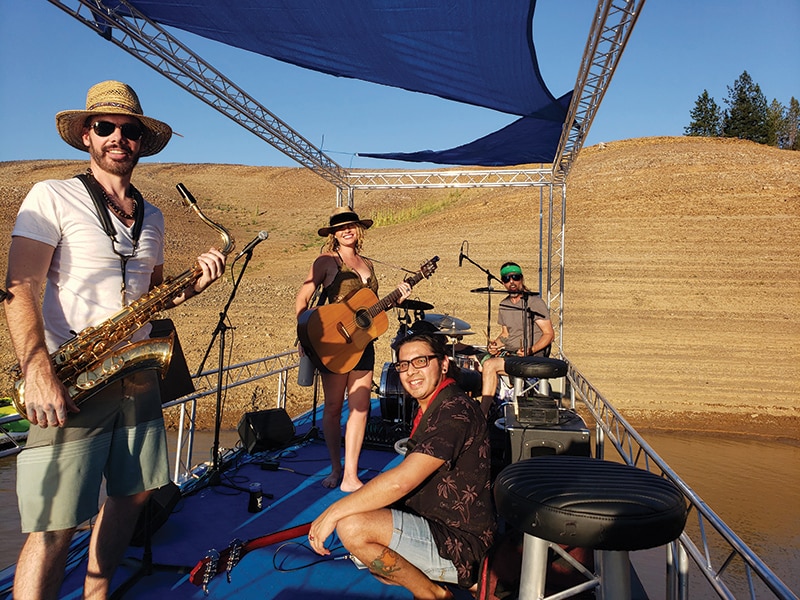 The boat made its debut last July at a private party on Shasta Lake and made it out to Whiskeytown Lake for a couple of invite-only shows. It has been seen on land as well, including as part of a fundraising event for Friends of Whiskeytown in front of Woody's Brewing Company last October, and as an entry in the Lighted Christmas Parade with a crew of disco singers onboard.
Earlier this year, at a dinner auction for the North Valley Cancer League, Red offered the Jam Pad as an auction item package that featured a tour of Whiskeytown Lake for two couples, followed by a five-course meal and jazz music by Honeybee in a secluded cove. The winning bid was $1,500.
Red says the Jam Pad will be busy this summer with a reggae show featuring One Sol inside Fall River Brewery (June 18) and Whiskeytown Lake performances by The Brothers Reed ( June 10) and Ashley Flynn & the Riveters ( June 26). Red and Shannon are keeping the Whiskeytown shows low-key and invite-only with access limited to kayaks, paddleboards and boat.
Red says he has been working with Josh Hoines, the Whiskeytown National Recreation Area superintendent, on ways the Jam Pad can host larger ticketed shows on the lake. Hoines says he's interested in continuing the discussion.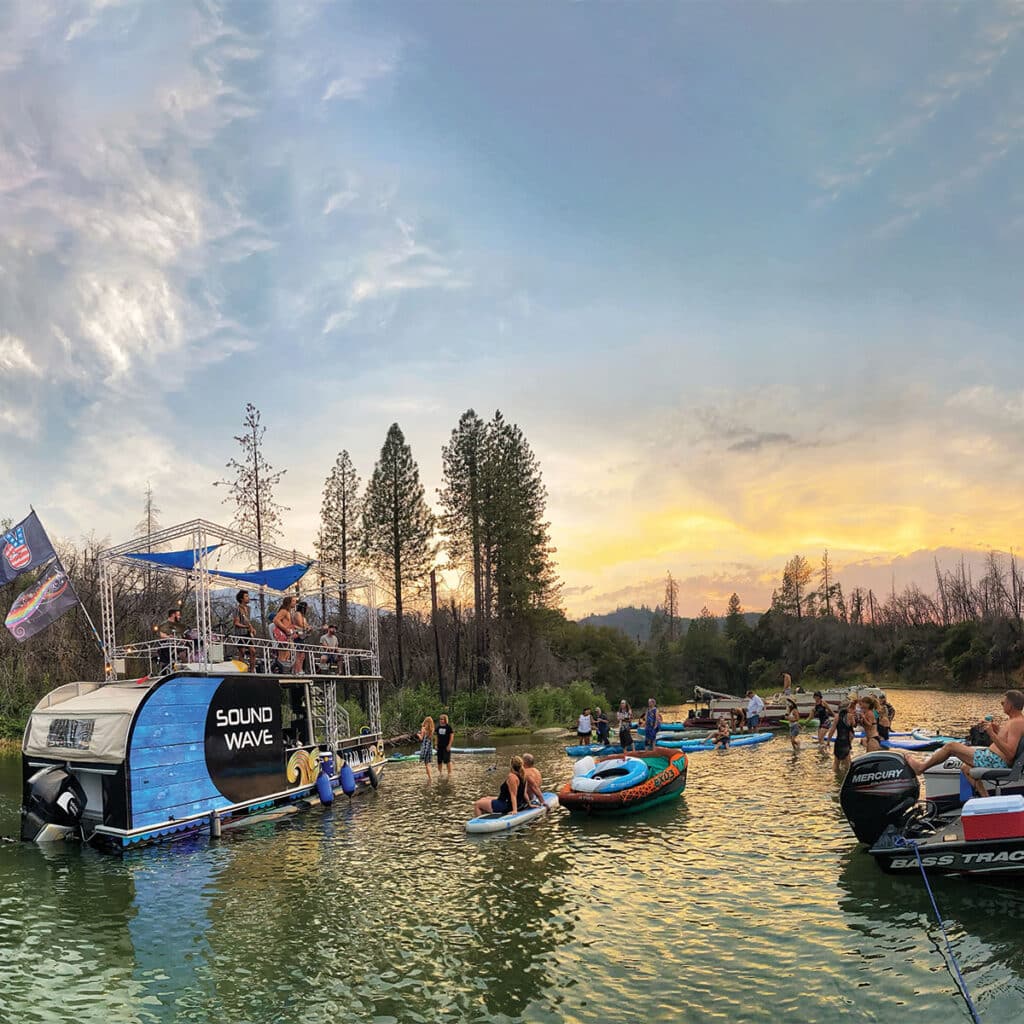 "I've seen the Sound Wave stage in town. It seems like a novel way to experience Whiskeytown. They would need to secure a special-uses permit, but I think there's a path forward," Hoines says. "I'm receptive to it. We just have to be sure we're doing things in a way that are environmentally sensitive."
For his part, on land or at sea, Red says "my whole inspiration is just to bring more music to Redding."•
Find Sound Wave Jam Pad on Facebook
Photos by Erick Mattson